9 December 2022
Is the dollar done?
The US dollar has appreciated against nearly all other currencies in 2022. We examine what could cause the insatiable demand for the dollar to change in 2023.
Fundamentals
The US dollar has been one of the preferred hedges in investors' portfolios over 2022. While equity and fixed income markets have both suffered significantly this year, the dollar has appreciated amid a flight to quality. Evidence of this can be found in US balance of payments data: despite a worsening current account balance – with imports increasing faster than exports due to the overheating economy – tactical allocations from investors have supported the dollar. Without this hot money, the US will need to find another source of funding its balance of payments deficit. Additionally, the US's energy independence has kept it relatively insulated from the surging energy costs seen in the rest of the world, but the recent decline in global energy prices removes one of the drivers of further dollar appreciation.
Quantitative valuations
The dollar appears overvalued according to long-term Purchasing Power Parity (PPP) measures. Basic valuation methods utilise adjustments based on inflation or GDP per capita over extended periods of time; however, we find these measures fail to recognise the structural impact of US energy independence. To account for this, we believe fair value for the dollar should be adjusted 10% higher. Even on this measure, though, the dollar still appears at stretched valuation levels. Furthermore, the relative pace of future developed market rate hikes is likely to benefit other currencies at the expense of the dollar. The Federal Reserve (Fed) has already acted to hike rates significantly to address the high inflation environment, which appears to be abating now. Conversely, other central banks such as the Bank of England and European Central Bank are likely to have to hike rates more in 2023 as inflation is not yet under control. As the rest of developed markets catch up with US rate rises, investors may be able to fulfil their investment needs in local markets – translating to a reduced appetite for the higher rates that the US currently offers and subsequently lower demand for the dollar.
Technicals
The US dollar has diversifying qualities versus equities in times of high inflation due to its safe haven characteristics as demonstrated in the chart. If inflation continues to decline to 4%, the 'normal' equity-bond correlation may resume, which could consequently reduce demand for the dollar in favour of core bonds, as the latter becomes a portfolio ballast again. This dynamic is further enhanced by the attractive yields that fixed income now offers after years of near zero or negative rates. Additionally, market positioning according to J.P. Morgan Asset Management's proprietary surveys and Commodity Futures Trading Commission data highlights the market's overweight position in the dollar. If there continues to be a reversal in the aforementioned factors that supported previous dollar appreciation, technicals will provide further impetus for the dollar to depreciate.
Bonds should replace the dollar as the safe haven asset of choice at lower inflation levels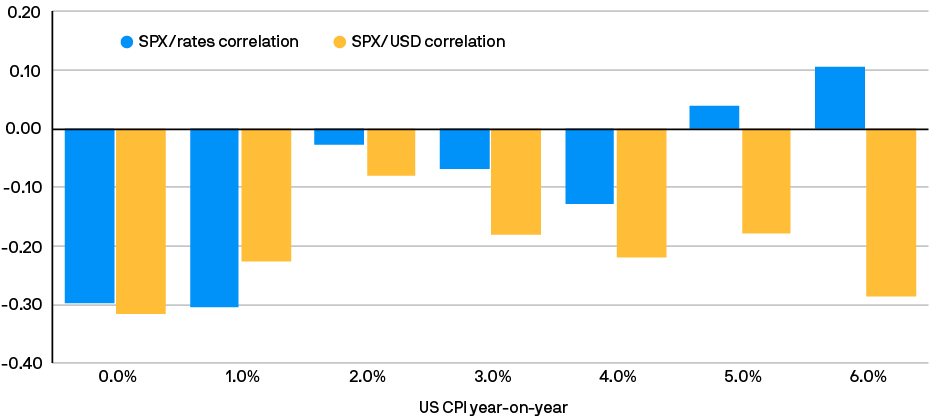 Source: J.P. Morgan Asset Management, Bloomberg as of 30 November 2022. SPX – S&P 500, Rates – US 10-Year Treasuries, CPI YoY – Consumer price index year-on-year.
What does this mean for fixed income investors?
We believe the next meaningful move in the dollar is likely to be depreciation rather than appreciation. As such, investors should be vigilant about dollar risk within their portfolio and arrange the appropriate hedging policy. Dollar weakness presents opportunities in other safe haven developed market currencies such as the euro, Swiss franc and Japanese yen. In addition, there are an increasing number of emerging market currencies which are becoming attractive, including China reopening proxies like the Thai baht and Korean won and currencies with attractive real carry in the Brazilian real and Mexican peso. With this said, investors should be aware of potential risks of the dollar appreciating further if energy prices surge higher or if there is a significant recession.
About the Bond Bulletin
Each week J.P. Morgan Asset Management's Global Fixed Income, Currency and Commodities group reviews key issues for bond investors through the lens of its common Fundamental, Quantitative Valuation and Technical (FQT) research framework.
Our common research language based on Fundamental, Quantitative Valuation and Technical analysis provides a framework for comparing research across fixed income sectors and allows for the global integration of investment ideas.

Fundamental factors
include macroeconomic data (such as growth and inflation) as well as corporate health figures (such as default rates, earnings and leverage metrics)

Quantitative valuations
is a measure of the extent to which a sector or security is rich or cheap (on both an absolute basis as well as versus history and relative to other sectors)

Technical factors
are primarily supply and demand dynamics (issuance and flows), as well as investor positioning and momentum