Factor Views 2Q 2022
Themes from the quarterly Quantitative Solutions Research Summit
22-04-2022
Yazann Romahi
Garrett Norman
In brief
Equity value enjoyed its third-strongest month in January (in our records dating back to 1990) and has now fully recovered from its post-COVID-19 drawdown.
The merger arbitrage factor again extended all-time highs, with spread levels supporting our outlook despite a downshift in M&A activity.
Macro factors generally performed well, with commodity factors exhibiting some of their strongest months over our data history.
We continue to see an attractive outlook for equity factors, which remain historically cheap, and have raised our outlook for macro factors.
---
Overview
It was a tumultuous first quarter. Markets were buffeted by Russia's invasion of Ukraine, geopolitical tensions, a hawkish shift in central bank policy, a sharp and continued rise in inflation, supply chain disruptions and continued fallout from the pandemic (and in China and Hong Kong a fresh wave of COVID-19 lockdowns). Global equity markets fell over 5% for the quarter. They had declined more intraquarter, before rebounding toward the end of March. Government bond yields rose across the globe, with short rates generally rising faster than yield curves (e.g., U.S. two-year yields rose 156 basis points [bps] while 10-year yields increased 81bps) such that yield curves neared inversion by the end of the quarter. Commodities rose sharply – particularly in the energy, industrial metals and agriculture spaces – as supply chain disruptions caused by the war in Ukraine and sanctions on Russia exacerbated preexisting supply-demand imbalances.
Against a backdrop of sharp moves and a market pricing in concerns about stagflation, the factors that we favor generally had a positive quarter. Equity value, merger arbitrage and commodity factors all fared particularly well (Exhibit 1).
Equity value and macro factors performed extremely well in 1Q 2022, despite turbulent markets
Exhibit 1: Quantitative Solutions long/short factor returns
Source: J.P. Morgan Asset Management; data as of March 31, 2022.
Note: Factors presented are long/short in nature. Equity factors are represented as 100% long notional exposure, macro factors as aggregation of 5% volatility subcomponents.
While we do not expect a recession in 2022, we see potential for high volatility both across markets and within markets (i.e., at the factor level). Still, we leave our core factor views relatively unchanged. Equity factors continue to appear extremely cheap across the board. We are also modestly optimistic on the prospects for event-driven and macro factors, raising our outlook for macro carry this quarter. In general, we believe that factors may be an effective way to capture market opportunities at the current juncture. Investors can potentially benefit from factor-specific tailwinds without reliance on any particular macroeconomic regime.
Factors in focus
Equity factors: Another strong quarter for value, albeit one that ended with a softer tone
The equity value factor shot out of the gate to start 2022, in its third-strongest January in our records going back to 1990 (Exhibit 2). It then stalled and started to reverse course by the end of the quarter as market participants' fears of stagflation appeared to replace hopes for reflation.
Following several strong months, the value factor has now recovered losses inflicted by COVID-19
Exhibit 2: Global value factor performance
Source: J.P. Morgan Asset Management; data as of March 31, 2022.
The value factor, as we define it, has now fully recaptured losses sparked by the onset of the COVID-19 pandemic.1 That said, the value factor remains ~20% below high water marks set in 2017. We think it has considerable room to run.
Despite the recent rally, the value factor is historically cheap – much cheaper than at the peak of the dot-com bubble in 2000 and nearly as cheap as in the depths of the value drawdown in late 2020 (Exhibit 3).2 As mentioned last quarter, this cheapening in value highlights that growth expectations for value stocks have been revised upward by much more than prices have moved. This makes value stocks cheaper, relative to their prior valuations, than they were going into 2021. This valuation backdrop should support performance of the value factor going forward, though we note potential challenges over the near term, given high factor volatility, uncertainty around corporate earnings and the potential for a range of growth and inflation scenarios.
The rise in earnings/yield spreads suggest value and quality factors are attractively priced
Exhibit 3: Global equity valuation spreads
Source: J.P. Morgan Asset Management, FactSet; data as of March 31, 2022.
We typically discount linkages between macroeconomic regimes and factor returns, given a lack of statistically significant empirical evidence and difficulty in predicting macroeconomic regimes (to say nothing of their impact on factor returns). Yet we acknowledge that the relationship between starting factor valuations and subsequent factor returns is much stronger over a 12-month period than it is over one month – and that in recent history, markets have favored growth stocks over value stocks whenever the strength of economic growth is in question.
Yet we remain optimistic on the prospects for the value factor, albeit a bit less than we were heading into 2022, when both the valuation and macroeconomic backdrops appeared favorable.
Elsewhere, the quality and momentum factors were flat to down – selling off at the beginning of the quarter and rallying toward the end – as perceptions about the economic and market regime led to a shift in market leadership. The size factor was flat and remains down significantly over the past 12 months.
In our view, the quality factor now appears particularly interesting – especially since it may fare well across a range of scenarios. First, the factor is nearly as cheap relative to its own history as value is (Exhibit 3), with quality factor spreads at the 94th percentile dating back to 1995 vs. the 96th percentile for value factor spreads. Second, should the current inflationary regime continue for longer than was anticipated last year, the more profitable companies that the quality factor favors may be better positioned to pass on cost increases to consumers than are lower quality companies. Third, the quality factor is typically less challenged than value in scenarios of slowing economic growth and tends to fare better in late-cycle environments.
Finally, it is difficult to envision conditions in which a speculative, low quality rally would take hold, given that central banks have turned more hawkish and low quality stocks already appear richly priced. Indeed, in the coming quarters the quality factor could offer the highest risk-adjusted returns across our factor lineup.
Turning to the momentum factor, shifting market regimes could prove challenging: By definition, the factor aligns with market trends. But the factor appears cheap relative to history. So, too, do value and quality – unusually, the three factors are now more correlated with one another than their historical average. This suggests an environment where value, quality and momentum could all perform well if factor valuations prove determinantal. On the other hand, investors may find less diversification potential available across factors, perhaps leading multi-factor mandates to face more boom or bust prospects than is typically the case.
Merger arbitrage factor again extends all-time highs
The merger arbitrage factor was positive for the eighth consecutive quarter in 1Q 2022, with rolling 12-month returns remaining above their post-global financial crisis average (4.50% vs. 3.90%). Overall, the merger arbitrage factor remains supported by low rates of deal failure and a prevalence of counterbids.
The aggregate number of merger deals announced or in progress is around its 10-year average, reflecting a slight decrease from the end of 2021. This does mark a downshift from expectations, as concerns about growth and inflation and the impact of the Russia-Ukraine war have clouded what was expected to be a record year for merger activity in 2022.
Despite a cooling of activity, merger arbitrage spreads remain wide – and above their 10-year average. As a result, we believe that the environment should remain supportive for the strategy to extend its recent gains.
Commodity factors were well positioned for supply-side shocks
Commodity carry, commodity relative value momentum and commodity trend all rallied over the quarter. Russia's invasion of Ukraine and subsequent sanctions exacerbated existing supply-demand imbalances and boosted prices in commodities that were already outperforming and benefiting from positive roll yield (e.g., WTI crude oil, nickel and cotton). Commodity carry exhibited its strongest month in March in our records dating back to 1998, while commodity momentum enjoyed some of its best months on record in both January and March as energy and industrial metal commodities continued to rally. Our cross-asset time-series momentum factor also performed well to start 2022. Performance in March was especially strong as long commodity positioning contributed, as did short-duration positioning. Our models were biased short on duration heading into the year. Signals strengthened over the quarter as rates continued to back up.
Performance was choppier across equity trend and relative value fixed income and currency factors. Our equity trend models entered the year biased long. They pushed toward short positioning intraquarter and were hurt by the equity market rally in the back half of March. Relative value fixed income factors suffered from a rise in Australian and Canadian 10-year yields, which hurt long positioning and offset gains from shorts across Europe, U.S. and UK 10-years. FX factor shorts in the yen, euro and Swedish krona all benefited, though gains were partially offset by losses on longs in pound sterling and the Norwegian krone.
The environment for macro factors appears mixed to positive. Carry spreads have improved across the board. Fixed income carry spreads look attractive relative to their longer-term history, commodity carry spreads have improved and now border on attractive, and currency spreads have widened from their tights of recent years. Price dispersion within macro markets is generally neutral, increasing within currency and commodity markets but not to outright attractive levels. Time-series momentum positioning reflects stagflationary rather than reflationary conditions, in a slight departure from last quarter. Fixed income trend factors entered the year short duration and have pushed further short, as we've noted. Commodity trend factors entered the year long and pushed longer over the quarter, while equity trend factors entered the year long before turning short in January and remaining short (albeit less so) through the end of the quarter.
Concluding remarks
The factors that we favor generally followed up a strong 2021 with a positive start to 2022. In addition, factors continue to look attractive in aggregate and may offer higher risk-adjusted returns than top-down asset class calls in an environment marked by uncertainty over the outlook for growth and inflation.
More specifically, equity factors appear to present the most interesting opportunity set, with spreads historically wide for both equity value and equity quality. While we remain optimistic about the prospects for equity factors, we believe, as always, in diversifying across a broad range of compensated factors while minimizing exposure to uncompensated risks.
Factor opportunity set
The table below summarizes our outlook for each of the factors accessed by the Quantitative Solutions platform. It does not constitute a recommendation but, rather, indicates our estimate of the attractiveness of factors in the current market environment.
Factor Views Vs. Last quarter: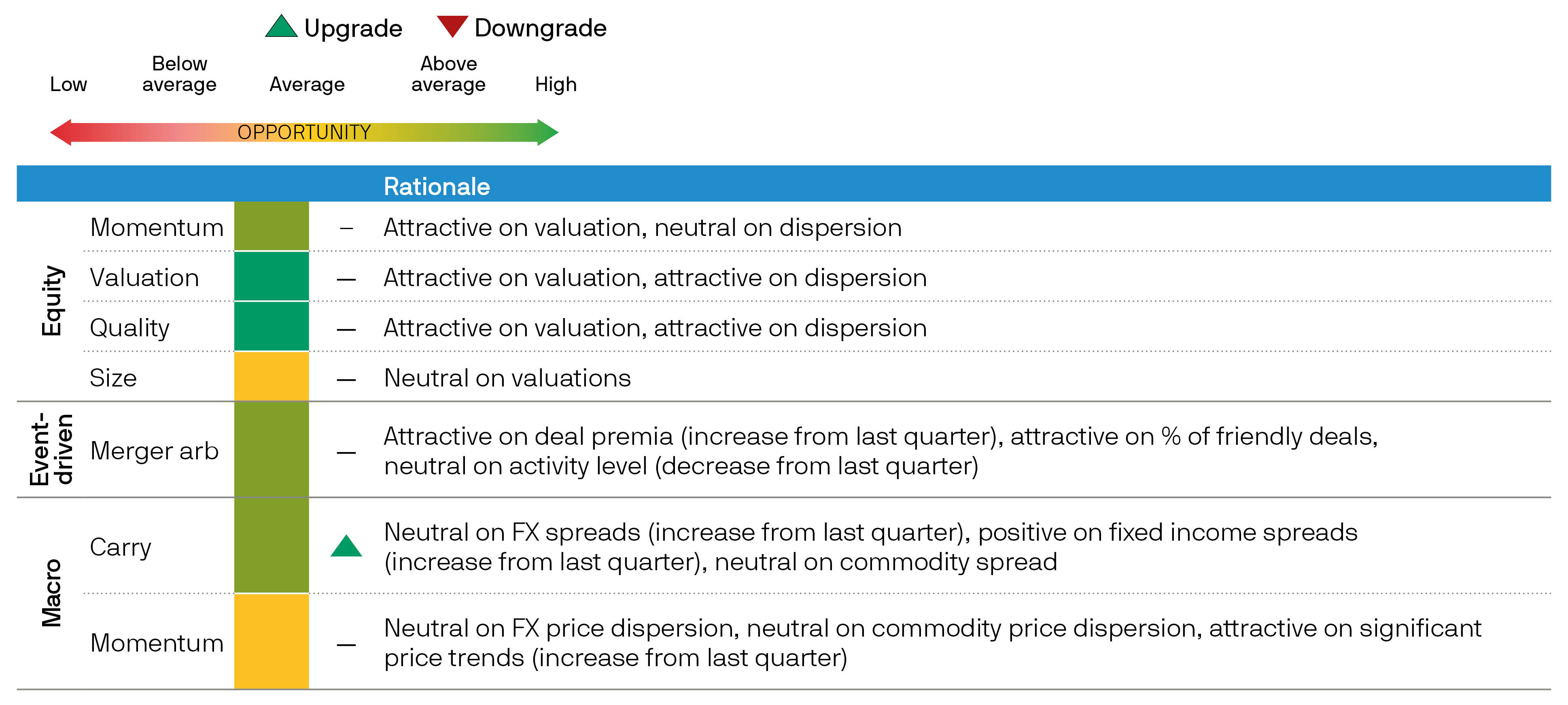 Source: J.P. Morgan Asset Management; for illustrative purposes only.

Our framework for evaluating factor outlooks is centered on the concepts of dispersion, valuation and the opportunity for diversification. For equity factors, we measure dispersion and valuation spreads between top-quartile and bottom-quartile stocks on a market, region and sector-neutral basis. For event-driven factors, we measure implied carry and the level of corporate activity as indicative of the ability to minimize idiosyncratic stock risk. For macro factors, we measure the dispersion or spread between top-ranked and bottom-ranked markets as well as the number of significantly trending markets.
1 As discussed last quarter, the correlation between the value factor and COVID-19 case levels weakened toward the end of 2021 as the market increasingly looked through rising case levels.
2 Value has never been cheaper in the U.S. market, compared to history dating back to 1990. In addition, sector-neutral value (i.e., stock-level value), our favored means of defining value, appears cheaper relative to its history than does non sector-neutral value (i.e., sector-level value).
---
Glossary

Equity momentum: Long/short global developed stocks based on price change and earnings revisions; sector and region neutral


Equity value: Long/short global developed stocks based on book-to-price, earnings yield, dividend yield, cash flow yield; sector and region neutral


Equity quality: Long/short global developed stocks based on financial risk, profitability and earnings quality; sector and region neutral


Equity size: Long/short global developed stocks based on market capitalization; sector and region neutral


Merger arb: Long target company and short acquirer (when offer involves stock component) in announced merger deals across global developed markets
Event-driven (other): Conglomerate discount arbitrage, share repurchases, equity index arbitrage, post-reorganization equities and shareholder activism


Macro carry: FX G10 carry, FX emerging market carry, fixed income term premium, fixed income real yield, commodity carry


Macro momentum: FX cross-sectional momentum, commodity cross-sectional momentum and time-series momentum across equity, fixed income and commodity markets
Quantitative research focused on innovation
Harnessing our firm's deep intellectual capital and broad investment capabilities, we provide our clients with a diverse suite of beta strategies to help build stronger portfolios.
Empower better investment decisions through unique insights and proprietary research on strategic and alternative beta.


Deploy the talents of an investment team dedicated to quantitative research and portfolio construction.


Invest across a broad spectrum of strategic and alternative beta strategies, created specifically to address client needs.


Partner with one of the world's leading asset managers and tap into two decades of industry innovation.