At Governor Lowe's last monetary policy meeting as head of the Reserve Bank of Australia (RBA), the bank decided to leave the Overnight Cash Rate (OCR) unchanged at 4.10% (Fig 1a) – extending their pause to a third month. The decision was widely expected following slightly softer economic data and lower monthly inflation. These factors allowed the RBA to justify "further time to assess the impact of the increase in interest rates to date and the economic outlook". While the central bank believes its monetary policy actions are sufficient to return inflation to target within a reasonable timeframe, the meeting statement remained hawkish, highlighting the negative impact of persistent high inflation and suggesting that "some further tightening of monetary policy may be required".
The calibration phase:
After aggressively hiking the overnight cash rate twelve times within fifteen months to a decade-high of 4.10%, the RBA believes it is close to the end of the current hiking cycle. This obviously necessitates a change in monetary policy – to a more nuanced stance. The central bank is anxious to definitely extinguish the flames of inflation, while keen to avoid unnecessarily triggering a recession.
As anticipated, the cumulative impact of 400bps of rate hikes on domestic sentiment and demand is increasingly apparent. Household confidence and consumption have weakened while property investment has slowed. Disappointing Chinese growth has also started to impact Australia exports and the business outlook. Meanwhile, the RBA admits to significant uncertainties around the outlook and lags in the effect of monetary policy.

These factors have triggered a period of below trend growth – considered necessary to cool inflation. Happily, the latest monthly headline inflation reading has declined to a 17-month low of 4.90%, sharply down from the December-22 peak of 8.40% - and the RBA notes that "medium term inflation expectations have been consistent with the inflation target".

However, with real interest rates (Fig 2a) still negative and a tight labor market (Fig 2b), wage growth has increased, house prices have recovered and overall demand remains surprisingly solid. The recent decline in inflation has also been flattered by energy subsidies while service and rent inflation remains elevated – suggesting further declines in core inflation will be slow.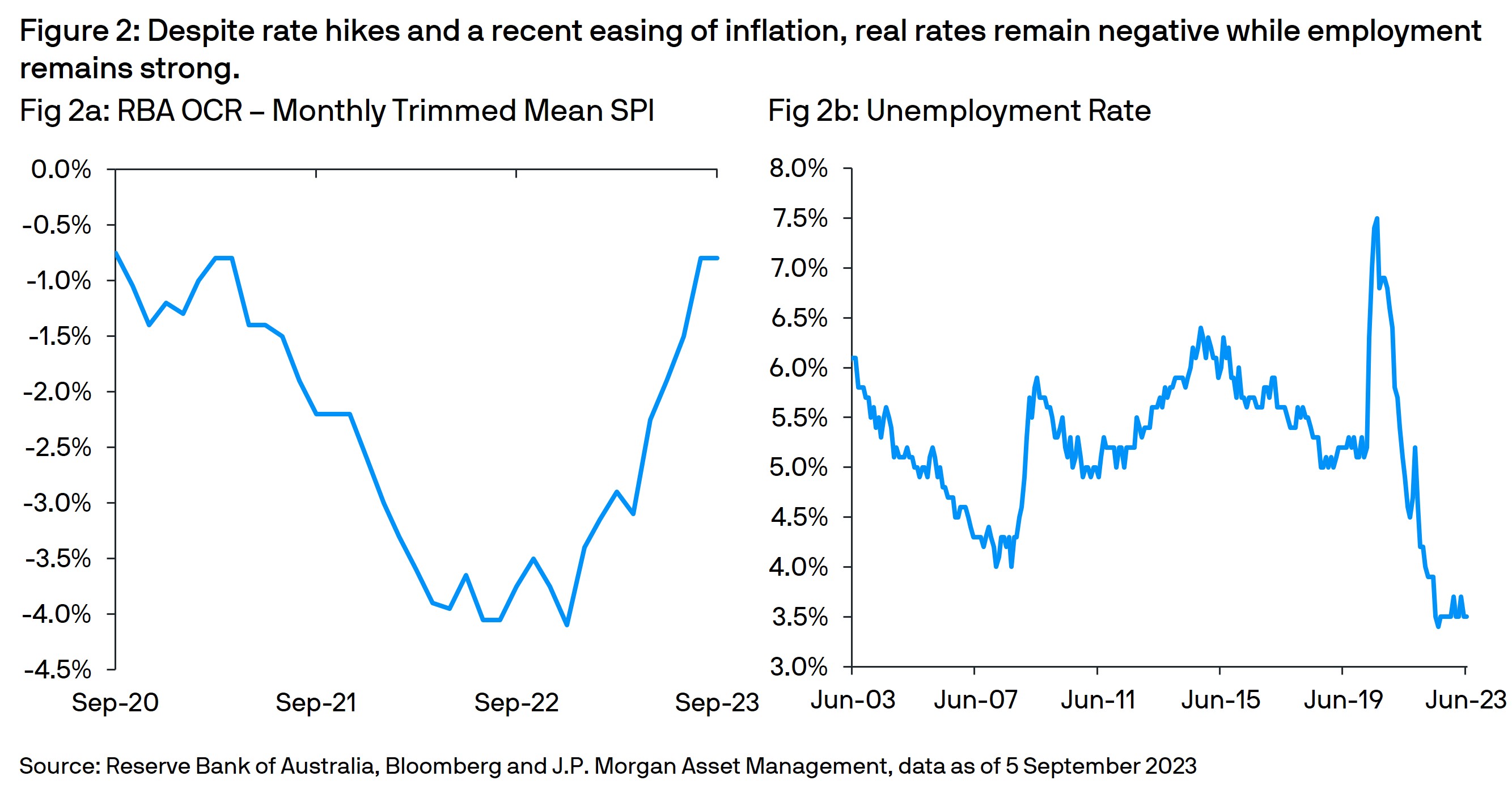 Market Rection and Outlook
Given it was widely anticipated to keep rates stable, bond yields were broadly unchanged despite the currency weakened sharply. With RBA comments still hawkish, markets continue to price in a small probability of an additional rate hike.
At Governor Lowe's last meeting as head of the RBA, the statement opportunely noted that "inflation is coming down, the labor market remains strong and the economy is operating at a high level of capacity utilization" – all were key goals of the Governor as he attempted to engineer a soft landing.

While the RBA believes that "inflation has passed its peak", it also observed that inflation "remains too high" and "the prices of many services are rising briskly". Further, the bank is only forecasting a very slow return of inflation to "the 2-3% target range in late 2025" – compelling it to remain hawkish. Recent comments by Governor Lowe's successor, Michele Bullock, have also been hawkish – implying no change in future strategy as the central bank "will continue to depend upon data and the evolving assessment of risks". For the moment, with the RBA apparently reluctant to accelerate the process of reducing inflation given the downside risks of additional late cycle hikes – an extended pause is likely.

For AUD cash investors, the current high absolute yield level and upward sloping yield curve continue to represent relatively attractive investment opportunities for liquidity, reserve and strategic cash balances.

This information is generic in nature provided to illustrate macro trends based on current market conditions that are subject to change from time to time. This generic information does not take into account any investor's specific circumstances or objectives and should not be construed as offer, research or investment advice.

09is230609025700