In-brief:
Our central scenario is that we avoid a severe global downturn thanks in large part to fiscal support, and a more gradual pace of tightening by the central banks in the second half of the year. With major markets having already experienced double-digit declines, significant further downside for risk assets is not our base case.

In line with this central macro scenario, corporate earnings across developed markets should grow modestly in 2022, albeit by much less than current expectations, and margin resilience will be key to share price performance.

After a difficult start to the year the risks to government bond prices are now more evenly balanced and bonds can now offer some portfolio diversification in the more extreme negative scenarios.

Value's outperformance of growth may continue if economic activity proves resilient to higher commodity prices and interest rates.

Until inflation subsides investors will remain concerned about stagflation. Alternatives such as core infrastructure and real estate, and stocks that offer resilient high dividends, are relatively attractive in this challenging backdrop.
---
Not as dire as headlines suggest

The economic outlook has deteriorated markedly since the start of the year. Lingering inflation concerns have been compounded by the spike in commodity prices following the tragic war in Ukraine and the supply chain problems arising from Covid lockdowns in China.
With inflation as the root cause of the problem, investors have found themselves in the worst of all worlds, with the price of bonds and stocks falling (Exhibit 1).
Exhibit 1: 60:40 portfolios on track for their worst year since the financial crisis
Annual returns in a 60:40 stock-bond portfolio
Source: Bloomberg Barclays, MSCI, Refinitiv Datastream, J.P. Morgan Asset Management. Stock returns are calculated using MSCI All-Country World Index and bond returns using Bloomberg Barclays Global Aggregate. All returns shown are in USD. Data as of 14 June 2022.
Given the declines already seen this year, the question we seek to answer in this mid-year outlook is not whether the outlook darkened but rather, will it be much worse than the market already expects? Put another way, will there be a recession and if so will it be short and shallow – normally associated with around 10% earnings declines and a 20%-25% price correction – or deep and prolonged, with much larger earnings and price falls?
A further escalation of the Russia-Ukraine war will remain a key tail risk. A negotiated solution to the conflict looks increasingly unlikely. While Europe's ban on importing Russian seaborne oil could force a rethink in Moscow, Putin might retaliate by restricting gas supply to Europe. If that happens it would have grave economic consequences for Europe. Yet even absent further escalation, elevated gas prices suggest European households face more expensive utility bills next winter.
The impact on consumer demand depends on how much finance ministers are willing to support household incomes. This looks challenging for President Biden who faces significant opposition from within his party for further spending. An absence of support could further increase the risk that Biden loses control of both houses at the US midterms in November, which would reduce his ability to enact further legislation in the remainder of his term. The UK has recently announced significant further government support, particularly for the lower end of the income distribution, to help with the squeeze from higher energy bills. Various support measures have also been announced in Europe. The key question is whether the currently announced and any potential further support measures will prove to be enough.
While the "cost of living crisis" and weak consumer confidence have dominated newspaper headlines, the story is not so one-sided. Households accumulated significant savings in the pandemic which have at least provided a buffer in recent months. Perhaps more importantly, the labour market is very strong. There are more job vacancies in the US and the UK (Exhibit 2) than unemployed people. Workers are managing to achieve higher pay (Exhibit 3), which has reduced the squeeze on household incomes.
Exhibit 2: There are currently more job vacancies than unemployed people in several countries
Job vacancies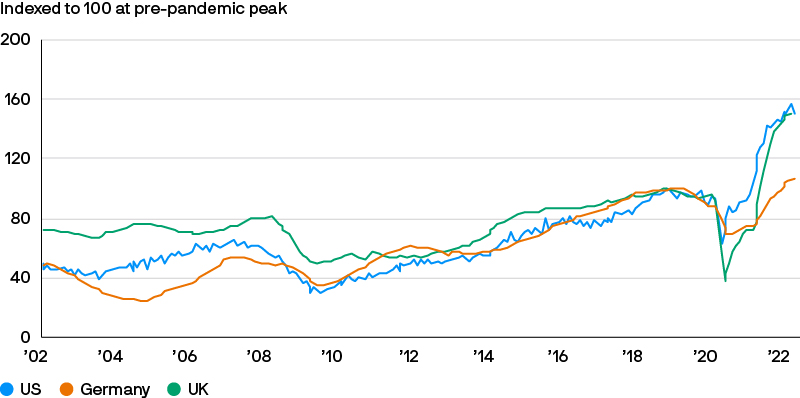 Source: BLS, Deutsche Bundesbank, ONS, Refinitiv Datastream, J.P. Morgan Asset Management. UK vacancy data is a three-month average as published. Data as of 31 May 2022.
Exhibit 3: Wage growth could help consumers manage rising costs
Wage growth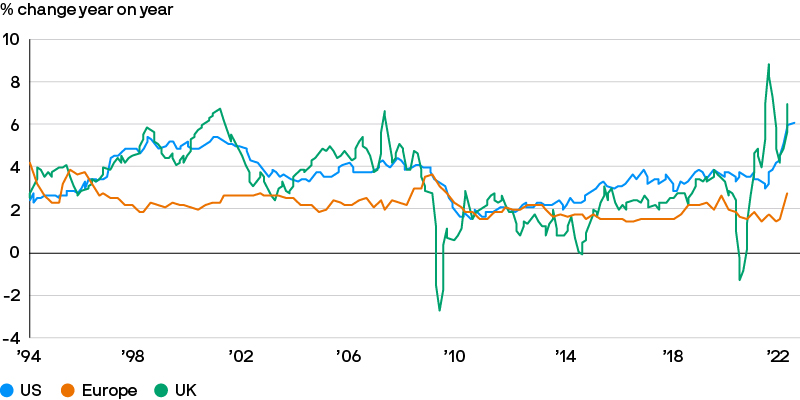 Source: BLS, ECB, Federal Reserve Bank of Atlanta, ONS, Refinitiv Datastream, J.P. Morgan Asset Management. US wage growth is average hourly earnings until 2007 and thereafter it is the Atlanta Fed wage tracker. Eurozone wage growth is based on negotiated wages. UK wage growth is a three-month moving average of average weekly earnings. Data as of 31 May 2022.
Rapid pay growth is a double-edged sword, however. While it supports household incomes in the face of rising costs, it also signifies an economy that needs to cool to avoid inflation becoming entrenched.
The risk is that the economy slows too much, and rather than just a cooling in activity, we see a more meaningful and long-lasting recession. However, we take some comfort from the fact that we do not see the signs of economic excess in housing construction or business investment that have in the past led to multi-year deep recessions (Exhibit 4). In addition, the commercial banks are in a strong position to weather any period of economic weakness having improved their balance sheets markedly since the financial crisis. This makes the prospect of a vicious, credit crunch-induced recession less likely. Gross debt levels are high among corporates, but they are awash with cash and show little sign of having overextended themselves. Consumer debt metrics also look healthy.
Exhibit 4: We haven't seen excesses in construction or investment that have preceded deep and prolonged recessions
US residential & corporate investment
Source: BEA, Refinitiv Datastream, J.P. Morgan Asset Management. Periods of "recession" are defined using US National Bureau of Economic Research (NBER) business cycle dates. Data as of 31 May 2022.
On a less optimistic note, while the West appears to have moved sustainably towards "living with Covid", China is having a more difficult time coping with the more highly transmissible Omicron variant. With a lower level of infection-induced immunity, lower vaccine take-up among the elderly and questions over the efficacy of the domestic vaccines, some form of activity restrictions looks likely for some weeks. Given that China accounts for between a third and a half of all global growth, these restrictions have wider economic consequences. Markets may start to look through the weakness though if it becomes clear that policymakers have a medical solution and stimulus plan to restore activity.
---
The central banks are less of a market friend, but still not a foe

The behaviour of the central banks presents another risk to global growth. Investors have become increasingly fearful that central banks have "decided" to engineer a nasty recession to drive out inflation, as we saw in the 1970s.

The Federal Reserve (Fed) has openly discussed this unpalatable possibility, and hawkish rhetoric has encouraged a dramatic repricing of short-term interest rates. Exhibit 5 shows that the market expects the Fed and Bank of England (BoE) to engineer a slowdown – tightening so quickly this year that within a couple of years they are expected to be cutting rates again.
Exhibit 5: Markets are pricing a sharp rise in interest rates
Market expectations for central bank policy rates
Source: Bloomberg, J.P. Morgan Asset Management. Expectations are calculated using OIS forwards. Data as of 15 June 2022.
However, if the post-pandemic surge in demand fades and higher prices start to deter new spending, inflation and the labour market should cool in the coming months. This could allow for a more gradualist and data-dependent Fed.
Other developed world central banks are in a slightly different position. There are fewer obvious signs of overheating in the eurozone, allowing the European Central Bank (ECB) to tighten policy more gradually. It seems increasingly likely that Europe can finally get out of negative interest rates. Exactly how far it can get in its hiking cycle is unclear, but it is worth keeping an eye on given the impact Europe's negative interest rates have had on bond yields globally.
The BoE is arguably in the most difficult position. Headline inflation is set to rise further towards 10% and will remain elevated for some time (Exhibit 6). If growth is resilient, then the BoE still has some way to go to get to an appropriate monetary policy. It should be noted though that interest rates are already expected to reach about 3.5%, meaning a good deal of tightening is already priced into gilts.
Exhibit 6: Inflation is expected to peak in the second or third quarter of 2022
Median of economists' forecasts for headline CPI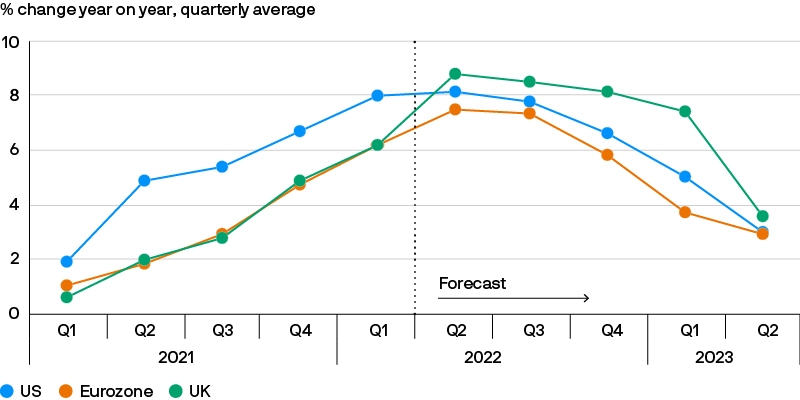 Source: Bloomberg, BLS, Eurostat, ONS, J.P. Morgan Asset Management. CPI is consumer price index. Data as of 9 June 2022.
Signs of cooling economic activity could allow for a more gradualist approach from the central banks. This should limit the downside risk for assets and re-establish the negative correlation between stocks and bonds that had previously proved so helpful to investors trying to construct a balanced portfolio.
---
A degree of humility in economic forecasting, a degree of balance in portfolios

Our central scenario is that fiscal support and more gradual central banks help us avoid a severe global downturn. With major markets having already experienced double-digit declines, our central scenario does not point to significant further downside for risk assets.
But this is a time for forecasters to be humble in their convictions. Forecasting economies and markets is never easy. Understanding the post-pandemic economy and unprecedented policy response further complicates the forecasting process. On top of this, our projections depend on the judgments and decisions of a handful of key individuals: Whether the prospect of a long and costly war causes a strategic rethink in Moscow or whether Putin retaliates to the embargo on Russian oil; whether the central banks and politicians do prioritise growth over inflation; and whether President Xi abandons China's zero-Covid policy.
These many variables demand a degree of humility when forecasting the economic outlook. As investors, this translates into a need for balance in portfolios. That's why we think a more neutral allocation to risk assets and government bonds currently makes sense. And the final section of this mid-year outlook – scenarios and risks – requires more attention than usual.
---
Key Themes
The six issues likely to have the most impact on global investments in 2022.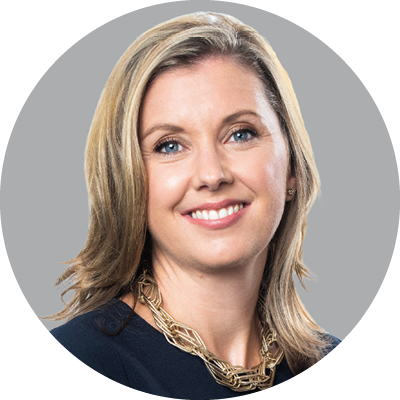 Karen Ward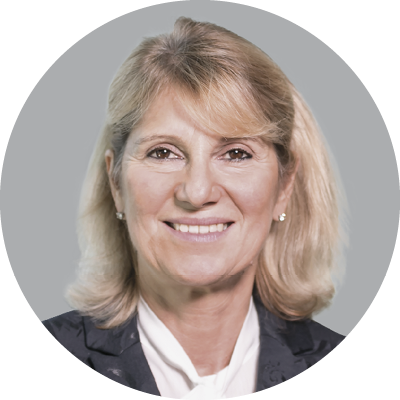 Maria Paola Toschi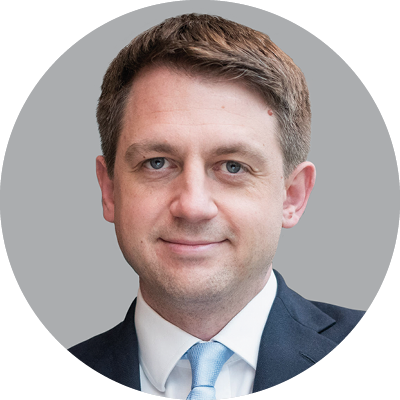 Mike Bell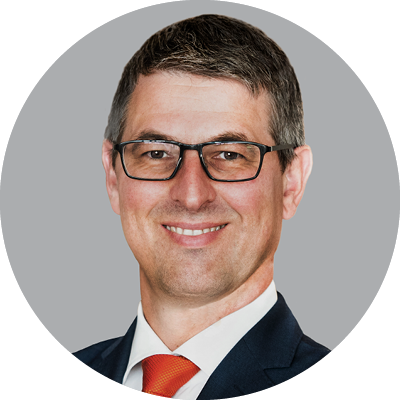 Tilmann Galler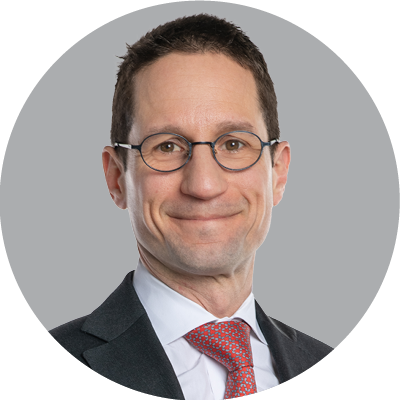 Vincent Juvyns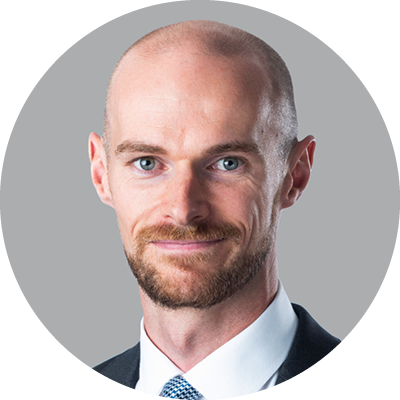 Hugh Gimber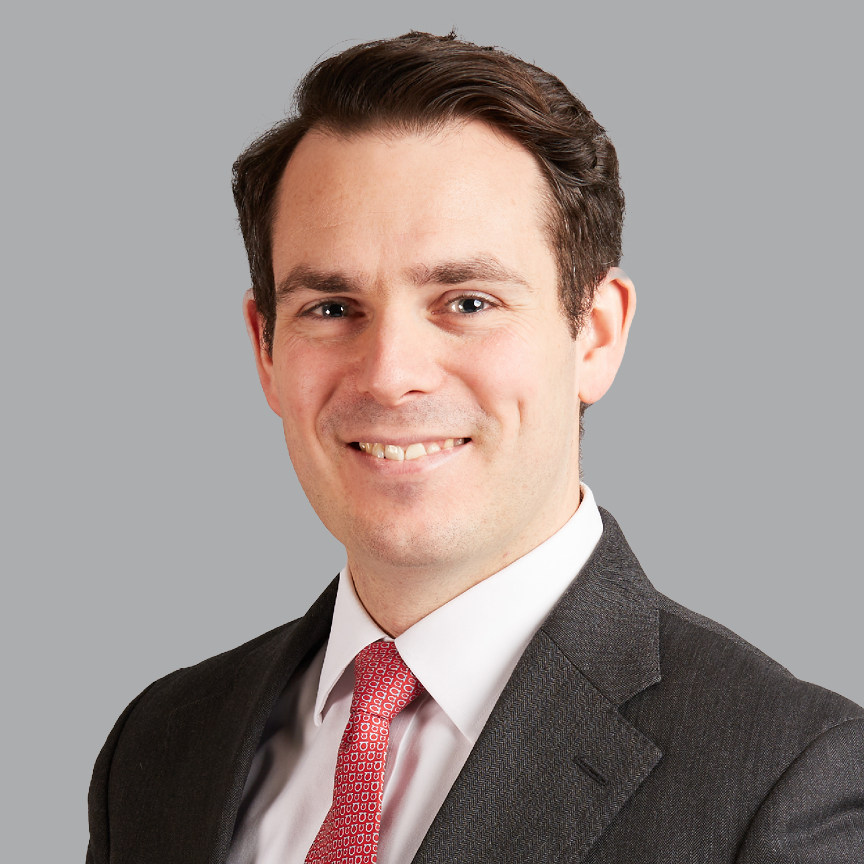 Maximilian McKechnie
Image source: GettyImages