2 December 2022
China – Time to change course?
We explore possible outcomes from the recent social unrest in China – from a loosening of the zero-Covid policy to a reopening of the country – and discuss important considerations for fixed income investors.
Fundamentals
The eruption of civil unrest in China has highlighted the social consequences of long-lasting lockdowns. In 2022 China became an international outlier, remaining doggedly attached to its zero-Covid policy while the rest of the world reopened. Investors are currently split into two camps when assessing what impact the protests might have on China's reopening. The more optimistic view is that authorities will accelerate the timetable for economic reopening to placate the population; this could result in a significant easing of restrictions in the first quarter of 2023. The other view is that the timeline for reopening will remain unchanged, but the authorities will be highly reluctant to implement further Covid restrictions, therefore lowering the chance of lockdowns extending beyond the middle of next year. Ultimately, the path to reopening depends on accelerating the vaccination of China's elderly. This is a key reason that our base case does not expect a sustained reopening until after the National People's Congress in March 2023. We expect to see modest adjustments to lockdowns after the Chinese New Year, which should improve sentiment ahead of an eventual reopening.
Quantitative valuations
Draconian Covid restrictions, a decline in exports and a fall in property prices have taken their toll on economic growth in China. Chinese authorities have attempted to stabilise growth in the interim by cutting the Required Reserve Ratio (RRR) – a contrast to many other central banks that have swiftly hiked interest rates in 2022. This continued monetary policy easing has eroded the relative attractiveness of Chinese government debt. At the start of 2021, Chinese 10-year government bonds yielded 3.2%, which was relatively attractive compared to US 10-year Treasury yields of just 0.9%. The tables have now turned: the yield on the Chinese 10-year government bond is 2.9% compared to 3.7% on the US 10-year Treasury (as of 30 November 2022).
US 10-year Treasuries are now yielding more than Chinese 10-year government bonds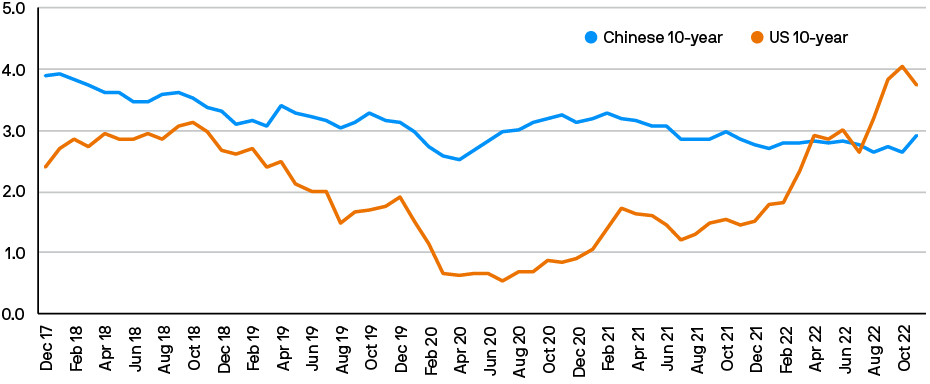 Source: Bloomberg. Data as of 30 November 2022.
Technicals
The technical backdrop for Chinese bond markets has been challenging throughout 2022 as investors have sought to reduce their exposure to the asset class based on relative valuations and the sluggish economic backdrop. However, it now seems the consensus trade is to be short Chinese assets, particularly the Chinese yuan; therefore, any signs of reopening could lead to a technical recovery. Broadly speaking, it's clear that a stabilisation of Chinese growth in 2023 – especially when growth across the developed markets is slowing – will be beneficial for emerging market debt returns and flows. Indeed, despite year-to-date outflows of USD 39 billion, emerging market debt has attracted inflows of USD 0.9 billion in November, and we have noticed a marked increase in the number of client enquiries into the asset class (as of 30 November 2022).
What does this mean for bond investors?
While markets continue to weigh the probabilities of a sudden Chinese reopening, we are focused on investment positions that could benefit from a variety of reopening scenarios. While we are no longer constructive on Chinese domestic debt, a restarting of the Chinese economy in 2023 would likely improve global risk appetite in general. This scenario would benefit North Asian countries and tourism-dependent nations, including Thailand and Indonesia, as well as higher-beta countries.
About the Bond Bulletin
Each week J.P. Morgan Asset Management's Global Fixed Income, Currency and Commodities group reviews key issues for bond investors through the lens of its common Fundamental, Quantitative Valuation and Technical (FQT) research framework.
Our common research language based on Fundamental, Quantitative Valuation and Technical analysis provides a framework for comparing research across fixed income sectors and allows for the global integration of investment ideas.

Fundamental factors
include macroeconomic data (such as growth and inflation) as well as corporate health figures (such as default rates, earnings and leverage metrics)

Quantitative valuations
is a measure of the extent to which a sector or security is rich or cheap (on both an absolute basis as well as versus history and relative to other sectors)

Technical factors
are primarily supply and demand dynamics (issuance and flows), as well as investor positioning and momentum