25 November 2022
EM local debt – ready to roll
Emerging market (EM) local currency debt has rallied since mid-October and we believe this is only just the start. We explain why the developed vs emerging market dynamic and macroeconomic conditions are supportive for the asset class as we head into 2023.
Fundamentals
Inflation is presently front of mind for every fixed income investor. But when thinking about EM debt fundamentals, we also need to consider the relative trajectory of growth to developed markets (DM) and the impact of EM foreign exchange (EMFX). While DM central banks are still hiking rates, many EM central banks are close to concluding their tightening cycles and have been in the unusual position of leading the global fight against inflation. So far, EM central banks have raised interest rated by a combined 9770 basis points (bps) across 18 countries since the beginning of 2021. This has allowed EM central banks to have greater control of their economies and defend growth more vigorously than they have been able to in the past. Furthermore, we expect EM growth to recover faster than DM in 2023, increasing the growth differential from the 1 percentage point (pp) average in 2022 to 3.4pp. Another key consideration for EM investors is the strength of the US dollar, which has been rampant for most of this year but recent cooling in US inflation could imply some weakness ahead. This would be beneficial for EM local currency debt. The asset class's performance reflects the contribution of two factors: EMFX and EM local rates. Cooling US inflation suggest that the pressure on EMFX may lighten, while EM local rates are expected to continue performing well.
Quantitative valuations
From a valuation standpoint, DM and EM local currency yields have both moved higher in close correlation to one another. However, more recently, there has been a dispersion, with EM local outperforming 10-year US treasuries and yields rallying by about 50bps over the last month. A falling EM local vs US Treasury yield differential reflects the relative fundamental strength emerging markets have built up over developed markets. Importantly, a positive return from both local rates and EMFX provides the asset class with the potential to outperform other fixed income sectors. Furthermore, the asset class has offered effective diversification benefits versus US treasuries.
EM local currency debt is an attractive diversifier to US treasuries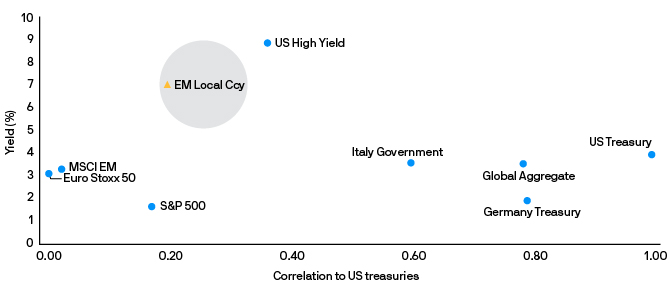 Source: J.P. Morgan Asset Management, Bloomberg, as of 23 November 2022. EM Sovereign / IG = JPM EMBI Global Diversified / IG. EM Corporate = JPM CEMBI Broad Diversified. EM Local Ccy = JPM GBI-EM Global Diversified. US Treasury = JPM GBI US. Euro Treasury = JPM EMU. Weekly correlation from 24.11.2020 to 23.11.2022.
Technicals
Following tremendous outflows this year, investor positioning in EM FX and EM rates is at the lowest since the taper tantrum in 2014. While the momentum of outflows dropped, investors have continued to pull assets from local currency bond funds which have seen outflows of USD 42bn so far this year, half of which were from dedicated China only funds. However, we may have reached a turning point as EM local currency bond funds (excluding China) recently witnessed positive weekly flows for the first time since August 2022. Overall, forward-looking technicals are supportive as investors are looking to increase fixed EM income exposure first through rates ahead of credit. (Data as of 17 November 2022).
What does this mean for bond investors?
We are optimistic that the recent EM local yield rally is due to continue into 2023. EM local valuations are attractive with nominal yields ranging up to 15% and real yields up to 8% (as of 24 November 2022), while softening US inflation and expectations for a step down in the pace of US rate hikes are making the EMFX component more constructive. Combining this with relatively stronger fundamentals than in previous cycles and a positive technical backdrop, EM local may be set up for strong performance relative to other fixed income sectors. However, it is critical to consider the investor's base currency when assessing performance as additional currency implications can come into play.
About the Bond Bulletin
Each week J.P. Morgan Asset Management's Global Fixed Income, Currency and Commodities group reviews key issues for bond investors through the lens of its common Fundamental, Quantitative Valuation and Technical (FQT) research framework.
Our common research language based on Fundamental, Quantitative Valuation and Technical analysis provides a framework for comparing research across fixed income sectors and allows for the global integration of investment ideas.

Fundamental factors
include macroeconomic data (such as growth and inflation) as well as corporate health figures (such as default rates, earnings and leverage metrics)

Quantitative valuations
is a measure of the extent to which a sector or security is rich or cheap (on both an absolute basis as well as versus history and relative to other sectors)

Technical factors
are primarily supply and demand dynamics (issuance and flows), as well as investor positioning and momentum