An increasing number of investors believe that sustainable investing could hold the key to achieving their savings goals while effecting positive environmental and social change.
Increasingly, many of us are making a choice to spend our money more sustainably. Whether it's buying an energy-efficient vehicle or choosing clothes with an eye on how the manufacturer treats its workers, as buyers we have the power to vote with our feet to effect positive change.
How we choose to invest our money is no different. The money you set aside each month can influence the actions of companies, and as an investor you can favour those that are moving in a positive direction over those whose values don't align with yours. Your capital can help sustainability-focused companies develop and grow, allowing them to raise standards across the board.
Awareness around sustainable investing is increasing
At the start of 2021 we conducted a major survey of more than 6,000 people, and the results highlighted that sustainable investing is rising up the agenda. Although only around one in 10 investors is currently engaged in sustainable investing, levels of awareness are higher among the young and among current investors, where around a quarter consider themselves to be well informed about the subject.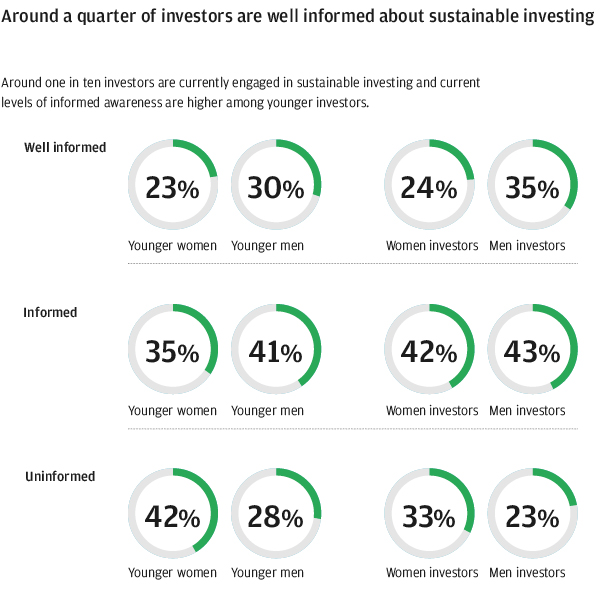 Importantly, almost half of this better-informed group believe that in the future people will only invest in companies that are sustainable. This echoes increasingly widespread concerns that investments in companies that don't take environmental, social or governance (ESG) factors seriously, such as high polluting companies and those with poor human rights records, could come under increased scrutiny as investors look to protect their long-term returns.
There are a number of sustainable solutions available, each designed to align with the financial goals and values of investors. At J.P. Morgan Asset Management, we've classified sustainable fund options to include:
ESG promote: Funds that promote environmental and/or social characteristics
Positive tilt: These funds are skewed towards sectors, companies or projects with positive ESG characteristics and exclude certain companies based on ESG criteria
Best in class: These funds invest in companies that lead their peer groups in ESG performance, while excluding certain companies based on ESG criteria
Thematic: Funds that invest with a thematic focus on a UN Sustainable Development Goal or other specific ESG themes, allowing investors to put their money to work in the areas that matter most to them
Our survey offered a snapshot of which ESG themes matter most to today's investors. While there is concern around all major sustainability issues, the environment tops the agenda, while pollution and human rights are also priority areas.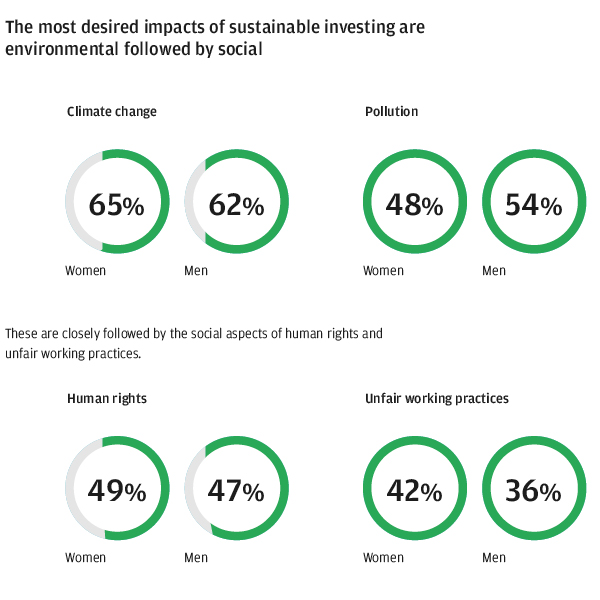 How savers can invest in sustainable companies
By providing the opportunity to help shape a better future for us all, sustainable funds can help savers do good while also targeting an attractive long-term return on their money. Fund managers can exert considerable influence on the companies in which they invest, so choosing a manager with strong sustainable credentials is crucial.
Savers looking to invest sustainably can use the European Union's Sustainable Finance Disclosure Regulation as a guide to the ESG credentials of investment funds. Investors should also look for managers with strong investment stewardship teams, which are able to engage actively with the boards of major companies to drive positive change.
As an example of the scale of this engagement and influence, J.P. Morgan Asset Management's investment stewardship team attends around 500 meetings dedicated to ESG topics each year, and in 2020 voted at around 8,000 shareholder meetings in 80 markets globally. J.P. Morgan's stewardship specialists and portfolio managers engage with companies to encourage best practice, drive positive change, and ultimately create long-term shareholder value for our clients and investors.
Finally, investors should look for sustainable managers with the active research capabilities needed to integrate ESG analysis into all investment decisions. Fundamental research can flag up potential "greenwashing", helping investors steer their money into companies whose actions live up to their sustainable rhetoric. It can also highlight companies driving sustainable solutions and those committed to changing their businesses to a more sustainable models, as well as those that are lagging in their sustainable efforts.
Find out how you can align your savings with your values and earn more sustainable long-term returns. Take the steps from being a saver to an investor today.
Source for investment stewardship statistics: Investment stewardship | J.P. Morgan Asset Management (jpmorgan.com)
Download the investor survey
Get all the results from our Saver to Investor Survey and find out the latest thinking of savers and investors across 10 European countries.