Many savers are put off from investing by the fear of making a mistake, while even experienced investors can worry about making a wrong move. But some simple pointers can help put more savers on the path to greater financial security.
Take control of your finances and start investing
Despite the clear shortcomings of relying exclusively on savings accounts in today's low interest rate world, our recent Saver to Investor survey—which questioned 6,000 people across 10 European countries—found that just three in 10 men regularly invest, and only one in five women.
With the news full of stories about huge price swings in cryptocurrencies and certain high-profile technology stocks, many would-be investors may be put off by worries that they could make costly mistakes. Here, we look at three common investing pitfalls to avoid, so that more savers can take control of their long-term finances.
1. Don't mix up investing and trading
Traders use financial markets as a route to short-term profits. By contrast, investors are focused on long-term outcomes.
One great advantage of making an investment and holding it for many years, rather than chopping and changing, is that you can reap the rewards of compound interest. Compounding is what happens when you earn returns not only on your initial investment, but also on accumulated gains from previous years. To harness its power, begin investing as early as possible, and reinvest income into your investments. As the graph below shows, delaying investment by a relatively short period has a huge negative impact on overall returns.
Our Saver to Investor survey showed that men and women under the age of 45 began investing aged 26 and 27, respectively, giving them many years in which to accrue compound interest. This is an improvement on the age at which older respondents began investing. Women respondents over 45 hadn't started investing until an average age of 31.
Accumulated wealth when investing eur 5,000 annually, growing at 5% each year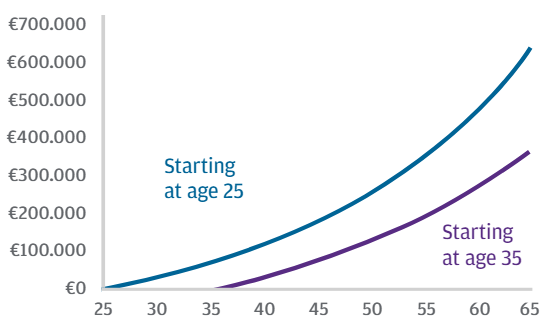 Source: J.P. Morgan Asset Management. For illustrative purposes only. Assumes all income reinvested. Actual investment may incur higher or lower growth rates and charges. Guide to the Markets – Europe. Date as of 31 December 2020.

2. Don't get sucked into trends
It's important to resist the temptation of the latest market fad. We've all heard of the lucky few who doubled their money buying bitcoin at just the right moment, and the fear of missing out is real.
For investors who have a long-term horizon and are realistic about the potential for stocks to fall as well as rise, diversification is a smarter option. Spreading your money across many assets helps mitigate sharp falls in individual holdings while still capturing long-term growth.
As well as diversifying your investment by buying a fund that invests across an entire market index or region, rather than buying shares of a single company – long-term returns can be further smoothed out by having exposure to a range of asset classes such as bonds, real estate and commodities as well as equities (stocks).
Diversification across asset classes works because certain asset classes tend to do well during an economic upturn, while others typically do better when the economy is contracting. By diversifying, the long-term investor, who knows their investment horizon is likely to include numerous rotations of the economic cycle, minimises the risk of all their holdings losing value simultaneously.
3. Don't sell in falling markets
Watching the value of your investment fall in response to forces beyond your control – such as the Covid-19 pandemic – isn't easy, and a common reaction is to sell to stem the losses.
Although the temptation to sell is understandable, it's normally the wrong strategy, as selling crystallises short-term losses and prevents the investor from benefiting from a subsequent rebound in the market – as we saw when global stock markets rose strongly following the outbreak of the pandemic.
In our survey, volatility of returns emerged as a major barrier to becoming an investor, with 34% of women and 39% of men citing market ups and downs as a reason for not investing.
However, although markets frequently suffer bad days, weeks or months, truly long-term losses are unusual. Instead of attempting to time the market, history suggest investors will generally do better by expecting some volatility in returns and allowing their long-term horizon to absorb the ups and downs.
Find out how to take the step from saver to investor
Investing is key to financial security in this low interest rate world, but avoiding common mistakes is crucial. Our Principles for Successful Long-Term Investing explains the time-tested techniques you can use to make effective investment decisions. Our Saver to Investor website can also help you learn more about building a robust investment portfolio that is tailored to your needs.
Download the investor survey
Get all the results from our Saver to Investor Survey and find out the latest thinking of savers and investors across 10 European countries.