23 September 2022
Is 75 the new 25?
Only a few months ago, interest rate hikes of more than 25 basis points seemed unthinkable. Now, with sticky inflation forcing central banks towards ever more restrictive policy, the trend to outsize rate hikes is spreading globally.
Fundamentals
After a lower-than-expected US consumer price index (CPI) release in July, August's headline CPI accelerated to 8.3%, marking the eighth consecutive month that US headline CPI has been above 8%. That said, the US labour market remains strong and has not, thus far, deterred the Federal Reserve (the Fed) from its path to higher interest rates—as evidenced by the third consecutive 75 basis points (bps) rate increase on 21 September. Europe is facing similar inflation problems but, unlike the US where growth is relatively stable, the region is starting to see signs of economic weakness as the cost-of-living crisis persists. Nevertheless, Europe's central banks are continuing to take strong action. In the past week alone, Sweden's Riksbank surprised the market by raising rates by 100bps as consumer prices in Sweden rose to 9% annually in August, the highest level since 1991, while the Swiss National Bank performed its second outsized rate hike (75bps) as inflation reached the highest level in 29 years. Unless unemployment moves materially higher or signs emerge of a deep recession, we expect global central banks to remain singularly focused on controlling inflation through further rate hikes.
Quantitative valuations
Aggressive central banks have pushed front-end global yields higher. UK and German two-year government bond yields have moved sharply higher year to date, selling off by 269bps and 236bps, respectively. In the US, the move has been even larger, with two-year Treasury yields rising 328bps to 4.05%, a level not seen since 2007. Despite these meaningful moves, front-end yields are biased to go even higher as central banks appear to be singularly focused on fighting inflation through more aggressive rate hikes. Furthermore, looking back at the Fed's history, there hasn't been a point in time when the US central bank has ended its rate hiking cycle with a negative real fed funds rate. Even after the most recent increase, the real fed funds rate is still deeply negative at -5%, signalling more hikes are needed. The Federal Open Market Committee seems to agree, with revisions to the dot plot raising median interest rate expectations for 2022 to 4.375% (100bps higher), and for 2023 to 4.625% (75bps higher). Data as of 21 September 2022.
The Federal Reserve has never paused a rate hiking cycle with a negative real fed funds rate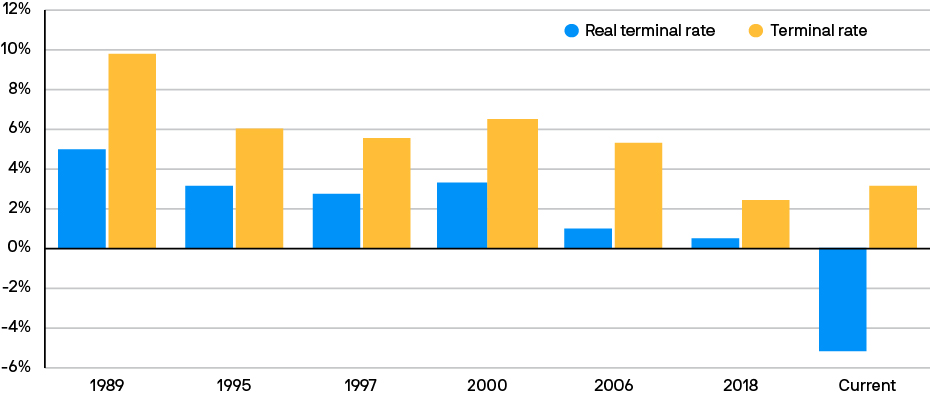 Source: Bloomberg, J.P. Morgan Asset Management; data as of 21 September 2022. Real terminal (peak) policy rate is deflated by headline CPI, year on year.
Technicals
Our positioning survey shows that the market also expects yields to move higher, with investors increasing their short duration positions, mainly in the US, UK and Germany. Government bond supply is expected to be higher in 2023, which could put further upward pressure on government bond yields. Eurozone gross issuance is expected to double in 2023, with current estimates of EUR 800 billion. Issuance isn't the only driver of higher eurozone yields, however; there are also rumblings that the European Central Bank will commence quantitative tightening in the coming months, which would put further upward pressure on eurozone government bond yields.
What does this mean for fixed income investors?
Following our latest Investment Quarterly meeting on 14 September 2022, recession is now our base case scenario (50% probability) for the direction of market sentiment over the next three-to-six months. We believe central banks will continue hiking rates until growth slows enough to tackle unprecedented high inflation. Importantly, we expect this recession to be driven by central bank policy rather than by over-levered consumers or corporations. As such, we prefer to be short government duration, particularly in the front-end of yield curves as continued rate hikes should push yields higher.
About the Bond Bulletin
Each week J.P. Morgan Asset Management's Global Fixed Income, Currency and Commodities group reviews key issues for bond investors through the lens of its common Fundamental, Quantitative Valuation and Technical (FQT) research framework.
Our common research language based on Fundamental, Quantitative Valuation and Technical analysis provides a framework for comparing research across fixed income sectors and allows for the global integration of investment ideas.

Fundamental factors
include macroeconomic data (such as growth and inflation) as well as corporate health figures (such as default rates, earnings and leverage metrics)

Quantitative valuations
is a measure of the extent to which a sector or security is rich or cheap (on both an absolute basis as well as versus history and relative to other sectors)

Technical factors
are primarily supply and demand dynamics (issuance and flows), as well as investor positioning and momentum