Equity markets ended the year on a high note, with the seasonal Santa Claus rally pushing the S&P 500 to a new all-time high. The stock market is now trading at more than 18x forward earnings, but there are plenty of questions around what next year will bring. The combination of uncertainty around the trajectory of global growth, trade and monetary policy has led some investors to think that this bull market may begin to cool. However, we still see upside in equities, and it is times like these when it is most important to revisit some of the fundamental principles of investing.
The fact of the matter is that no year sees everything go entirely right. As we close the books on the past decade, it is worth revisiting some of the things that have plagued markets at various points in time:
2010 – Greece's sovereign credit rating is downgraded to junk by S&P
2011 – U.S. government debt downgrade
2012 – Eurozone economy experiences double-dip recession
2015 – U.S. dollar spikes, oil prices crash
2017 – Hurricanes Harvey, Irma, and Maria hit the U.S.
2018 – S&P 500 sells off nearly 20% to end the year
2019 – U.S./China trade tensions escalate
The bottom line, however, is that the key to successful investing starts with getting invested, and then staying invested. As shown in the chart below, trying to time the market is extremely difficult, particularly when good days and bad days tend to cluster together. In fact, over the past 20 years, six of the ten best days occurred within two weeks of the ten worst days. The best approach during this period was to ignore the noise.
Asset markets are inherently forward looking, and the reality of the situation is that although 2020 is now underway, you cannot invest with 20-20 hindsight. Some things in the coming year will go right, while others will go wrong; the key is to build a portfolio that can keep your clients comfortable as the market twists and turns.
Get invested, stay invested
Growth of $10,000 investment in the S&P 500 between January 4, 1999 and December 31, 2018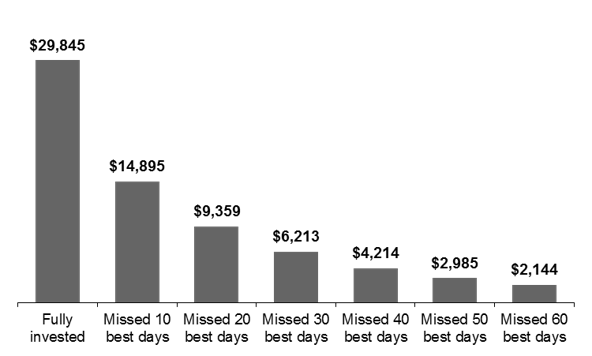 Source: J.P. Morgan Asset Management analysis using data from Bloomberg. Returns are based on the S&P 500 Total Return Index, an unmanaged, capitalization-weighted index that measures the performance of 500 large capitalization domestic stocks representing all major industries. Indices do not include fees or operating expenses and are not available for actual investment. The hypothetical performance calculations are shown for illustrative purposes only and are not meant to be representative of actual results while investing over the time periods shown. The hypothetical performance calculations for the respective strategies are shown gross of fees. If fees were included, returns would be lower. Hypothetical performance returns reflect the reinvestment of all dividends. The hypothetical performance results have certain inherent limitations. Unlike an actual performance record, they do not reflect actual trading, liquidity constraints, fees and other costs. Also, since the trades have not actually been executed, the results may have under- or overcompensated for the impact of certain market factors such as lack of liquidity. Simulated trading programs in general are also subject to the fact that they are designed with the benefit of hindsight. Returns will fluctuate and an investment upon redemption may be worth more or less than its original value. Past performance is not indicative of future returns. An individual cannot invest directly in an index. Data as of December 31, 2018.
---
0903c02a827a89db