In brief
The Bank of England (BoE) opted to raise Bank Rate by 25 basis points (bps) to 5.25%, as a recent cooling in both inflation and the economic outlook allowed it to moderate the magnitude of its hike from the 50bps delivered in June.
Markets had been pricing in some chance of another 50bps hike at this meeting which, had it happened, could have raised the possibility of further 50bps hikes. However, the 25bps increase gives us greater conviction that we won't see any more 50bps hikes in this cycle.
Given that services inflation and wage growth remain elevated, we expect the BoE will raise rates by 25bps again at the next meeting but are increasingly confident that we are approaching a peak in rates.
A 25bps hike rather than 50bps
At its August 2023 meeting, the Monetary Policy Committee (MPC) raised Bank Rate to 5.25%, a new 15-year high (Exhibit 1). The latest inflation print for June had seen headline CPI (Consumer Price Index) decline to 7.9% year on year, still very high but down from 8.7% in May and a peak of 11.1% in October last year. The growth outlook has also deteriorated, with the Committee noting that a greater number of the Bank's Agents had reported a slowing in the outlook for activity.
Six MPC members voted in favour of the 25bps increase, judging that although the monetary stance was weighing on economic activity, a 25bps increase was still necessary to address the risks from greater inflation persistence. Two members – Jonathan Haskel and Catherine Mann – voted to raise rates by 50bps, concerned by a still tight labour market and strong pay growth. Swati Dhingra continued to vote against an increase in rates, citing the lagged effects from past rate increases that are yet to fully feed through, and suggesting that the risks of overtightening are building. Silvana Tenreyro, who last meeting joined Dhingra in voting against a hike, was replaced by Megan Greene who voted with the majority in favour of the 25bp hike.

Strong service inflation vs weaker growth outlook
Annual private sector regular pay growth increased to 7.7% in the three months to May, and three-month on three-month growth in this measure picked up further. Wage growth is expected to remain strong in the near term, with the risk that there could be further upside surprises, according to the Committee. Strong wage growth is a primary reason behind elevated services inflation.
However, developments in some forward-looking indicators, such as the KPMG/REC UK Report on Jobs, implied that wage growth could slow more sharply than anticipated in the second half of 2023.
The UK composite PMI business survey also indicated a slowdown in activity and past increases in Bank Rate are expected to increasingly weigh on UK activity and inflation in the coming quarters. Relative to the May projection, quarterly GDP growth is expected to be weaker throughout much of the forecast period, particularly during 2024 and at the beginning of 2025.
An increasing degree of economic slack is expected to emerge after the middle of next year and the unemployment rate is projected to rise by somewhat more in the Committee's latest projections than in the May Report, reflecting the weaker forecast path of GDP.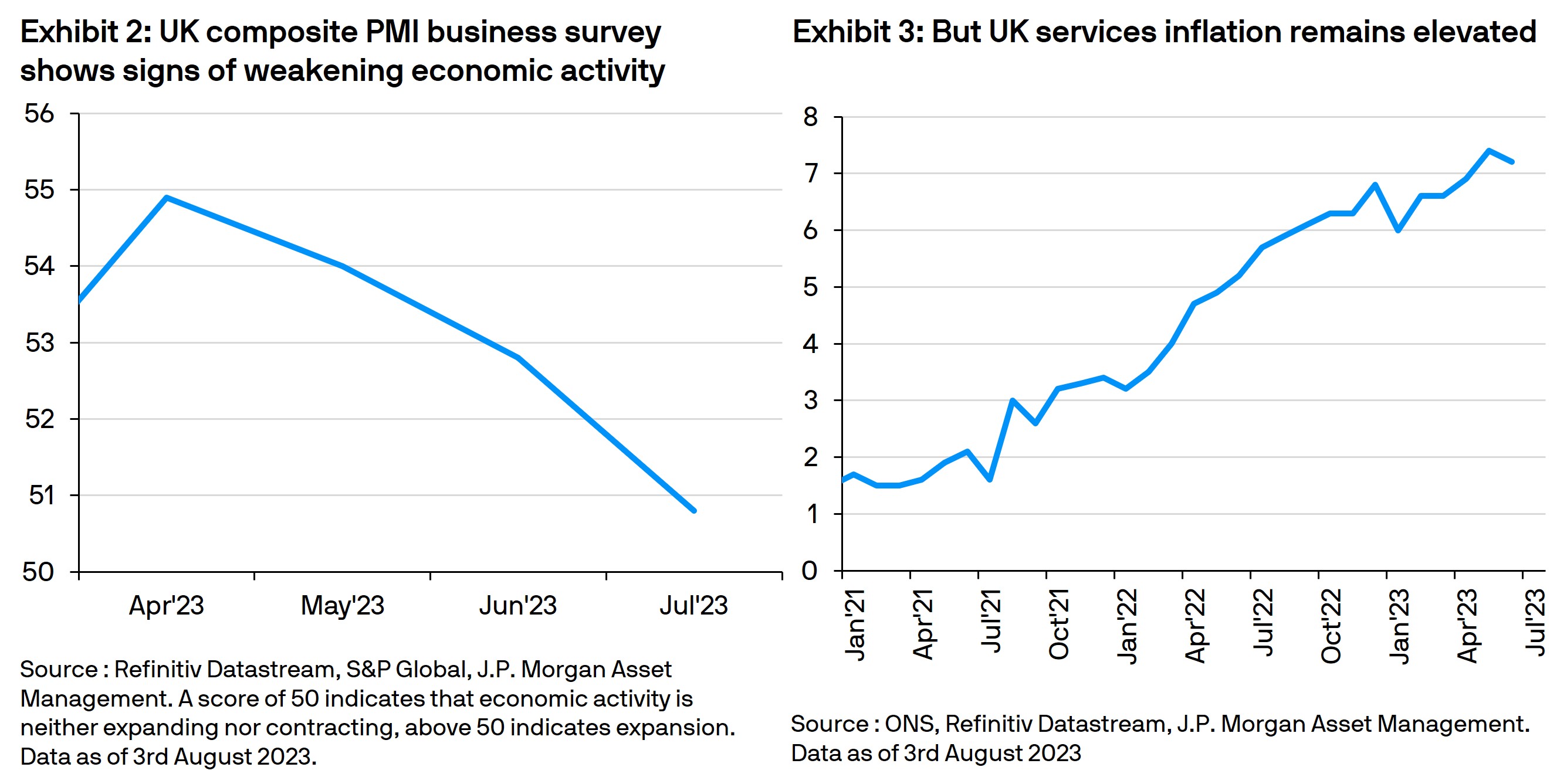 Investor implications
Liquidity strategies continue to benefit from the move higher in rates, with the potential for further rate increases in the near term. Ultra-short-term cash strategies will look to take advantage of increased conviction that we are getting closer to the peak in rates to moderately lengthen duration from the very low levels we have been running as rates moved aggressively higher over the past couple of years.
09rg230408025420
NOT FOR RETAIL DISTRIBUTION: This communication has been prepared exclusively for institutional, wholesale, professional clients and qualified investors only, as defined by local laws and regulations. The views contained herein are not to be taken as advice or a recommendation to buy or sell any investment in any jurisdiction, nor is it a commitment from J.P. Morgan Asset Management or any of its subsidiaries to participate in any of the transactions mentioned herein. Any forecasts, figures, opinions or investment techniques and strategies set out are for information purposes only, based on certain assumptions and current market conditions and are subject to change without prior notice. All information presented herein is considered to be accurate at the time of production. This material does not contain sufficient information to support an investment decision and it should not be relied upon by you in evaluating the merits of investing in any securities or products. In addition, users should make an independent assessment of the legal, regulatory, tax, credit and accounting implications and determine, together with their own financial professional, if any investment mentioned herein is believed to be appropriate to their personal goals. Investors should ensure that they obtain all available relevant information before making any investment. Investment involves risks, the value of investments and the income from them may fluctuate in accordance with market conditions and taxation agreements and investors may not get back the full amount invested. Both past performance and yield are not a reliable indicator of current and future results. J.P. Morgan Asset Management is the brand for the asset management business of JPMorgan Chase & Co. and its affiliates worldwide. To the extent permitted by applicable law, we may record telephone calls and monitor electronic communications to comply with our legal and regulatory obligations and internal policies. Personal data will be collected, stored and processed by J.P. Morgan Asset Management in accordance with our privacy policies at https://am.jpmorgan.com/global/privacy. This communication is issued by the following entities: In the United States, by J.P. Morgan Investment Management Inc. or J.P. Morgan Alternative Asset Management, Inc., both regulated by the Securities and Exchange Commission; in Latin America, for intended recipients' use only, by local J.P. Morgan entities, as the case may be; in Canada, for institutional clients' use only, by JPMorgan Asset Management (Canada) Inc., which is a registered Portfolio Manager and Exempt Market Dealer in all Canadian provinces and territories except the Yukon and is also registered as an Investment Fund Manager in British Columbia, Ontario, Quebec and Newfoundland and Labrador. In the United Kingdom, by JPMorgan Asset Management (UK) Limited, which is authorized and regulated by the Financial Conduct Authority; in other European jurisdictions, by JPMorgan Asset Management (Europe) S.à r.l. In Asia Pacific ("APAC"), by the following issuing entities and in the respective jurisdictions in which they are primarily regulated: JPMorgan Asset Management (Asia Pacific) Limited, or JPMorgan Funds (Asia) Limited, or JPMorgan Asset Management Real Assets (Asia) Limited, each of which is regulated by the Securities and Futures Commission of Hong Kong; JPMorgan Asset Management (Singapore) Limited (Co. Reg. No. 197601586K), this advertisement or publication has not been reviewed by the Monetary Authority of Singapore; JPMorgan Asset Management (Taiwan) Limited; JPMorgan Asset Management (Japan) Limited, which is a member of the Investment Trusts Association, Japan, the Japan Investment Advisers Association, Type II Financial Instruments Firms Association and the Japan Securities Dealers Association and is regulated by the Financial Services Agency (registration number "Kanto Local Finance Bureau (Financial Instruments Firm) No. 330"); in Australia, to wholesale clients only as defined in section 761A and 761G of the Corporations Act 2001 (Commonwealth), by JPMorgan Asset Management (Australia) Limited ABN 55143832080) (AFSL 376919). For U.S. only: If you are a person with a disability and need additional support in viewing the material, please call us at 1-800-343-1113 for assistance. Copyright 2023 JPMorgan Chase & Co. All rights reserved.