12 August 2022
Summer solace
Global fixed income markets have staged a meaningful recovery in recent weeks, but with inflation and growth fears still elevated, this may just be a brief summer solace.
Fundamentals
The strong summer rally has been supported by better-than-expected corporate earnings. Year-on-year earnings growth at US investment grade companies slowed to 11% vs. 13% last quarter, which was not as bad as initially feared. Many high yield companies in the US beat expectations, benefiting from the continued effects of Covid-deferred consumer demand and corporate pricing power amid tight supply conditions. However, the forecast looks cooler as corporate executives highlight the impact of tighter monetary policy, slowing growth and rising input prices on future earnings growth, with the possibility of meaningful downgrades in the coming quarters. One bright spot is the latest US Consumer Price Index (CPI) print, which showed a bigger-than-expected fall in headline inflation, from 9.1% in June to 8.5% in July, despite the continued rise in food prices and rental costs. While the US Federal Reserve will welcome the lower reading, inflation still remains well above its 2% target suggesting that further rate hikes are required. Continued pricing pressure means that policymakers must continue to engineer higher real interest rates and tighten financial conditions further, even in the face of a slowing growth backdrop. This chilly assessment was echoed in the Bank of England's latest economic outlook, which warned that the coming recession may last longer than initially anticipated as policymakers have limited options available while inflation remains elevated.
Quantitative valuations
While the fundamental outlook remains overcast, the sun has been shining on fixed income markets throughout much of July and early August. As of 10 August 2022, spreads in the Bloomberg Global Corporate Aggregate Index have narrowed by 21 basis points (bps) since the recent wides on 5 July. The recovery in high yield has been even more pronounced, with spreads narrowing 136 bps over the same time frame (as measured by the Bloomberg Global High Yield Index). While corporate spreads have narrowed, bond market signals elsewhere are continuing to point towards a recession. In the US, the 2s10s curve, which represents the difference between the yield on the 2-year and 10-year US Treasury, remains deeply inverted; this has historically signalled that a recession is on the horizon. Furthermore, during periods of heightened inflation, the 2s10s curve can invert by as much as 200 bps, suggesting the potential for further volatility in coming months. Despite signs that growth is faltering, markets are currently pricing in further rate hikes into the middle of 2023 as central bankers continue to grapple with inflation. Tighter monetary policy should continue to place upward pressure on bonds, meaning that the recent recovery may just be a temporary respite for investors.
Markets continue to price in significant tightening through the coming autumn and winter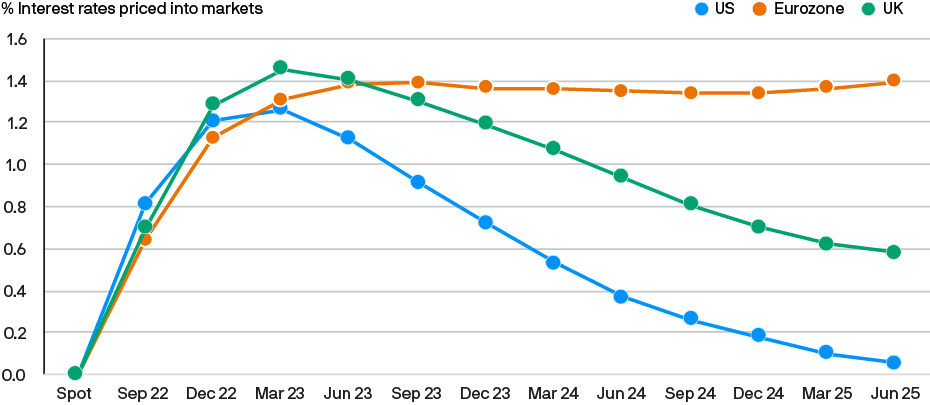 Source: Bloomberg, J.P Morgan Asset Management; data as of 10 August 2022.
Technicals
Seasonal factors often mean that the summer months are quiet and typically characterised by limited liquidity and low volatility. However, technical data suggests investors are repositioning portfolios in August to prepare for a recession, which is helping create a more favourable backdrop for bond markets. Demand for US Treasuries and investment grade fixed income has begun to pick up, particularly among retail clients. In addition, positioning surveys suggest that investors are beginning to move towards being overweight duration. These recent moves generally indicate that investors are seeking to insulate their portfolios against future bumps that might occur as a recession looms large while central bank policy remains restrictive.
What does this mean for fixed income investors?
While the summer markets have offered a short period of solace in what has been a tumultuous year for bonds, investors should be mindful that the immediate economic outlook remains gloomy. Policymakers are struggling with the challenging crosswinds of slowing growth and significant pricing pressure. As global growth stalls, the ability of central banks to ease policy will likely be limited if inflation remains above target, suggesting a longer and potentially more painful recession than any experienced in recent decades. The prospect of central banks continuing to tighten monetary policy into a recessionary environment is why we have been reluctant to add risk to portfolios during this recent rally, and why we remain cautious ahead of the cooler macroeconomic environment in the coming months.
About the Bond Bulletin
Each week J.P. Morgan Asset Management's Global Fixed Income, Currency and Commodities group reviews key issues for bond investors through the lens of its common Fundamental, Quantitative Valuation and Technical (FQT) research framework.
Our common research language based on Fundamental, Quantitative Valuation and Technical analysis provides a framework for comparing research across fixed income sectors and allows for the global integration of investment ideas.

Fundamental factors
include macroeconomic data (such as growth and inflation) as well as corporate health figures (such as default rates, earnings and leverage metrics)

Quantitative valuations
is a measure of the extent to which a sector or security is rich or cheap (on both an absolute basis as well as versus history and relative to other sectors)

Technical factors
are primarily supply and demand dynamics (issuance and flows), as well as investor positioning and momentum