Since 2004, J.P. Morgan has produced "Market Insights" to help individual investors understand and make their way through rapidly shifting markets.
Even with very low bond yields, we believe fixed income has a vital role to play in diversifying portfolio returns, helping to preserve portfolio value against volatility and providing a reliable source of income. "Solving for Fixed Income" takes a look at how the current environment has affected fixed income's traditional role and at the many other opportunities that can accomplish its traditional objectives.
---

1. LOW RETURNS FROM CASH


Cash can be a real drag
In the short term, having a little extra cash can be beneficial if you need to allocate quickly to new opportunities. However, cash is definitely no longer the king with respect to long-term investment returns. Cash rates in Australia have been in decline since the global financial crisis in 2008 and their rise will be tempered by the low inflation outlook and the need to finance rising levels of government debt.
Despite very low yields on government bonds, fixed income continues to play an essential role in diversifying investment portfolios.
---

2. THINK GLOBAL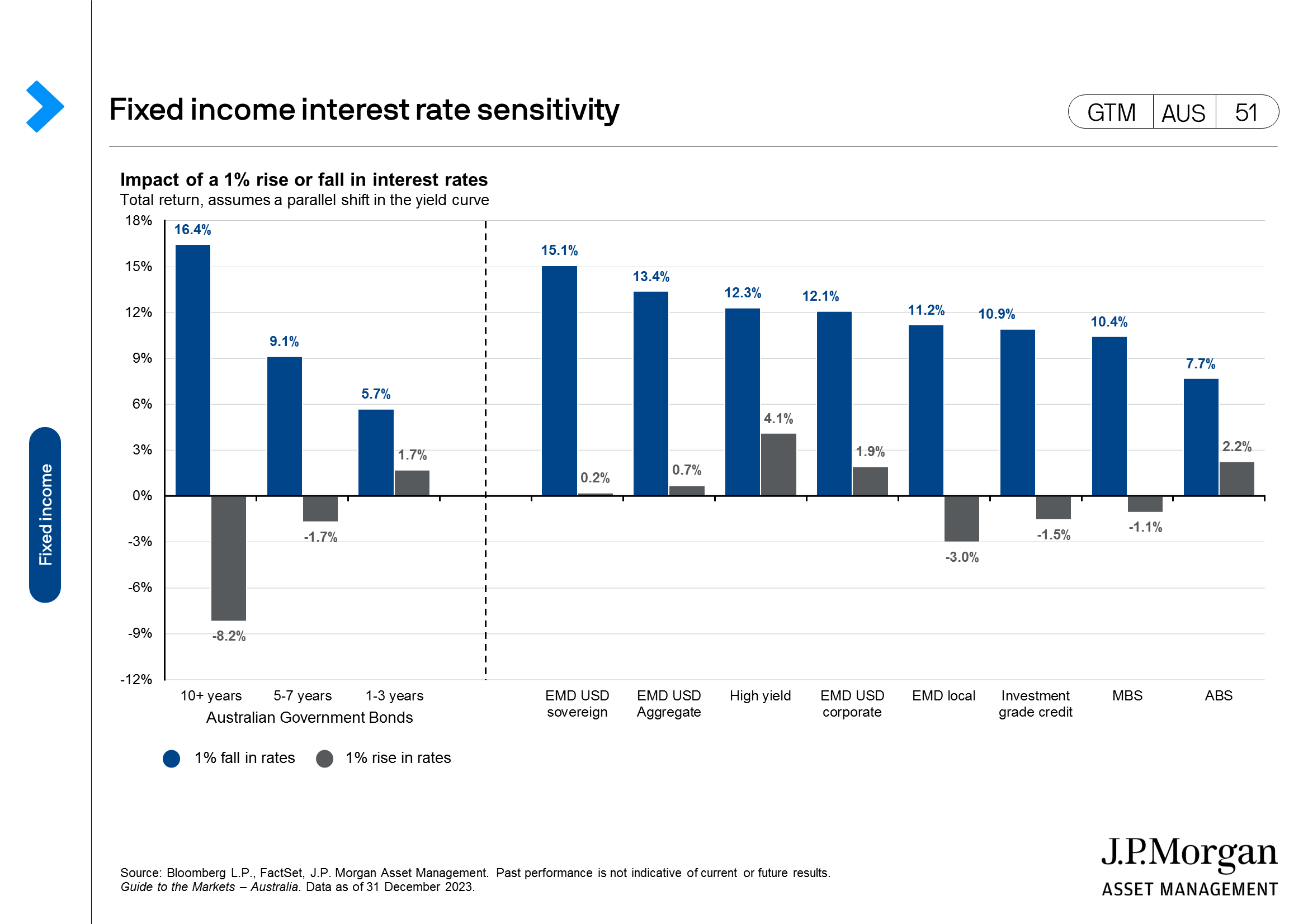 The world of opportunities
The global bond market is vastly larger than the equity market. However, just like the equity market, there is a greater pool of opportunities in debt markets outside of Australia with much higher income on offer.
While the yield on Australian government bonds may still look relatively attractive to what can be earned in other developed bond markets, it is very low by historical terms. Meanwhile, Australia represents less than 2% of the global bond market. There are growing opportunities in emerging markets and across sub-sectors of the fixed income market such as high yield debt.
---

3. MOVING BEYOND GOVERNMENT BONDS


An anchor on bond yields
Monetary policy has changed in the last decade as central banks rely on new tools and the purchase of government bonds, rather than just adjusting cash rates, to set policy.
This expansion of central bank balance sheets globally acts as an anchor on government bond yields. Central banks will not give up these new instruments, and bond purchases have now become a very normal part of monetary policy, even in Australia.
As a result, investors will have to look beyond government bonds in their search of yield and income.
---

4. GLOBAL INVESTMENT-GRADE BONDS


The safety of investment-grade bonds
Investment-grade bonds are corporate bonds associated with companies with a relatively low chance of defaulting their obligations. The default risk is reflected through a slightly higher yield compared to a government bond. This yield difference is known as the spread. This spread presents another source of income and a return that will beat cash in the current environment.
Investment grade bonds can add to the consistency of returns in a fixed income portfolio. However, no market is without risk and some bonds issued by these companies may decline in quality to become what are known as 'fallen angels'.
---

5. HIGH YIELD BONDS


Taking advantage of higher yields
High yield bonds have a rating below investment grade and offer investors a higher yield to compensate for the additional credit risk. These bonds continue to help investors achieve higher yield amidst the current low yield environment.
The U.S. is the largest market for high yield bonds. While defaults increase and spreads widen on these types of bonds during recessions, the market quickly recovers and spreads narrow again. Support has also come from the likes of the U.S. Federal Reserve, who has been willing to buy high yield bonds to add to market stability.
Overall, high yield bonds and the broad credit markets offer up a higher level of income but with added risks. Security selection and active management is required.
---

6. DIVERSIFICATION AND FLEXIBILITY


Look across fixed income sectors
Government bonds diversify portfolios because they generally exhibit low correlation to equities. This principle applies within an asset class as well, and investors should consider how to diversify within the fixed income market. However, that diversification may come at the cost of income.
Investors should consider how they allocate to each fixed income market segment as the difference in drivers of return, sensitivity to interest rates and corporate fundamentals will affect returns. Having the flexibility to move between sectors may be advantageous.