At its monetary policy meeting on July 5, the RBA hiked its overnight cash rate (OCR) by 50bps to 1.35% (Fig 1a). This was also the third rate hike in the current cycle, and the first time ever the central bank has executed back-to-back 50bps hikes, reinforcing its inflation fighting credentials. The rate hike was widely expected, with little change to the currency and money market yields (Fig 1b) following the decision.
Hawkish present:
The RBA was relatively hawkish in the accompanying comments, noting that "global inflation is high" and "Australian inflation is also high" due to a broad combination of global and domestic factors. The latter, including a resilient local economy, strong employment and capacity constraints "are contributing to the upward pressure on prices" and compelling the central bank to finally comprehends that extraordinary monetary policy support is no longer needed.
Optimistic future:
However, the RBA also forecasted inflation to peak later this year; and rather optimistically, expects it to decline back towards the 2%-3% range next year. Australia's inflation is only published quarterly, implying the rate lags real world events. The latest inflation numbers, published in April, showed first quarter headline and core CPI hitting a 20-year high of 5.1%y/y and 3.7%y/y respectively (Fig 2a). Recent fuel and food price hikes combined with the impact of flooding in Sydney, suggest the next inflation print (which will be released on July 27 for the second quarter) could be significantly higher. More contemporaneously, but also perhaps more prejudiced, the latest consumer inflation expectations survey hit a 14-year high of 6.7%y/y on broad based higher prices (Fig 2b).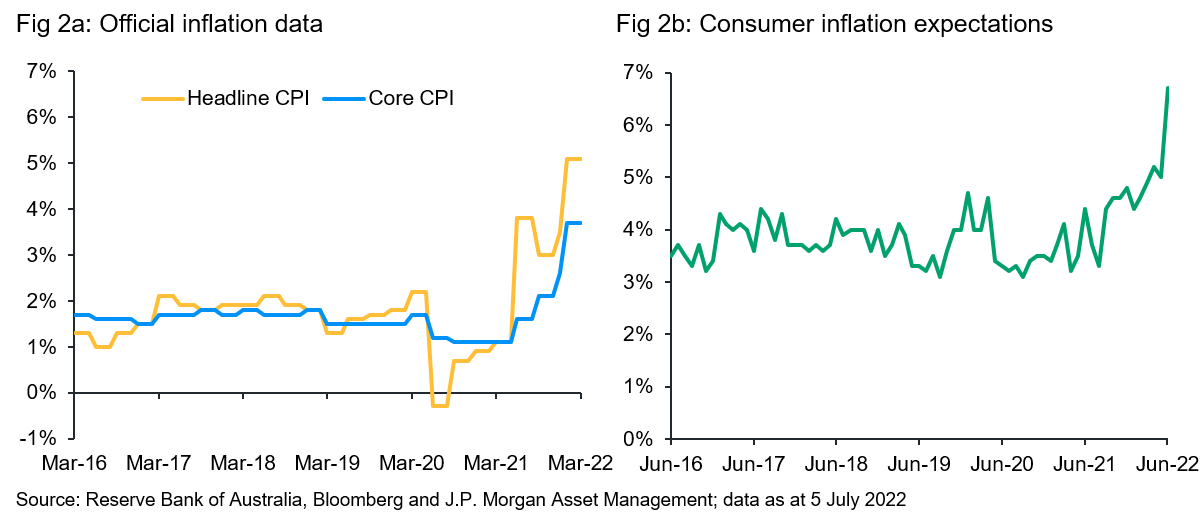 A clear path, but an opaque destination:
The RBA recognized some downside risks, including Covid, a decline in house prices and jittery consumer spending behavior. Having said that, the central bank confirmed its expectation "to take further steps in the process of normalizing monetary conditions in Australia over the months ahead". It also reiterated its data dependent stance in determining the size and timing of future rate hikes.
With the central bank expecting inflation to peak at 7% in Q3-22, we believe the path for interest rates is clear with RBA likely to continue front-loading rate hikes to ensure that inflation expectations remain well anchored. However, the central bank's ultimate destination remains unclear, as a significant divergence emerging between the RBA's and the market's, more aggressive, expectation about the terminal base rate. How exposed Australia is to global and domestic inflationary pressures and the benefits of aggressive front-loading will be some of the important factors in determining which terminal rate is more accurate.