COVID-19 and U.S. life insurers
We look at YE2019 asset exposures in the U.S. life industry that have a high likelihood of being impacted by the effects of and response to COVID-19.
04/07/2020
Wuhan Lin
Mark Snyder
In Brief
To determine life insurer allocations to asset classes most likely to experience losses or down- grades in the current economic downturn, we analyzed the balance sheets of the top 50 life insurers in the United States, which account for $3.6 trillion in general account invested assets.A


We classified their fixed income into the categories moderate concern (MC), high concern (HC) and very high concern (VHC), as well as identified exposures to equities and alternatives likely to experience carry value declines.


We determined that life insurers have a huge range of risk exposures—allocations to very high concern fixed income, alternatives and equities range from 9.2% of assets for the median life insurer up to 26.1% of assets at the 95th percentile. As a percentage of statutory total adjusted capital (TAC), these numbers are 106% and 267%, respectively. So the median life insurer has more than 100% of its statutory capital invested in fixed income that we would consider very high concern, alternatives and equities.


The median life insurer in our analysis has capital equal to 439% of required capital,B so it is in a strong starting position to handle a decline in asset values and increased capital requirements on downgraded assets. However, the extent and severity of these declines, as well as the recovery of the economy, are going to determine how many life insurers experience serious financial difficulties in the coming quarters.


In upcoming research notes we will conduct stress tests on the industry and determine what RBC ratios would result under these stress tests.
---
Covid-19 has caused tremendous human suffering and tragedy around the world. We are all in debt to the medical professionals who have risked their own health to treat the sick and those who have critical jobs necessary to keep society functioning while most of the affected world has engaged in some form of social distancing or quarantine.
In this note we look at YE2019 asset exposures in the U.S. life industry1 that have a high likelihood of being impacted by the effects of and response to COVID-19. The industry is exposed to COVID-19 through mortality, morbidity and investment risks. We're focusing on investment risks, as we have neither the data nor the expertise to address the specific mortality and morbidity impacts of COVID-19 on the U.S. life insurance industry. However, we note that increases in mortality are not universally bad for the solvency of life insurers, and the morbidity exposure of the life insurance industry should not result in significant claims related to COVID-192. In the long term, if sustained low interest rates materialize as a consequence of the damage wrought by COVID-19, it will cause balance sheet deterioration and reductions in GAAP earnings for life insurers. To some extent, U.S. life insurers measure this risk with statutory cash flow testing; however, the low rate scenarios may not be sufficiently extreme. Though we're not in a position to do all of the relevant analysis precisely, we would venture that the biggest near-term risk to life insurance companies from COVID-19 is related to general account investment risks and the potential decline in the value of assets if elevated downgrades and impairments materialize in credit markets alongside comparable drawdowns in equity-like investments. This will be the focus of the rest of this note3.
The situation in financial markets is fluid right now, and fixed income sectors not mentioned in this note could certainly emerge as problems for U.S. life insurers. Additionally, we could have reasonably included additional sectors in this note such as autos, metals, aircraft manufacturers, and REIT debt. Our analysis determined that these exposures were either relatively immaterial or already well captured by our treatment of BBB and BBB- fixed income. In the coming weeks, we intend to publish on specific stress tests and how these might impact life insurance balance sheets and earnings.
How investment risk impacts life insurers
Investment risks to U.S. life insurance companies can be measured in many ways. We can look in terms of declines in total adjusted capital (TAC), increasing risk-based capital (RBC) requirements, declines in RBC ratios, risks to long-term solvency and, for public companies, near-term decreases in GAAP net income. These are summarized in EXHIBIT 1.
EXHIBIT 1: REVIEW OF WAYS THAT ASSET RISKS MAY IMPACT U.S. LIFE INSURERS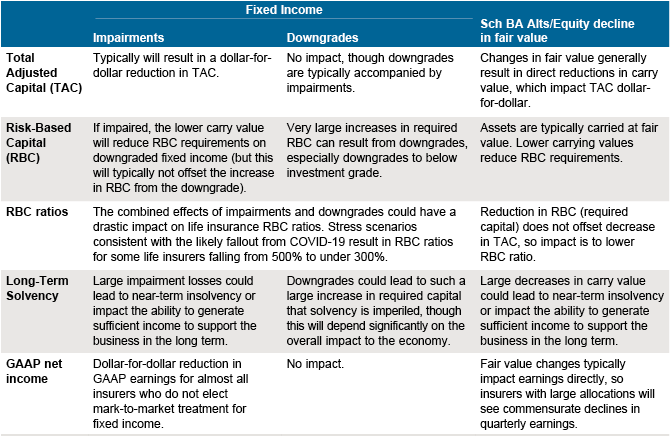 Source: Financial Accounting Standards Board (FASB), National Association of Insurance Commissioners (NAIC), J.P. Morgan Asset Management.
Global insurance strategy & analytics group
This paper is a product of the Global Insurance Solutions Strategy and Analytics team. Insurance portfolio managers within J.P. Morgan's Global Fixed Income Currency and Commodities (GFICC) team were consulted in the writing of this paper, but this paper does not represent the views of GFICC or any other J.P. Morgan Asset Management investment team.

AThe data used in this analysis is based on an early version of YE2019 statutory financials. Every year there are invariably corrections that insurers make to their financials. Additionally, we are missing the financials of one late filing insurer, so we are really showing data for 50 of the 51 largest insurers.

BHere we refer to total company action level (CAL) risk-based capital (RBC).
1This note covers general account assets of U.S. statutory life insurance entities. We exclude non-U.S. insurance companies owned by U.S. insurers as well as assets in holding companies outside of regulated insurance companies. All separate assets, such as those associated with variable annuities and certain pension risk transfer deals, are excluded from the statistics shown in this note.
2Elevated mortality could have a negative, neutral or positive impact on the long- term solvency for insurers, depending on the insurance product, the guarantees associated with the product and the age of the insured. Legacy whole life and universal life (UL) products with high minimum guarantees may be challenging to maintain in a low interest rate environment and elevated mortality may be beneficial to a small number of life insurers. Long-term care insurance is similar in this regard. And elevated mortality obviously reduces the cost of payout annuities. The morbidity exposure of the life industry is related to extended absences from work for medical reasons, and COVID-19 is unlikely to generate these types of claims.
3We are not going to address variable annuities (VAs) and other equity-linked general account annuities. This is outside of our area of expertise. Post-2008, many insurers switched to short-term volatility hedging programs for VAs. These likely worked quite well for insurers who stuck to them diligently up until the latest market troubles. As for general account annuities, ongoing elevated implied volatility could lead to higher costs for options to provide requisite market exposures to policyholders. Based on our knowledge, we do not believe that these issues will threaten the financial condition of insurers in the same way that declines in general account asset values will.
0903c02a82873ca8