Insights to Action: How portfolio diversification and prudent risk management can improve retirement outcomes
09/09/2020
Our research collaboration draws on an EBRI/Investment Company Institute database of 27 million 401(k) participants and a JPMorgan Chase & Co. database of 22 million consumers to examine actual spending and savings behavior—providing the first truly holistic financial view of U.S. households.
J.P. Morgan Asset Management's "Insights to Action" series analyzes the findings of this joint research to offer actionable insights that plan sponsors, plan providers and policymakers can use to make better decisions. We look forward to your continued engagement.
With interest rates near all-time lows and U.S. equities near all-time highs, many people are re-examining what portfolio diversification means in the current environment. In these discussions, we come back to first principles: A resilient portfolio is a well-diversified portfolio, and a well-diversified portfolio is a resilient portfolio. The two go hand in hand.
Diversification is a critical element of prudent asset management, we believe. As the COVID-19 pandemic and the accompanying market plunge and rebound remind us, a prudent approach is especially important for 401(k)s, the only savings vehicle that many Americans have. (See "The 3% difference: What leads to higher retirement savings rates?")
Along with diversification, a prudent approach to 401(k) management should have a clearly defined goal. For us, that means taking calculated risk to make it possible for participants to replace enough of their pre-retirement income to maintain their lifestyle in retirement. Taking measured risk is essential given that rates are so low (and with little prospect of moving much higher any time soon) and U.S. equities far from undervalued.
We aim to minimize downside risk while delivering more predictable participant outcomes—i.e., narrowing the dispersion of outcomes by reducing the risk of significant losses as participants approach retirement. Portfolio losses and volatility toward the end of a savings life cycle could negatively affect a participant's ability to retire when and/or as planned. In other words, we don't aim to maximize portfolio returns, per se. We're looking to get as many people as possible the income replacement they need.
Of course, savings is key. No single factor is more determinative to retirement security than a participant's savings rate (see "Insights to Action: How integrated plan design and financial wellness programs can improve retirement outcomes"). Our research finds that the likelihood1 of achieving retirement success2 is 12 times greater if one saves like the "middle savers" in our research population (consistently at around 5%)3 vs. the "low savers" (consistently at around 2%).
We look at this middle saver population to demonstrate the benefit of SmartRetirement's approach to diversification. Here we underscore one foundational point: Without adequate saving, investing on its own cannot fill a retirement income gap. But a prudent approach to retirement investing can help increase the odds of a successful retirement outcome by delivering returns that compound over time and—this is key—by protecting assets in the years just before and just after the start of retirement.
Unlike many other target date funds, which rely heavily on U.S. equities and U.S. government and investment grade bonds—typically linked to the S&P 500 and Barclays Aggregate—J.P. Morgan's SmartRetirement portfolios have a greater exposure to international equity (including emerging market equity), high yield bonds and emerging markets debt.
We think these extended asset classes can strengthen portfolios over the long term and help deliver the best chance for a successful retirement outcome. At the current market juncture, especially, a focus on diversification is critical. Economies will be recovering at different paces from COVID-19, with different impacts on equity markets across the globe. International equities offer exposure to a wide range of economic growth potential, attractive relative valuations and dividend payouts. U.S. dollar-based investors should get an added boost from a likely weakening USD, which will make their non-U.S. holdings relatively more valuable. In fixed income, credit and emerging market debt provide a significant return pickup over sovereign bonds, with manageable increases in volatility.
To demonstrate the benefits of diversification, we compare the stock-bond frontiers of two portfolios in Exhibit 1. (As a reminder, a stock-bond frontier illustrates a portfolio's risk/return trade-off—i.e., the expected return for a given level of risk.) One frontier in Exhibit 1, made up of U.S. large cap stocks and Barclays Aggregate bonds, is labeled "less diversified." The other frontier, made up of global equity and global fixed income, including credit, is labeled "more diversified." As the exhibit shows, the more diversified portfolio produces a higher return than the less diversified portfolio at each risk level.
The more diversified portfolio produces a higher return at each risk level
Exhibit 1: USD STOCK-BOND FRONTIER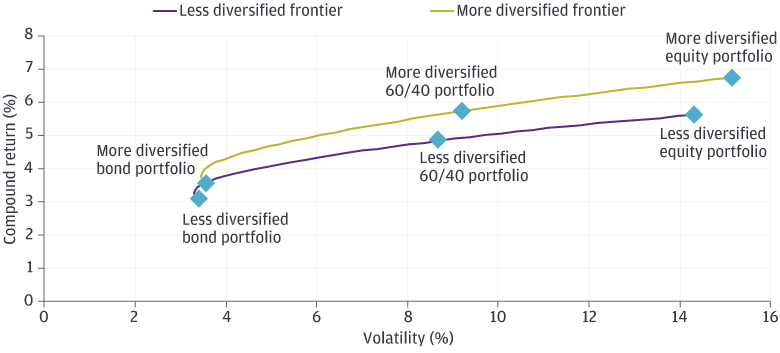 Source: J.P. Morgan Asset Management Long-Term Capital Market Assumptions.
Our research findings illustrate the value of diversification in our SmartRetirement funds. Our middle saver population has nearly a 20% higher success rate using SmartRetirement's more diversified glide path vs. a less diversified glide path (Exhibit 2). At the median level, potential annual spending in retirement would be roughly $4,000 higher than the annual spending resulting from a less diversified glide path.
When the benefits of diversification compound over time, the effect can be very powerful indeed. As we have noted—and as we have learned over many decades as an asset manager—a well-diversified portfolio is a resilient portfolio.
Portfolio diversification can have a significant impact on retirement success
Exhibit 2: MIDDLE SAVER SUCCESS RATE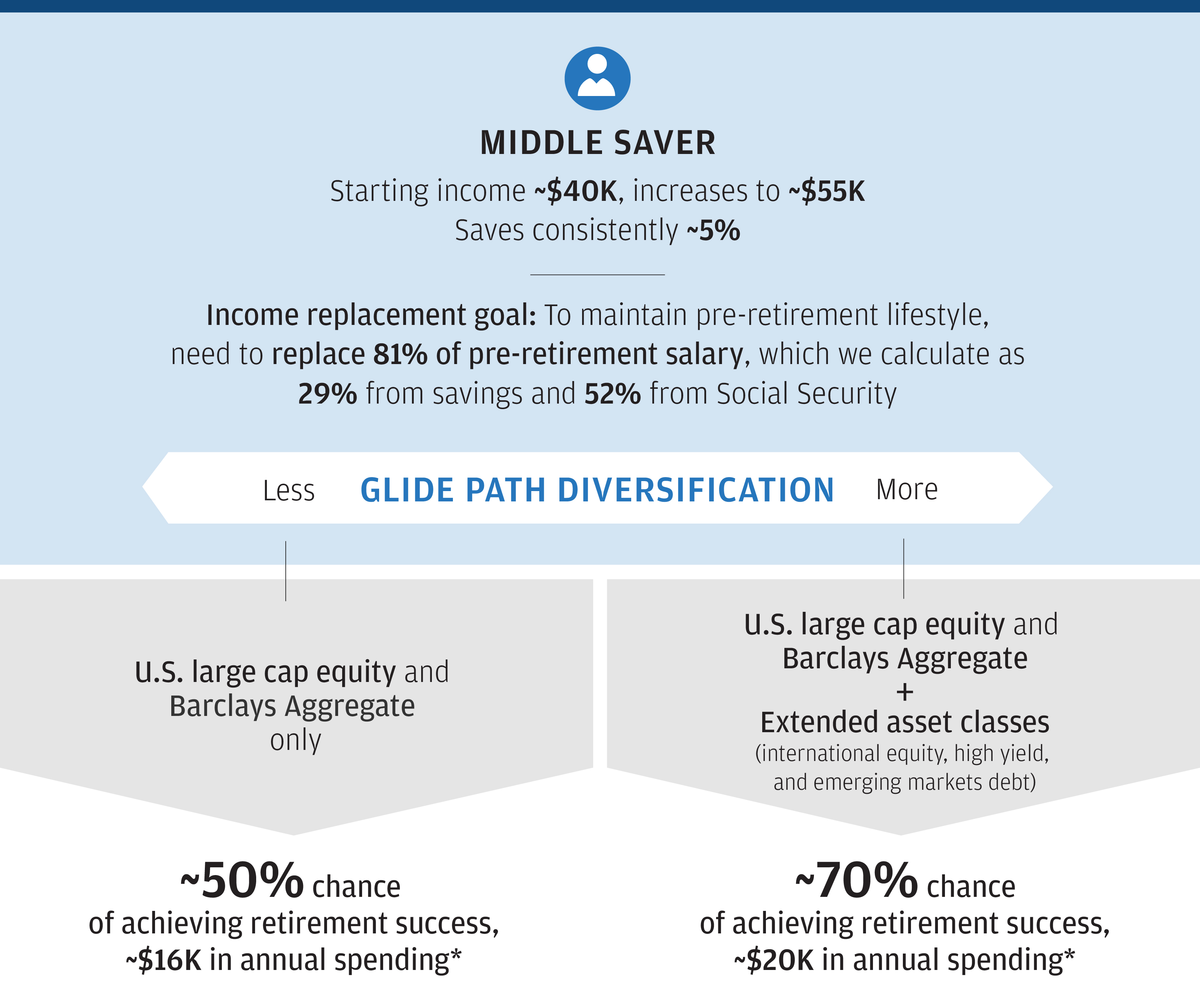 Source: J.P. Morgan Asset Management Long-Term Capital Market Assumptions.
Note: *At the median level. The above example is for illustrative purposes only and not indicative of any investment. Additional 50% employer match, up to 6% contribution are assumed. An inflation rate of 2% is taken into account. We determine the likelihood of retirement success based on 10,000 simulations across various market scenarios. Success is defined as the percentage of simulated paths that result in an amount equal to or greater than 81% in income replacement in retirement when combined with Social Security. J.P. Morgan's Long-Term Capital Market Assumptions served as the starting point for our market simulations. Keep in mind that these are forward-looking projections.
1 We determine the likelihood of retirement success based on 10,000 simulations across various market scenarios and behavioral cash flow uncertainties. Success is defined as the percentage of simulated paths that result in an amount equal to or greater than 81% in income replacement in retirement when combined with Social Security.
2 The definition of retirement success is based on J.P. Morgan income replacement research. In deriving the income replacement rate, we consider reductions in income tax and expenditures in retirement and assume that Social Security and private savings must together meet the income replacement rate.
3 Five percent savings rate includes the employee contribution rate only.
0903c02a829c0ff4
Disclosures:
Diversification does not guarantee investment returns and does not eliminate the risk of loss. Diversification among investment options and asset classes may help to reduce overall volatility.
This paper was produced by J.P. Morgan Asset Management (JPMAM) alone and includes JPMAM's view only. The Employee Benefit Research Institute (EBRI) was not involved in the writing of this paper. The paper is informed by research from a previous publication that was a joint collaboration between JPMAM and EBRI.
EBRI is a Washington, D.C.-based organization committed exclusively to public policy research and education on economic security and employee benefit issues.
In an ongoing collaborative effort, the Employee Benefit Research Institute and the Investment Company Institute (ICI) maintain the EBRI/ICI Participant-Directed Retirement Plan Data Collection Project, which is the largest, most representative repository of information about individual 401(k) plan participant accounts. ICI is the leading association representing regulated funds globally, including mutual funds, exchange-traded funds (ETFs), closed-end funds and unit investment trusts (UITs) in the United States, and similar funds offered to investors in jurisdictions worldwide. While this paper uses data from the EBRI/ICI database, ICI did not participate in the research collaboration between EBRI and J.P. Morgan Asset Management and was not involved in the writing of the inaugural report or this paper.
EBRI is not affiliated with JPMorgan Chase & Co. or any of its affiliates or subsidiaries.
DATA PRIVACY: We have a number of security protocols in place which are designed to ensure all customer data are kept confidential and secure. We use reasonable physical, electronic and procedural safeguards that are designed to comply with federal standards to protect and limit access to personal information. There are several key controls and policies in place which are designed to ensure customer data are safe, secure and anonymous: (1) Before J.P. Morgan Asset Management (JPMAM) receives the data, all selected data is highly aggregated and all unique identifiable information, including names, account numbers, addresses, dates of birth and Social Security numbers, is removed. (2) JPMAM has put privacy protocols for its researchers in place. Researchers are obligated to use the data solely for approved research and are obligated not to re-identify any individual represented in the data. (3) JPMAM does not allow the publication of any information about an individual or entity. Any data point included in any publication based on customer data may only reflect aggregate information. (4) The data are stored on a secure server and can be accessed only under strict security procedures. Researchers are not permitted to export the data outside of JPMorgan Chase's (JPMC) systems. The system complies with all JPMC Information Technology Risk Management requirements for the monitoring and security of data. (5) JPMAM provides valuable insights to policymakers, businesses and financial professionals, but these insights cannot come at the expense of consumer privacy. We take every precaution to ensure the confidence and security of our account holders' private information.