While conversations are a good place to start, we believe alternative investments will shift from optional to essential in the years ahead.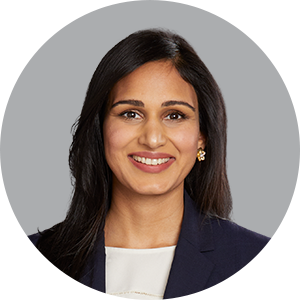 Listen to On the Minds of Investors
Although risk assets enjoyed positive returns for most of November, the emergence of a new COVID variant and a hawkish pivot from the Fed prompted a risk-off environment to close the month, with investors positioned accordingly.
The first half of November suggested further progress in the recovery, with healthy job gains of 546,000 in October, solid retail sales (+1.7% m/m) and consumer spending (+1.3% m/m) pointing to stronger 4Q growth, and headline inflation hitting an over 30-year high of 6.2% y/y. The Federal Reserve announced plans to begin tapering asset purchases, and a $1.2 trillion infrastructure package passed. However, news of the Omicron variant sparked a strong risk-off sentiment, compounded by comments from Fed Chair Powell about considering accelerating the pace of tapering. Market leadership reversed; cyclical areas like international equities, U.S. small caps, and commodities experienced heavy declines, while U.S. fixed income ended positive. The U.S. 10-year Treasury yield, which peaked at 1.67% just days earlier, closed the month at 1.43%.
How were investors positioned for this sudden swing in markets? J.P. Morgan Asset Management's Portfolio Insights team reviews thousands of financial advisor portfolios each year, and as a result, can provide timely information on average asset class positioning for moderate 60-40 portfolios. Based on this sample, the average portfolio continues to be positioned for the outperformance of growth over value and the U.S. over international. The average allocation to the Large Cap Growth category is at its highest level in the last 12 months, while international equity hit its lowest allocation totaling 15% of the overall portfolio, a 6% underweight relative to the J.P. Morgan Multi-Asset Solutions' strategic allocation in a 60-40 portfolio. Although this likely benefited investors in the final days of the month, as we get more clarity on Omicron and the recovery continues, adequate exposure to value and international equities should benefit portfolios.
Within fixed income, investors continue to shorten duration in anticipation of higher rates, with average portfolio duration now at 4.5 years, compared to the Bloomberg U.S. Agg at 6.7 years. Challenges in fixed income are leading investors to more flexible styles with active credit quality, duration and sector management, along with higher yield potential. For example, the Multisector Bond category had the highest m/m increase of any major equity or bond category and now accounts for 9% of the average total portfolio.
Advisors continue to have conversations about alternatives given the aforementioned challenges in fixed income, volatile equity markets, and the need to address specific outcomes like income, diversification, and return enhancement. While conversations are a good place to start, we believe alternative investments will shift from optional to essential in the years ahead.
Market volatility could continue in December until we get more clarity on Omicron and as we await the Fed's final meeting of the year. Given this backdrop, investors would be wise to be selective and diversified in portfolios.
Range of investor portfolio allocations to key asset classes over the last 12 months
Morningstar categories, percent of average total investor portfolio

Source: J.P. Morgan Asset Management. Bars represent the high and low average allocations of all moderate portfolios run through JPMorgan's Portfolio Insights tools, observed over the trailing 12-month period. Dashes mark current average allocations as of November 30, 2021. Asset classes listed represent the Morningstar categories that are used most frequently in 60-40 portfolios.
09in210712234612