Simply put, the rise in yields can be explained entirely by the inflationary impact expected under a Democrat led fiscal agenda, rather than an improvement in economic growth.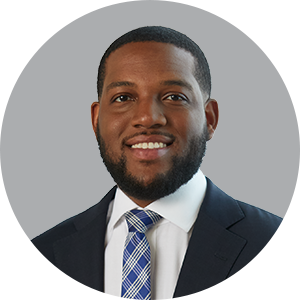 Listen to On the Minds of Investors
On Thursday evening, the incoming Biden administration released details on a 1.9 trillion USD stimulus package, including another round of individual checks and expanded unemployment benefits, an increase to the federal minimum wage to 15 USD/hr., aid for state and local governments, and additional funding for education and vaccine distribution. Slim Democratic majorities in both the House and Senate suggest this bill will likely face challenges being passed, however, we still expect further aid of roughly 1 trillion USD, pushing the FY21 deficit to 3.7 trillion USD1 or -17.7% of GDP. Continued deficit spending necessitates further Treasury issuance, and with another fiscal jolt now being delivered to the economy in the first half of 2021, nominal U.S. Treasury yields have climbed above 1%. While their ascent technically began in early August, investors are asking how much higher Treasury yields could climb in 2021?
First, investors should consider what has driven the rise in yields over the past few months. Long-term nominal yields can be broken down into two parts: expected real economic growth and expected inflation. As highlighted in the chart, since the November 4th election, the 36 bps rise in long-term nominal yields has been driven entirely by long-run inflation expectations, which have moved higher by 44 bps. Simply put, the rise in yields can be explained entirely by the inflationary impact expected under a Democrat-led fiscal agenda, rather than an improvement in economic growth. Moreover, the Federal Reserve (Fed) is expected to continue its very easy policy stance, purchasing around 1.4 trillion USD in Treasury and mortgage-backed securities and keeping rates near zero, together increasing the risk of higher inflation.
It should be recognized that federal stimulus that has essentially been geared toward supporting household incomes and business financing does little to improve the underlying drivers of long-run economic growth, like incentivize capex or job creation. However, it does stimulate aggregate demand. Naturally, without a commensurate rise in aggregate supply, due in large part to business closures and a slow re-build of inventories, prices will inevitably grind higher. Going forward, however, even with further stimulus, inflation is unlikely to move materially above 2.5% this year given considerable slack in the labor market and a gradual rollout of vaccines, which should limit the risk of an immediate unleashing of pent-up demand. Indeed, while inflation expectations have moved higher, inflation is expected to average just shy of 2.1% over the coming decade.
All things considered, we expect nominal bonds yields to grind higher to 1.50%-1.75% by the end of the year. In our view, the risks to yields are to the upside as growth recovers strongly in the short term amidst broadly accommodative financial conditions. At some point, however, the Fed will consider tapering its asset purchase program, which very well may lift yields above 2% sometime in 2022.
Decomposing change in 10 yr. yields: growth and inflation
Basis points, cumulative change in 10Y yield since November 4, 2020
Source: FactSet, Tullet Prebon, J.P. Morgan Asset Management. Growth is measured using the change in U.S. 10Y TIPs yield. Inflation is measured as the difference in nominal 10Y and U.S. 10Y TIPs yield. Data are as of January 13, 2021.
---
1Estimated 3.7 trillion USD deficit includes the CBO's estimate of 1.8 trillion USD FY21 deficit as of September 30, 2020, 900 USD billion in federal stimulus passed in December 2020, and our estimate of ~1 trillion USD under the new administration to be passed in late January 2021.
0903c02a82aded7a