In brief
Investors are questioning the economic and profit outlook, as evidenced by the recent decline in interest rates
The second quarter looks set to see the highest quarterly nominal value of S&P 500 operating earnings in history
Tech profits continue to look healthy, and the more cyclical parts of the market are seeing earnings bounce nicely
Supply chain disruptions, semiconductor shortages and higher wages all pose a threat to margins next year
Value should resume its outperformance relative to growth and interest rates should rise into the end of the year
All about the vantage point
Everything in life is relative. If my daughter does not sleep one night, even a few hours of sleep the following night will leave me feeling well rested. The other day I made the trek back into New York City on a +90 degree day; the following day it was well above 80 degrees, but felt much cooler. And when you move from a Manhattan apartment to a house in the suburbs, sometimes it feels like you are living in an animal preserve.
In economics and finance, there is a phenomenon known as the "base effect." People refer to base effects when a significant amount of the change in a given variable is a function of its level during the prior period. Last year at this time earnings were collapsing; today, that collapse is making it look like they are surging.
Despite this backdrop of robust economic and profit growth, interest rates have been sending a more ominous message. While much of the move lower in rates has been technical, the spread of the delta variant serves as a reminder that the return to normal may not be as easy as some had assumed. At the same time, recent economic data has disappointed relative to expectations, and a new set of economic projections from the Congressional Budget Office (CBO) point to below-trend growth taking hold by 2023. In an environment characterized by uncertainty, elevated valuations become a greater risk.
Solid profit growth should help the equity market grow into its current valuation, and the current earnings season has been impressive. With 269 companies reporting (71.5% of market cap), our current estimate for 2Q21 S&P 500 operating earnings per share is $49.42. If realized, this would represent growth of nearly 84.5% from a year prior, but an increase of 4.2% on a quarter-over-quarter basis. Quarterly growth has moved from negative to positive territory since the earnings season began, as 85% of companies have beaten earnings estimates and 80% have beaten revenue estimates. Furthermore, both earnings and revenue surprises are tracking well above their long-run averages.
Earnings and revenue surprises
S&P500 companies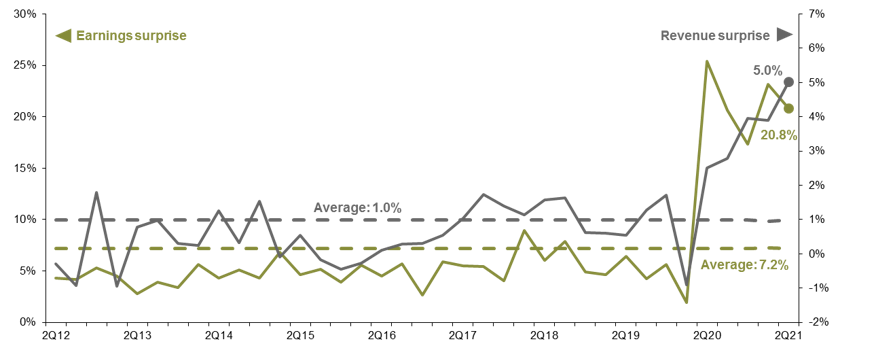 Source: Standard & Poor's, FactSet, J.P. Morgan Asset Management. Data are as of July 27, 2021.
More than meets the eye
As always, banks kicked off the earnings season. Investment banking activities, including M&A and underwriting, were key drivers of performance in 2Q; this helped offset a decline in trading revenue and net interest margins. At the same time, banks continued to release loan loss reserves, which in turn helps artificially boost profits. Going forward, profitability will be driven by the ability to generate stronger loan growth against a backdrop of higher interest rates.
Staying with the cyclical sectors, industrial company profits look to have risen by nearly 300% from a year prior, as a fading pandemic and rising mobility has allowed for a rebound in the airline industry. Some of these companies have reported their first profits since 2019, but COVID-19 related aid from the federal government continues to help offset costs. Excluding government aid, most airlines continue to see losses, but expect to be profitable in the second half of this year.
Energy sector profits also look set to rebound smartly after a negative earnings print in 2Q20. This improvement in profitability is being driven by both an increase in demand and consumption, as well as a recovery in oil (+143.4% y/y) and natural gas prices (+73.3% y/y). Producers have seen the biggest bounce in earnings, but equipment and services firms are seeing signs of improvement as well. Going forward, U.S. shale production may be less correlated to prices changes than in the past, as evidenced by the behavior of these producers against a backdrop of rising oil prices this year.
Average oil prices and production
Total U.S. oil rig count, average year-over-year change (%)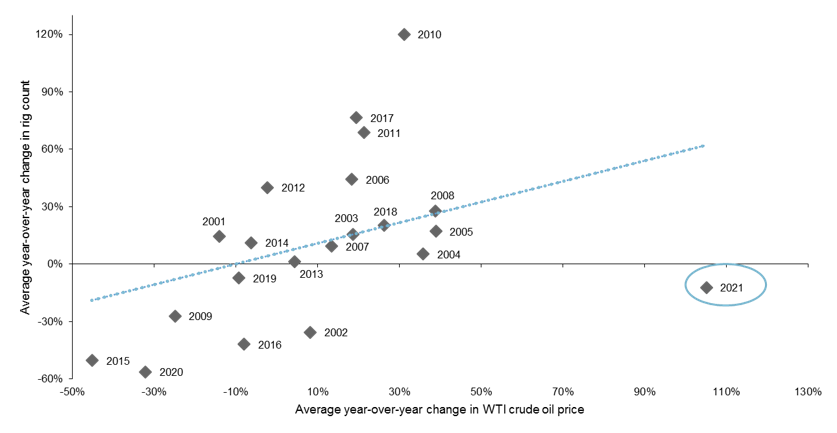 Source: FactSet, J.P. Morgan Asset Management. U.S. oil rig count if from the Baker-Hughes Rotary Rig Count index. Oil prices are represented by WTI Crude Oil prices. Average year-over-year change is calculated by taking the mean year-over-year changes on a monthly basis in a given year. The period analyzed above is 2001 - June 2021. Data are as of July 27, 2021.
Results in the consumer discretionary sector have been better than expected, as re-opening has pushed mobility higher and led to more balanced consumption between goods to services. This has translated into an increase in spending on luxury products, airfares and eating out. Furthermore, the recent increase in car prices has supported auto company earnings, while food and beverage companies have benefitted from the resumption of in-person events.

The technology sector looks to have enjoyed another solid quarter of profitability, with all of the underlying industries seeing earnings increase during the second quarter. The largest contributions to earnings are coming from semiconductor companies and, perhaps unsurprisingly, hardware companies as well. However, despite very solid consumer demand in the second quarter, some companies have warned that production may decline in the second half due to a shortage of chips and various supply chain issues. Meanwhile, earnings in the communication services sector are also expected to be robust due to significant growth in business segments like media, advertising and cloud computing services.
Finally, the health care sector should benefit from both a rebound in demand for health care equipment and supplies, as well as solid results in both the pharmaceutical and biotechnology industries. As the pandemic gradually fades into the background, we expect the parts of the health care sector that were negatively impacted by COVID to support profitability. However, there is still the risk that headwinds for providers begin to emerge on the back of revised health care legislation later this year.
Supply chains, wages and margins
Earnings growth is robust today, but equity markets care more about what happens tomorrow. The stock market has priced in a lot of good news, as evidenced by the combination of relatively lackluster response to earnings beats and sharp declines among names that have missed expectations. While analyst estimates for 2022 continue to push higher, a variety of risks are beginning to materialize on the horizon that will be worth watching during the second half.
The biggest risk stems from the potential impact of supply chain disruptions, semiconductor shortages, and rising wages on profit margins. As shown in the chart below, various supply chain disruptions and extended wait times at various ports have pushed the price of moving cargoes (and therefore containership earnings) to the highest level seen in more than a decade.
Average containership earnings per day
Dollars per day
Source: Clarksons, J.P. Morgan Asset Management. Data are as of July 27, 2021.
Higher transportation costs are not the only potential source of margin pressure. Rising input costs are a headwind to margins as well –plastic, the raw materials needed to produce plastic, as well as soft commodities that are essential to production of food and beverages have all seen prices move higher. Furthermore, semiconductors are in short supply; as shown in the table below, semiconductors are an important input across all of the S&P 500 sectors, suggesting pricing pressures driven by this shortage could be relatively widespread.
Semiconductors are a key input across all sectors
Sources: Company reports, J.P. Morgan Global Research, J.P. Morgan Asset Management. AI/DL is artificial intelligence and deep learning. Data are as of July 27, 2021.
Company reports have cited strong orders, lean inventories, stretched lead times and above average pricing trends, many of which are all reflective of strong demand and lagging supply in the semiconductor market. This gap between supply and is expected to widen further as spending accelerates during the back half of 2021. On the supply side, producers have expressed confidence in growing capacity going before year-end; however, any expansion will be incremental and insufficient to close the gap. Additionally, while factories in Asia have remained open despite an increase in COVID-19 cases, many factories are operating at reduced output levels. Overall, supply side indicators are tight across all markets, with some companies reporting lead times nearly twice as long as normal levels potentially into next year.
Based on management commentary and survey data, businesses look set to pass these higher costs along to consumers in an effort to defend profit margins. However, in doing so, they risk undermining demand, which would end up pushing margins lower. The outlook for 2022 earnings will center on the ability for profit margins to remain at or near all-time highs.
Investment implications
The combination of declining interest rates, fears about the delta variant, and economic data that has disappointed relative to expectations has led growth to outperform value in recent weeks. As a result, more and more clients are actively rethinking their equity positioning into the end of the year. While it may be tempting to chase recent performance, we continue to anticipate that the second half will see interest rates move higher, repricing more in-line with the above-trend pace of economic activity that currently characterizes our forecasts. This should be supportive of cyclical assets broadly, and allow value to outperform growth.
However, we simultaneously see room for volatility into the end of the summer as any increase in yields is likely to be a sudden and sharp move higher. As we saw in February and March, the speed of an increase in rates can be as important as the level that they rise to; this, coupled with unfavorable seasonal factors and a decline in liquidity, could make the end of the summer a bit of a bumpy ride for investors. That said, earnings growth will slow, but not stall, going forward, providing support for equity markets to resume their upward ascent into the end of the year and grow into current valuations over time.
09jz212907122106