DC participant behavior in volatile times
What we can learn from the global financial crisis
04/03/2020
Kelly Hahn
The lesson of 2008–09: Stay the course
Defined contribution (DC) participants are understandably concerned about their retirement assets, given current market turmoil. The S&P 500 has recently touched levels 30% below its February 19 peak, and its best and worst days over a 20-year window have occurred within weeks or even days of each other. What should participants do?
DC participants, their financial professionals and plan sponsors can take a lesson from the experience of the global financial crisis, namely: Stay the course. Overall, that's what participants did in 2008–09, when markets dropped as much as 49% and volatility hit an all-time high. Rather than panic and act on their emotions, most participants allowed their DC plans to do the job they were meant to do: encourage early and regular contributions, discourage market timing and let dollar-cost averaging work for them. In fact, according to Investment Company Institute findings, in 2008–09:1
Almost 97% of participants continued making contributions.
Withdrawal behaviors generally did not increase.
More than 85% of participants did not make an investment change.
The good news is that by 2010 the total value of assets in participant accounts had recovered (Exhibit 1).
In 2008–09, participants stayed the course, and the total value of DC assets recovered by 2010

EXHIBIT 1: TOTAL VALUE OF U.S. DC RETIREMENT ASSETS
Consistent contributions (individual and, where applicable, the employer match) help participants stay on track to accumulate the assets they will need in retirement. And with dollar-cost averaging, buying more shares with a given contribution amount as prices decline can potentially help when markets bounce back. What's more, trying to time the market, especially in volatile periods, is generally a futile exercise. A participant who stayed fully invested in the S&P 500 over 20 years (through December 2019) would have earned more than 6% annually vs. less than 3% for those who missed just 10 of the days with the highest daily returns. Recent volatility has made it even more difficult, if not impossible, to avoid the worst days and benefit from the best. Adding in the volatility of daily returns through March 17, 2020 tightens the proximity of the best and worst days. Over that extended 20-year time frame, six of the best days occurred within a week of one of the worst 10 days (vs. two weeks through December 2019) (Exhibit 2).
Especially in volatile times, it's better to stay invested than to try to time the market
EXHIBIT 2: RETURNS OF THE S&P 500
Performance of a $10,000 investment between January 3, 2000 and December 31, 2019
Improving participant behavior for the long term
Of course, no participant is average. Some will find it more challenging than others to maintain contributions or avoid withdrawals, depending on their overall financial well-being, age, portfolio positioning going into the downturn and other considerations. With that in mind, the current environment can serve as a teachable moment—a time to reinforce good behaviors, not just in the clutch but for the long term. If participants are able to, encourage them to:
Contribute consistently at a level that allows them to maximize the employer match.
Build an emergency fund, separate from retirement assets, to cover several months of living expenses, protecting retirement assets from withdrawals in a down market.
In terms of managing their portfolios, help participants to see the potential advantages of:
Maintaining a diversified portfolio allocation that reflects their capacity for risk, based on their savings and withdrawal behaviors and target date for retirement—recognizing that this risk level should generally decline as they approach that target date.
Rebalancing routinely back to the appropriate level of risk exposure; market performance can take portfolios off track.
Investing in professionally managed options, like target date funds (TDFs), that are diversified and periodically rebalanced to keep participants on track.
Diversification and periodic rebalancing can help moderate portfolio declines during market drawdowns and potentially help portfolios recover more quickly as markets rebound. For example, following the 2008–09 market decline, a 60% equity/40% bond portfolio declined less dramatically and recovered 17 months ahead of the S&P 500 index (Exhibit 3).
Diversified portfolios, rebalanced annually, experienced more moderate declines and recovered sooner than the S&P 500 through the 2008–09 downturn and subsequent rebound
EXHIBIT 3: PORTFOLIO RETURNS—EQUITIES VS. EQUITY AND FIXED INCOME BLEND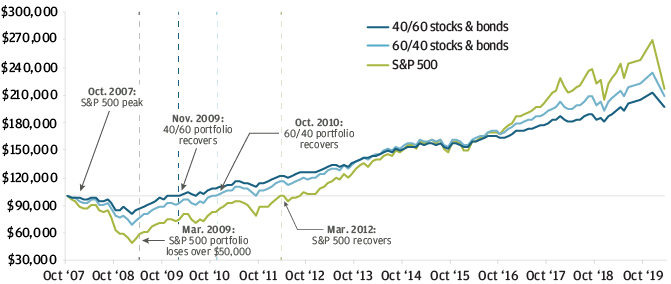 Source: J.P. Morgan Asset Management; Barclays, Bloomberg, FactSet, Standard & Poor's. Data as of March 31, 2020.

The DC landscape has changed since 2008—for the better
Fortunately, today there are tools to help investors diversify effectively and stay the course, and plan sponsors are increasingly using them to help improve participant retirement outcomes. Many have selected target date funds as their qualified default investment alternative (QDIA) and implemented automatic enrollment. These tools are designed to help working Americans begin saving early, contribute consistently and maintain a diversified portfolio that gradually decreases risk assets as participants near retirement. TDF rebalancing also helps participants remain on their glide path, even in times of market turmoil, likely enhancing their ability to benefit as markets bounce back.
Target date fund assets have increased roughly tenfold (from $142 billion to $1.4 trillion) since 2008,2 suggesting the potential for an even smoother participant experience through the current downturn and ultimate recovery. Consider taking additional steps to fortify DC plans, for example, implementing automatic features—to encourage consistent and sufficient saving—and conducting re-enrollments so that employees of all ages and years of service can benefit from these strategies.
Conclusion:
We encourage plan sponsors and their financial professionals/consultants to continue working together to strengthen participant retirement outcomes:
Encourage participants to stay the course and avoid responding emotionally or trying to time the markets. Emphasize that their 401(k) retirement savings programs are designed to work for them—helping them to stay disciplined and on track, even in difficult times.
Continue to use industry best practices, like automatic features, to encourage consistent and sufficient saving.
Consider using a target date fund to streamline investments and help more participants achieve a secure retirement.
If a plan is already using target date funds, continue to evaluate the TDF to ensure it is working as expected for all participants, no matter where they are on their retirement journey. Think about encouraging more employees to participate through a re-enrollment process.
---
1Holden, Sarah and Daniel Schrass. "Defined Contribution Plan Participants' Activities, 2018." ICI Research Report (May 2019). Available at www.ici.org/pdf/ppr_18_rec_survey.pdf
2Assets under management in target date mutual funds increased from $142 billion at year-end 2008 to $1.4 trillion at year-end 2019. Excludes target date fund assets in collective investment trusts (CITs).
0903c02a8286b350