Portfolio Trends
Themes and observations from U.S. Portfolio Insights
08/02/2021
Corey Hill
In Brief
The COVID-19 reopening boosted growth prospects but heightened investor concerns around rising rates and increasing inflation. That led to noteworthy allocation shifts over the past six months among the thousands of client portfolios our Portfolio Insights team evaluates.
Investors shifted equity allocations toward value vs. growth (reversing trends seen in the latter half of 2020) and added to an already long-running (and worrisome) overweight to U.S. equities.
Portfolios' fixed income duration decreased as rates rose. Searching for real yield, investors shifted down in credit quality—another trend reversal from 2H 2020.
Allocations to liquid alternatives saw record net new flows, while investors appeared more receptive to less liquid alternatives, such as real estate and infrastructure, for their yield and potential diversification benefits.
The second half of the year promises to be one of fluctuating investor expectations and continuing volatility. Evaluating what investors own under a range of scenarios remains critical in positioning portfolios to achieve desired outcomes.
As the economy reopens, investors respond to new challenges
Investors shifted allocations in notable ways during the first half of 2021, reflecting new challenges even as the COVID-19 recovery plays out. While the U.S. economy truly began to reopen, pushing growth prospects and equity markets higher, anxious investors continued to reassess how best to position their portfolios for growth and stability (Exhibit 1). In our portfolio analyses, we saw their concerns centered around:
the value vs. growth debate
the pace of the COVID-19 recovery—in the U.S. and internationally
increasing inflation expectations
an anticipated rise in interest rates
Our conversations with investors in the first half of 2021 and thousands of portfolio analyses showed investors responding by shifting from growth to value; increasing a disturbing, persistent international equity underweight; shortening portfolio duration; moving down in credit quality; and showing more willingness to embrace the nontraditional.
Asset class trends (most utilized Morningstar categories)
Exhibit 1: Average high, low and current allocations observed by our team (trailing 12 mos.)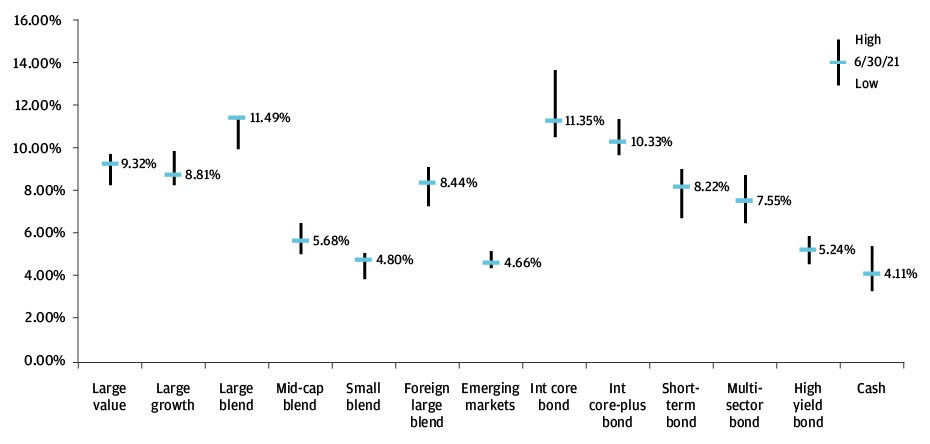 Source: Spectrum; data as of June 30, 2021. Bars represent the high and low average allocations observed over the trailing 12-month period; dashes mark current average allocations as of June 30, 2021.
Equities: Trimming growth but adding to U.S. overweight
Value vs. growth: A long-standing overweight to growth vs. value persisted in early 2021, but the economic reopening appears to have provided the catalyst for value stocks, including financials and industrials, to attract investor attention. Between January 1 and June 30, growth allocations declined from 33% to 28% of portfolios, while value's share rose from 20% to 23% (slightly down from its March peak). Broad industry flows confirmed the shift: Large cap value net new flows, at $52 billion year-to-date (YTD), exceeded those for all other Morningstar U.S. equity-based categories.
We find this growth-to-value move encouraging, but more as a rebalancing than a purely tactical shift based on performance expectations. The oscillation between value and growth outperformance this year as equity markets continued their climb reminds us that a well-rounded exposure to both styles is key to long-term portfolio growth.
Of course, active stock selection remains imperative, whether you are making changes within or adjusting exposures across styles. In fact, active strategies have done well in this environment, with 53% outperforming their benchmarks YTD—a considerable uptick vs. the historical norm.1
International equity: International equities have been persistently underweighted in the portfolios we analyze compared with our Multi-Asset Solutions team's Global Asset Allocation Views. Enticing performance in late 2020 led to one of the larger allocations to international we had seen in some time. However, discouraging COVID-19 containment news from abroad reversed that trend, leaving international allocations near recent historical lows as Q2 ended—at 15%, well short of the roughly 21% we have historically suggested (Exhibit 2).
An already long-term underweight to non-U.S. equities has worsened
Exhibit 2: Average overall portfolio allocations to non-U.S. equities
Source: Spectrum; data as of June 30, 2021.
We have long urged greater global diversification, and we reiterate this message now, given our increasingly constructive views on European (ex-UK) markets as reopening proceeds and economies slowly head into mid cycle, with less potentially inflationary stimulus than in the U.S.
Fixed Income: Looking less like "the Agg"
Investors who look to their fixed income allocations for diversification, stability and real yield face a perplexing challenge, given expectations of increasing inflation and rising rates. Admittedly, rates have paused and even declined of late, but our base case remains higher rates down the road. Here's how we saw investors reacting in the first half of 2021.
Duration: Average portfolio duration started 2021 at slightly over five years, declined to 4.6 years at the end of March as inflation expectations and longer-term rates moved higher, and crept back up to 4.7 years, ending Q2 close to recent history's lows.
Credit quality: Fixed income portfolios came into this year with an 83% average allocation to investment grade bonds. That declined to 78% in March, where it remains. Amid intensifying inflation fears, investors have reversed their 2H 2020 move up in quality, taking on more risk to boost inflation-adjusted yields.
In sum, investors are gradually moving away from the Bloomberg Barclays US Aggregate Bond Index (the Agg). In shortening duration and lowering credit quality, investors have decreased allocations to core/core-plus strategies while raising allocations to short-term, multi-sector and high yield strategies.
Investors' recent search activity using our tools tells a similar story,2 underlining a willingness to pursue less traditional solutions to current challenges. A case in point: From the beginning of 2021, we have seen investment comparisons up 48% for the inflation-protected bond category and 31% for the short-term bond category.
Flows provide further confirmation that investors are moving beyond the Agg: Inflation-protected bond funds saw record inflows in the first half of 2021 while bank loans, short in duration but with the potential to enhance yield, saw six straight months of inflows, reversing a 25-month stretch of outflows.
We are generally supportive of these quality and duration shifts but offer two cautionary notes. First, looking less like the Agg is probably a good thing, but don't lose sight of fixed income's primary role— providing portfolio ballast. Second, know what you own; this requires greater diligence, time and effort as one moves away from traditional core/core-plus strategies toward those allowing greater flexibility. The dispersion among these strategies' returns can be wide.
Alternatives: A warmer embrace of the nontraditional
Investors concerned about their traditional fixed income allocations buffering their portfolio in a downturn or providing real yield appear increasingly willing to embrace alternatives. We advocate exploring these opportunities, perhaps more now than at any time in recent history—if they are appropriate for the client.
So far in 2021, we have seen net new flows into liquid alternatives of close to $26 billion (up from $4.5 billion in 2020, when most categories, with the exception of options-based alternatives, saw outflows).
Our conversations with investors also reveal an increasing interest in less liquid alternatives—real estate and infrastructure in particular. That makes sense. These asset classes have historically shown little to no correlation to traditional markets (as illustrated in our Guide to Alternatives) but they can still provide a very compelling yield in this environment.
We sound our call for rigorous due diligence and in-depth portfolio analysis even more loudly here. Dispersion in manager results can be extremely wide within alternatives categories; understanding a strategy's idiosyncrasies in the context of your portfolio is critical.
The first half of 2021 brought positive developments for economies and markets—but also new challenges and uncertainties. Shifting investor expectations around inflation, central bank policy, the performance of growth vs. value and U.S. vs. international continue to move markets and drive volatility. A well-balanced, diversified portfolio and the ability to assess the impact of a range of scenarios on portfolio performance have never been more important. We can help.
---
1 Morningstar, as of 6/30/21. Strategy performance is assessed for the oldest share class and is relative to the primary prospectus benchmark.
2 Based on the activity we have seen by investors using our online tools to compare different managers within a given category.


0903c02a82657531
Discover what's in your portfolio
About us
Portfolio insights analytics
A personalized service designed to help investors build stronger portfolios.
Dedicated team with credentials including MBA, CFA® and CIMA® designations
Thousands of investor portfolios reviewed annually

Portfolio consultations with thousands of investors

How we get our Data
The Portfolio Insights Analytics team analyzes thousands of portfolios and conducts thousands of one-on-one consultative calls with investors annually. Our team of over 20 specialists is focused exclusively on helping investors with asset allocation decisions, investment selection and portfolio implementation. Through its interactions, the team gleans valuable insights and meets every quarter to review and assess these themes and trends, and their potential portfolio implications.
Important information
The views contained herein are not to be taken as an advice or a recommendation to buy or sell any investment in any jurisdiction, nor is it a commitment from J.P. Morgan Asset Management or any of its subsidiaries to participate in any of the transactions mentioned herein. Any forecasts, figures, opinions or investment techniques and strategies set out are for information purposes only, based on certain assumptions and current market conditions and are subject to change without prior notice. All information presented herein is considered to be accurate at the time of production, but no warranty of accuracy is given and no liability in respect of any error or omission is accepted. This material does not contain sufficient information to support an investment decision and it should not be relied upon by you in evaluating the merits of investing in any securities or products. In addition, users should make an independent assessment of the legal, regulatory, tax, credit, and accounting implications and determine, together with their own financial professional, if any investment mentioned herein is believed to be appropriate to their personal goals. Investors should ensure that they obtain all available relevant information before making any investment. It should be noted that investment involves risks, the value of investments and the income from them may fluctuate in accordance with market conditions and taxation agreements and investors may not get back the full amount invested. Both past performance and yield may not be a reliable guide to future performance.
Copyright 2020 JPMorgan Chase & Co. All rights reserved