With interest rates remaining near historic lows and unprecendented stock market volatility, now is an opportune time for bond investors to take a closer look at what comprises the core of their fixed income portfolios. Many investors look to core bonds – U.S. investment grade bonds, including corporate, mortgage-backed, Treasury and agency debt – as a portfolio diversifier and reliable source of income.
A popular approach to gaining this fixed income exposure is to invest in a passive index strategy designed to track the Bloomberg Barclays US Aggregate Bond Index (the Agg). While more than 35 years of falling rates have benefitted indexed and active fixed income investors alike, active core and core plus strategies have generally outperformed over time. Notably, the index itself has quietly morphed since the financial crisis, resulting in a different go-forward exposure profile. As the rate environment evolves, the index's changes may become more evident, and investors holding a passive Agg strategy are likely to find their portfolio behaving differently than it had in the past.
The US Agg has changed
The Bloomberg Barclays US Aggregate Bond Index – simply referred to as "the Agg" – has a long history and is solidly entrenched as a benchmark for fixed income performance. But, that doesn't mean it can – or should – be viewed as a proxy for a holistic, well-diversified bond portfolio going forward.
In fact, several factors have altered the Agg's risk-return profile, which could present implications for passive bond investors:
The index's allocation is based on the amount of debt an issuer has, so the most indebted borrowers receive the highest weighting in the Agg.


Post financial crisis, the characteristics of the Agg have changed materially, and we expect these changes to continue. Today, the index is more concentrated in US Treasuries, less diversified across sectors and more sensitive to a rise in interest rates.


Given the Agg's current low yield and higher duration, a 40 basis point increase in yield could wipe out the coupon component of the index's return. So, a more pronounced increase would likely result in a negative total return.



What does this all mean? The composition of the Agg has become increasingly concentrated in government-related securities (now about two-thirds of the index), straying from the holistic, well-diversified bond portfolio investors assume it to be.
The Agg has access to only half the U.S. market
With the Agg accounting for just 47% of the broader U.S. bond market, a passive core fixed income investor may be missing out on the other half of the opportunities available in the U.S. bond market. An active approach has a broader opportunity set and can navigate around the Agg's rule-based constraints to seek improved returns, reduced risk and enhanced diversification.
THE COMPOSITION OF THE AGG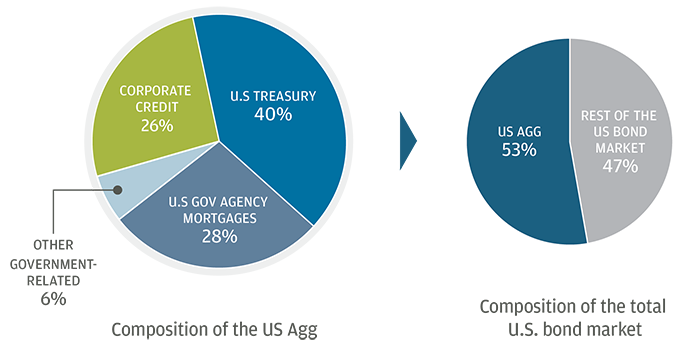 Source: Barclays Live, Bloomberg and SIFMA; data as of 12/31/19. For US Agg composition, U.S. Gov agency mortgage allocation includes small positions in commercial mortgage-backed and asset-backed securities. For total U.S. bond market composition, percentages equal Bloomberg Barclays US Aggregate outstanding/SIFMA total outstanding U.S. bond market debt (excluding money markets). For illustrative purposes only.
The Agg is more sensitive to interest rate risk
Perhaps even more critical to investors, core bond portfolios replicating the Agg suffer from a relatively low yield and an increased sensitivity to interest rates (duration). There's little yield cushion to compensate for any price decline and, by definition, little a passive-only investor can do to remedy the problem.
The Agg's yield is retesting historic lows, while its duration is still near all-time highs. Active core bond strategies can proactively address this dynamic by managing risk (duration) and reward (yield).
Ben Christensen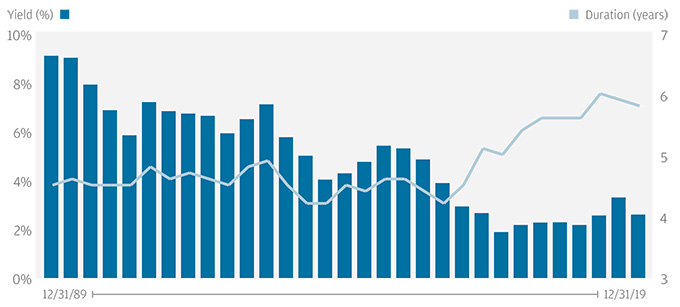 Source: Bloomberg Barclays, J.P. Morgan Asset Management; data as of 12/31/19. Annual figures above reflect that year's average, using monthly observations. For illustrative purposes only.
Now is the time to assess your core bond position
In an uncertain market environment, it is important to have the ability to navigate risk. While passive strategies following the Agg are beholden to its rules-based construct and the characteristics that result, active managers have the ability to design a more disciplined approach to balancing risk and return. Now is the time for investors to assess their approach to core fixed income – are current holdings likely to produce the desired outcome, or can advisors provide a more educated solution?
Strong portfolios start with a strong core
J.P. Morgan offers two solutions proven to withstand the test of time. Core Bond Fund invests in high-quality, intermediate-term U.S. bonds, while Core Plus Bond Fund – anchored in high-quality core bonds – has the flexibility to invest in extended sectors, including high yield and emerging markets debt.
RISK SUMMARY
The following risks could cause the funds to lose money or perform more poorly than other investments. For more complete risk information, see the Funds' prospectuses.
Investments in bonds and other debt securities will change in value based on changes in interest rates. If rates rise, the value of these investments generally drops.
Indexes
Mutual funds have fees that reduce their performance; indexes do not. You cannot invest directly in an index.
The Bloomberg Barclays US Aggregate Bond Index (the Agg) is an unmanaged index representing SEC-registered taxable and dollar-denominated securities. It covers the U.S. investment-grade fixed rate bond market, with index components for government and corporate securities, mortgage pass-throughs and asset-backed securities.