Again I find myself behind in writing about the views that are prominently manifested in the portfolios our teams manage, and this is an attempt to catch up. For the first time in my career, I am concerned about a looming inflation narrative as the driver of a potential regime shift in financial markets and consumer behavior. Normally I focus on downside macroeconomic threats, but the effectiveness of the 2020 policy responses against the economic hardships of COVID-19 leaves me with only one endgame, having agonized over it for months: Inflation is the biggest risk to investors. Before our eyes in the financial press, the inflation theme is starting to take hold, so it is looking less like a brave call by now, but I hope you'll find my approach to that conclusion to be an unusual one.
In the years following the global financial crisis (GFC), global policymakers' recession-fighting toolkit had three tools in it: zero interest rate policy (ZIRP), quantitative easing (QE), and credit easing (CE). That last one is central banks' extension of asset purchases beyond government bonds to include riskier securities such as corporate bonds and in some cases equities. These three tools have been more or less deployed perpetually in the years since 2008, and notwithstanding ex ante fears to the contrary, these tools did not cause runaway inflation, nor did they really result in any consumer price inflation. These policies almost certainly caused asset price inflation, but that's not at all the same thing as a wholesale rise in the consumer price level in an economy. The best we can do is say these policies helped avoid a deflationary spiral in consumer prices. One other important point to note is that the global economy never really escaped its dependence on all three of these tools since their deployment began. The Fed was the only major central bank to attempt an honest exit from ZIRP and QE, and its progress in that regard looks feeble in hindsight, having only gotten policy rates to 2.25% and done USD 660 billion of quantitative tightening before both had to be reversed. It's worth remembering that those reversals were required well before COVID-19 halted the policy-addicted global expansion.
In response to the pandemic, given that policy was already biased toward increased implementation of the existing three recession-fighting tools, the toolkit was expanded to include a fourth item, which is very specific in the way I want to define it: Modern Monetary Theory (MMT) financed fiscal transfers, which is by far the most intense in the United States' implementation. Specifically, the Treasury issues bonds, which the central bank buys with freshly printed cash, and that cash is then literally given by the Treasury to households and firms. These transfer payments are not in the form of loans, but rather simply transfers of unencumbered cash. We often use the terms "fiscal stimulus," "deficit spending," and "infrastructure spending" somewhat interchangeably in the context of discussing the "fiscal response" to recession risk, but in 2020 the main thrust was something very specific. The fiscal expenditure was not building bridges or any other sort of Investment, but rather just gifts of money as aid payments to assuage the economic and physical human suffering. The magnitude of the deficit spending (of which plenty took the form of cash gifts) in the U.S. was enormous, about 16% of GDP in 2020, or almost exactly equal to the entirety of the federal tax receipts from all sources in an average year. Much like ZIRP, QE, and CE, this fourth recession-fighting tool of MMT-financed fiscal transfers is probably going to prove difficult to exit, if only because each percentage point the deficit shrinks in a given year is a percentage point negative on GDP growth that must be made up elsewhere. This economic soup of policy intervention, especially and particularly as augmented by MMT-financed fiscal transfers should ultimately be inflationary, and I suggest sooner rather than later.
A typical family of four in the U.S. received USD 3,400 in transfer payments in 2020 (more if jobs were lost), and that wasn't visibly enough to cause CPI to rise much, but what if the number had been USD 34,000 or USD 34 million per household? Surely those higher numbers would have resulted in rising consumer prices, and there is no constraint in the mechanism for getting aid to households that would have precluded higher numbers. This is both the beauty and the curse of MMT. There is no limit to the size and the duration of fiscal deficits when they are financed by freshly printed money, until inflation pressure rises, at which point the deficits must be promptly closed (by Congress). That last point is critically important to MMT, and is the only reason it's theoretically coherent. In practice, the last point is likely to be ignored by elected officials when faced with a choice: collapse the deficit to head off inflation pressure, get a mild recession and get voted out of office, or roll the dice with inflation and keep your seat. Our American experiment with MMT has not yet encountered any inflation pressure, and so what is the result? A 2021 MMT-Financed Fiscal Transfer package in the works that is nearly as large as the 2020 version. Fortunately, the inflation fighting power has not been completely ceded to the legislatures by our independent central banks in the developed economies and I do think they would eventually respond, but that's getting ahead of ourselves.
For now, generating inflation is viewed as a goal of central banks, and much ink has been spilled lamenting the first three recession-fighting tools' inability to generate it. Inflation is viewed positively, as something to be "achieved." To be sure, from a central banker's perspective, low-ish but persistently positive inflation helps policymakers resist recessions and ensure maximum employment because a) more-negative real interest rates are possible at the zero-lower-bound for nominal interest rates, and b) real-wage reductions are possible during downturns without actually reducing workers' paychecks. So, inflation gives policymakers more flexibility to regulate the business cycle. That's all academic and to a degree still theoretical, because persistently positive at-target inflation has been elusive for the entire current generation of central bankers in developed economies.
However, inflation is also quite helpful in more practical ways to economies that are heavily debt-financed. What if most commercial buildings had significant loans against them, nearly all public companies had capital structures anchored by elaborate bond curves, the government financed years of perpetual deficits through an ever-expanding national debt, and homeownership at the individual level was subsidized through government underwriting of household credit risk and a national program of government mortgage purchases? Sound familiar? Inflation helps the creditworthiness of all debtors in an economy whether we're referring to households, corporations, or governments. Those with fixed rate debts, locked in at low rates, benefit tremendously from their nominal increase in cash inflow (income, profits and in the government's case, taxes) vs. the unchanged costs of debt service. The real value of fixed-rate liabilities declines. Notwithstanding the arcane theoretical benefits of inflation to central bankers, it's reasonable to believe a period of higher but controlled inflation would be quite helpful in the real world to most economic agents, regardless of circumstance: households, those marginally attached to the workforce, all the way up to the owners of real assets (equities, real estate, commodities, the means of production). So who suffers negative consequences? The folks who own fixed-rate assets and are on the other side of the debt-financed economy, also known as bondholders. The longer the maturities of those assets, the worse they do. Viewed in this light, if a bit of inflation and some angry investors are the only mildly negative consequence of a couple years' worth of MMT in the U.S., then it really doesn't seem like much of a consequence at all.* Offsetting human economic suffering with MMT in 2020 should be considered very successful, and in some circles even more so if inflation durably rises as a result. As it stands now, MMT-financed fiscal transfers will occupy a permanent role in the recession-fighting policy toolkit.
The combination of central bankers who explicitly want higher inflation and lawmakers who, even if they can't articulate exactly why, feel intuitively that a little inflation around the corner wouldn't be so bad for their constituents is where we find ourselves now, with gasoline about to be thrown on the fire.
Obviously, the U.S. has another big MMT-financed fiscal transfer package right around the corner (and I'll go on record saying the final number will be almost the whole USD 1.9 trillion). But at least one underappreciated effect will take place at precisely the same time: the drawdown in the Treasury General Account (TGA). In essence, during the Trump administration, the Treasury pre-funded a part of this next fiscal package through debt issuance, and it now has a huge amount of cash (more than USD 1.5 trillion) sitting in the TGA, its bank account held at the Fed. My friend Jordan Jackson has written another blog post describing this situation in more detail, but I want to point out something simple and perhaps counterintuitive here. We know from the experience of the past decade that even though QE involved truckloads of printed money, it did not ultimately cause consumer price inflation. My working theory as to why, which I reference often, is that QE is a giant swap of cash-for-assets. So rather than helicopters dropping money onto the street, for every dollar of cash going into the economy, a dollar of liability is coming out in the form of government debt. There is zero net wealth transfer to the economy as a whole during QE. Well, because the Treasury built up its cash hoard in the TGA during 2020, the amount of debt taken out of the economy (the part of QE that restrains inflation) last year actually exceeded the amount of cash going in. This is about to reverse, and for a time, the U.S. economy will experience the closest thing to actual helicopter money we have seen in living memory. As the second fiscal package is deployed, at least a substantial part of the fiscal transfers will come out of the TGA, with no offsetting simultaneous debt creation. The composition of the Fed's liabilities will simply shift from the TGA (not in circulation) to bank reserves (which is like cash in circulation), all while the Fed's USD 120 billion per month of QE also continues to add even more reserves to the system. I think the helicopter money effect will intensify inflation pressure over the near term, but even if that's wrong, there is a mind-bending relationship between periods of reserve growth and 10-year interest rates which the following chart illustrates: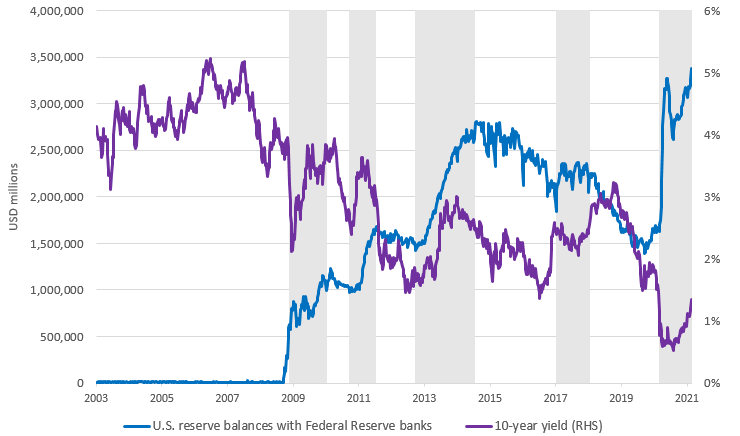 Source: U.S. Federal Reserve and Bloomberg; data as of February 23, 2021.
So, against all the basics of supply-and-demand, when bank reserves increase in the shaded regions as the Fed is buying Treasury securities and/or the TGA is falling, Treasury prices tend to go down, not up. Now that reserves are set to increase because of both further QE and the TGA drawdown, the blue line on that chart is about to go much higher.
My longtime collaborator at J.P. Morgan, Brandon Merrill has sniffed out a somewhat shocking related chart that maps the performance of U.S. equities to bank reserve (cash) creation by the Fed. We've known for a long time that stocks tend to do well when the money supply is increasing, but because of the timing and size of the drawdown in stocks back in March 2020, it neatly works out that all of the net equity rally over the past 11 years has come during periods of Fed money printing: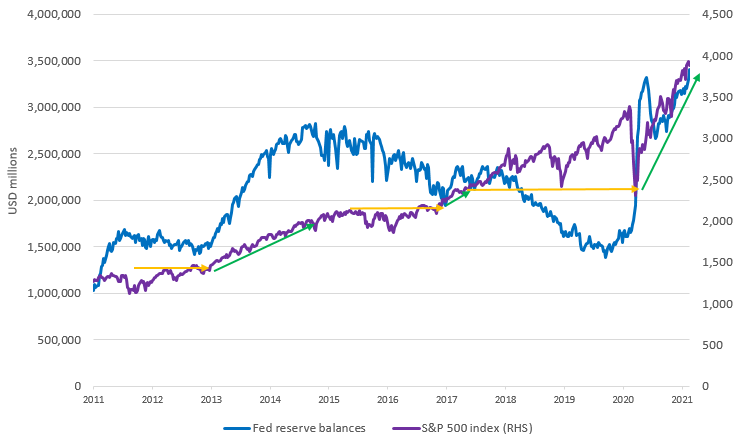 Source: U.S. Federal Reserve and Bloomberg; data as of February 23, 2021.
What to do? Because I am a fixed income investor, the deck is inherently stacked against me in my envisioned near future as I hinted at earlier in this piece. That said, there are simple things we can do to position portfolios to continue making money instead of losing it (which is what many fixed income indices could do). To oversimplify, imagine that in an environment of inflation, fundamental credit risk is reduced. Against that backdrop, investors can simply look at cash flows in terms of size (bigger is better), and maturity (sooner is better). We'd prefer shorter-duration high yield credit over longer-duration investment grade credit because we get our principal back sooner and can reinvest at presumably higher yields. We're also hedging our longer maturity exposures by actively shorting U.S. Treasuries (sorry Uncle Sam). Risk assets in general though should continue to enjoy the buoyancy of increasing money supply (Brandon's chart) and the tailwind from improved fundamentals that inflation provides.
By this point, careful readers may be frustrated that I have not addressed numerous holes in my argument, many of which are major compelling criticisms. How is inflation possible with so much remaining labor market slack via those who are either still unemployed or out of the workforce only as a result of the pandemic? What about the huge rotation under-the-hood in the inflation subcomponents as certain sectors saw demand surges during COVID-19 while others languished – wouldn't this reverse itself upon a reopening, keeping the headline statistics well-behaved? Since you've read this far, I will commit to writing a follow-up piece with my responses. What keeps me up at night, though, is the potential for a once-in-a-generation regime shift in the behavior of all economic agents as they make pricing and consumption decisions. I wasn't worried about it at all until we began to embrace MMT policies in earnest and they worked. Perversely, the lack of any discernible consequence so far encourages those in power to push even further.
---
*Debasement of the dollar and the accompanying loss of its dominant global reserve currency status would have tremendous negative consequences for the U.S. economy, but that is both unlikely and beyond the scope of this piece.