Value investing now: Head fake or tip of the iceberg?
05/25/2022
In Brief
Value has outperformed Growth by a significant margin so far in 2022, leaving many investors guessing whether this resurgence is over or the start of a sustainable trend.


We believe Value is set to enjoy long-term tailwinds for several reasons:



Value's underperformance over the last decade makes its valuation compelling compared to the broader market, especially when considering its past and future expected earnings growth.


We are in a macroeconomic environment that we haven't seen in 40 years: persistently high inflation and aggressive monetary tightening.


Portfolios on average have a large Growth overweight. The start to this volatile year has reminded investors the importance of balance, and flows into Value could be a tailwind.
Recent Value outperformance in perspective
Year-to-date, most major indices are down, and valuation has proven itself to be a powerful defense mechanism. However, for investors whose portfolios remain underweight Value, it's not too late. Even with the recent outperformance, it's still lagged Growth for many years due to an environment marked by low rates, virtually no inflation and pandemic pull forward demand. Going forward, we see multiple catalysts for Value to continue to shrink this wide performance gap.
Value has outperformed more recently, but there is still significant room to run
Cumulative Returns: Value minus Growth

Source: Bloomberg, J.P. Morgan Asset Management, data as of 4/30/22. Indices used are Net Total Return, USD: Russell 1000 Value, Russell 1000 Growth, MSCI World Value, MSCI World Growth. Cumulative excess returns are calculated on a monthly basis. Past performance is no guarantee of future results.
Value sports compelling valuations along with strong earnings potential
A symptom of Growth's exuberance has been extended valuations. With low rates resulting in inexpensive capital, investors had no problem investing for future returns rather than demanding them today. Earnings growth of Growth stocks has outpaced that of their Value counterparts, but investors have more than paid up for it. Interestingly, earnings growth for Value has still been respectable, yet multiples have not expanded commensurately.
Growth has been more than compensated for earnings growth, while Value has not
Breakdown of returns for Value vs. Growth by EPS growth and P/E re-rating, trailing 10 years ending April 30, 2022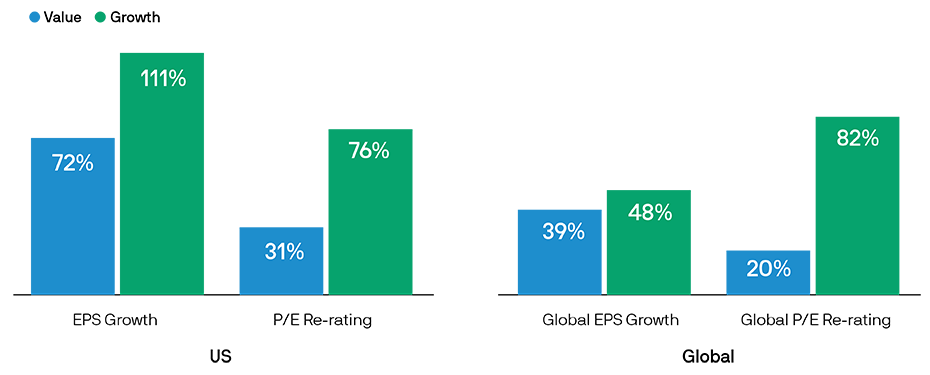 Source: Bloomberg, J.P. Morgan Asset Management, data as of 4/30/22. Indices used are Net Total Return, USD: Russell 1000 Value, Russell 1000 Growth, MSCI World Value, MSCI World Growth. EPS = Last 12 months earnings per share; P/E = Last 12 month price to earnings.
This excessive expansion has led to concentration risk in US indices, with the top 5 companies representing a whopping 40% of the Russell 1000 Growth Index. While these are undoubtedly some of the best companies in the world, valuations matter. For example, if you bought Microsoft in late 1999 – at the height of the tech bubble – it would have taken 15 years to get back to flat. On the other hand, Value's top 5 holdings make up only about 11% of the Index and haven't enjoyed nearly the same multiple expansion. While valuations are important, investors need to ensure they get what they pay for. Over the next 12 months, consensus estimates are calling for stronger earnings from Value sectors such as energy, industrials, materials and parts of consumer discretionary (autos and travel), with weaker expectations out of Growth sectors like technology and communication services, especially COVID-19 beneficiaries.
Historic inflationary pressures and a monetary policy shift bode well for Value
Accommodative monetary policy – compounded with intense demand, supply chain disruptions, zero-COVID-19 policy in China and a war in Ukraine – has sent inflation soaring to 40-year highs. While some of these inflationary pressures will ease, the days of rock-bottom inflation are gone. Value tends to perform well in inflationary environments. Mounting inflationary pressures are prompting the Federal Reserve to take action. While rising rates tend to get a bad reputation with equities, the reality is there are winners and losers. Longer-duration stocks, highly dependent on cheap and easy capital, feel the brunt of the pain. However, areas like energy, financials, materials and industrials have typically done well. These sectors make up over 40% of the Russell 1000 Value index, while only a mere 16% of Russell 1000 Growth.
Overweight to cyclicals should benefit Value in a rising rate environment
S&P 500 sector correlations to U.S. Treasury yield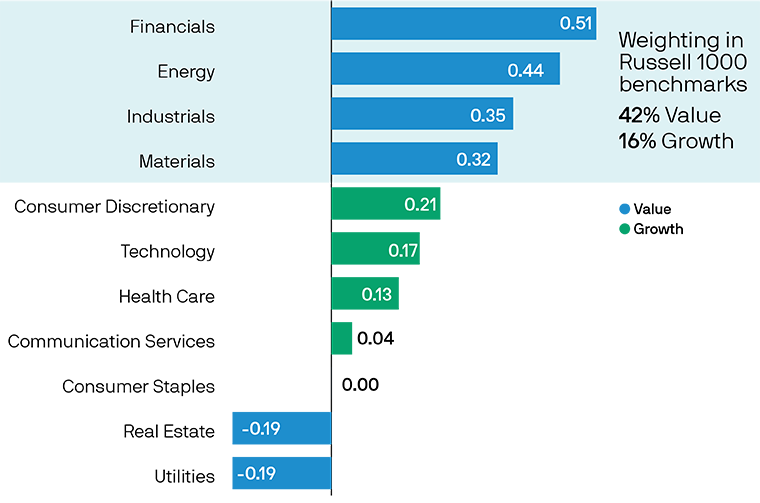 Source: FactSet, FTSE Russell, NBER, J.P. Morgan Asset Management, data as of 4/30/2022. Correlations are calculated on a monthly basis over the last 120 months. Past performance is not a reliable indicator of current and future results.
Intentional or not, investors are underexposed to Value
By dissecting approximately 130,000 portfolios a year, our Portfolio Insights team has found that clients on average have an overweight toward Growth and underweight to Value. While some bets are intentional, others may believe they are equally allocated to Value, Core and Growth. However, this seemingly equal weight actually leads to an unequal distribution of style, leaning much more into Growth. Given today's aforementioned micro and macro trends, we encourage balance. Many investors have already started to rebalance, with ~$40B* of net flows going into U.S. Value mutual fund and ETFs so far this year, potentially an additional tailwind.
Equal allocation does not mean equal distribution
Average US client portfolio breakdown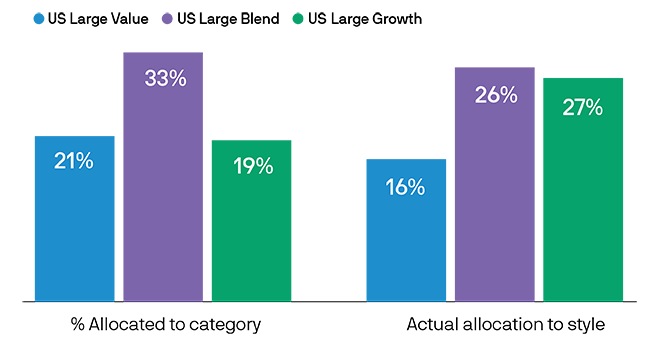 Source: J.P. Morgan Asset Management, data as of 4/30/2022. Percent allocation to category and actual allocation to style represents the average equity Morningstar category & style box weightings respectively for all moderate (60-40) portfolios run through the Portfolio Insights tools. For illustrative purposes only. Past performance is not indicative of future results.
There are many ways to invest in Value
JPMorgan's broad spectrum of active equity Value offerings can solve for a variety of client needs and boast consistent long-term track records with tenured portfolio management teams at the helm. Your JPMorgan representative can provide you with additional information on our offerings, so you can find the right fit based on your clients' risk tolerance, investment objectives and target allocation.
*Source: J.P. Morgan Asset Management; as of 4/30/22.