Regulatory action on carbon emissions is likely to intensify over the coming years, and companies that are actively addressing these risks could have a competitive advantage in the future.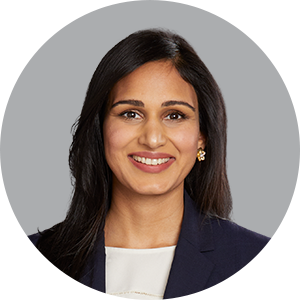 Listen to On the Minds of Investors
The Biden administration is due to release an update imminently for its social cost of carbon (SCC) estimate, a theoretical price that quantifies both the financial and human costs of greenhouse gas emissions. This number, little known outside of academic and select policy circles, sets a baseline for policymakers to devise climate policy and regulation, considers the cost/benefit of public and private projects, and estimates appropriate carbon pricing.
The social cost of carbon (SCC) is a theoretical price tag that represents the damage of emitting one additional ton of CO2 (or analogous greenhouse gases). While the SCC is expressed as a monetary value, many of the costs it considers are not necessarily financial in nature. Instead, it models socioeconomic factors (economic and population growth rates), climate factors (temperature, sea level, storms), potential damages, and an appropriate discount rate to weigh the future value of these costs and benefits. The price determined is not static and typically increases over the projection period in response to the rising damages of climate change.
Currently, the social cost of carbon in the U.S. is $51 per ton of CO2 emitted, but a new estimate is due in the coming weeks that takes into account new scientific understanding of growing climate damages across society and increased costs for decarbonization of the economy. However, the range of estimates over prior administrations has varied greatly given the many challenges inherent in estimating the SCC. For instance, the models are very sensitive to climate impacts, which themselves are not linear. The output is highly sensitive to the discount rate used, or if it even should remain static, resulting in enormous price variations. Finally, the estimate is limited by known social, technological, and climate outcomes projected over decades. The SCC does not benefit from the price discovery inherent in being dictated by market forces either, like an emissions trading system for example.
Despite these estimation challenges, the social cost of carbon could have many practical applications, which is why getting to a reasonable estimate is critically important. It provides a common language and foundation for projects, policy, and pricing. It can be used in cost/benefit analyses to inform whether individual projects should be financed or how they should be executed. It is also an important input in crafting legislation and regulation. The SCC is currently considered in 88 final rules and an additional 97 proposed rules according to the U.S. Federal Register.
The impact of these initiatives could have far-reaching implications for the economy and investors. For example, regulations can impose significant costs on companies, which can in many ways mirror the impact of an explicit 'carbon tax'. On the other hand, tax credits from a higher SCC support specific sectors. The SCC could also serve as a baseline for carbon pricing within the U.S., although major national efforts in the past have been met with resistance. Nonetheless, regulatory action on carbon emissions is likely to intensify over the coming years, and companies that are actively addressing these risks could have a competitive advantage in the future.
Exhibit 1: Examples of regulations and policy decisions with SCC influence
Source: Agency materials accessed January 31, 2022.
Risk Summary
Investing on the basis of sustainability/ESG criteria involves qualitative and subjective analysis. There is no guarantee that the determinations made by the adviser will align with the beliefs or values of a particular investor. Companies identified by an ESG policy may not operate as expected, and adhering to an ESG policy may result in missed opportunities.
*Dr. Sarah Kapnick is a former Managing Director and Senior Climate Scientist and Sustainability Strategist for Asset and Wealth Management (AWM). Following her time at J.P.Morgan, she joined the National Oceanic and Atmospheric Administration (NOAA) as their chief scientist.
09eg220202224144