We continue to expect yields will grind higher through the end of the year and strong economic growth accompanied by still relatively accommodative monetary policy will provide support to equity markets.
Stephanie Aliaga
Global Market Analyst
Listen to On the Minds of Investors
Overall, the Federal Open Market Committee (FOMC) sent a slightly hawkish signal to markets on its monetary policy outlook, recognizing that the delta variant has slowed economic progress, but also that inflation may prove somewhat stickier than they previously assumed. At today's meeting, the committee voted to maintain the current federal funds target rate at a range of 0.00%–0.25% and reaffirmed its commitment to $120bn in asset purchases per month, until the committee feels "substantial further progress" has been made towards its inflation and employment goals.
The statement language was optimistic in reflecting the committee's outlook on economic progress while giving the first official signal that tapering could "soon be warranted". It highlighted the continued improvement in economic conditions but noted the slowdown caused by the rise in Covid-19 cases and supply chain constraints. Moreover, Powell cited that inflation is elevated and will remain so for some time, although largely reflecting transitory factors.
Elsewhere, the Fed delivered meaningful forward guidance by way of its updated summary of economic projections. Real GDP was downgraded from 7.0% to 5.9% y/y in 4Q2021, reflecting the impact of the delta variant and persistent supply chain constraints. However, it also lifted its 2022 and 2023 GDP estimates by 0.5% and 0.1% respectively, potentially considering some further fiscal support and a growth reacceleration following the delta wave. Core and headline PCE inflation were revised markedly higher to 3.7% and 4.2% y/y respectively in 2021, and slightly higher in 2022 and 2023. The Committee also reduced its expectations for the speed of decline in unemployment this year, increasing its estimate of unemployment for 4Q2021 to 4.8% from 4.5%. This reflects the recent drop in hiring momentum, most notably in August, but suggests the Fed expects a more rapid pace of job gains next year. Overall, the statement and projections reflect the committee's view that the economy has made significant progress towards its goals and receding pandemic effects should allow progress to continue more rapidly in 2022, while also acknowledging more persistently higher inflation than previously forecasted.
Notably, the median dot plot now suggests the potential for liftoff by the end of next year, with the Committee evenly divided on a rate hike in 2022. Additionally, the median projection for 2023 now suggests three rate hikes over the course of the year. We also saw the Committee's expectations for 2024 for the first time, which show another three hikes on top of the four expected in the previous two years. While Chairman Powell continued to emphasize that the median dot plot should not be viewed as a definitive path forward to short-term rates, it's clear the committee has shifted to a more hawkish stance, reflecting its optimistic outlook on the economy.
Chairman Powell's comments during the press conference did not detail the exact timing, pace and composition of tapering, but he did suggest that there was broad support for a pace of tapering that would bring a conclusion by the middle of next year. This would correspond with a reduction in the monthly purchase pace of $15bn, and we expect these purchases will be tapered symmetrically.
Powell's remarks during the press conference provided some hawkish guidance, relaying that "substantial further progress" has more than been achieved on inflation and has "all but been met" on employment. This suggests the Committee views some of the recent drivers of much higher inflation will be "sticky" and that progress towards full employment has been encouraging. Looking to next year, the key for investors in determining the pace of monetary policy normalization will be progress on labor market recovery.
Overall, we believe the Committee feels fairly confident in the progress towards its dual mandate and a tapering announcement in November is now nearly certain. The yield curve flattened on the news as the Fed increased its expectations for rate hikes and equity markets jumped for the first time in five trading days as concerns about China's Evergrande Group also eased. We continue to expect yields will grind higher through the end of the year and strong economic growth accompanied by still relatively accommodative monetary policy will provide support to equity markets.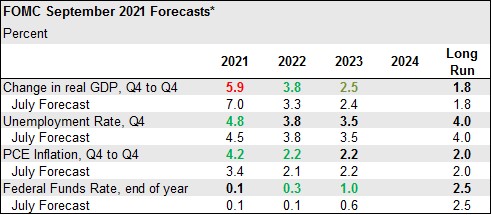 Source: Federal Reserve, J.P. Morgan Asset Management. Data are as of September 22, 2021.
*Forecasts of 18 FOMC participations, median estimate.
**Green denotes an adjustment higher, red denotes an adjustment lower.
09fb212209205523