Positive corporate earnings, above-trend growth and still accommodative financial conditions suggests risk assets can still perform well as the Fed raises interest rates.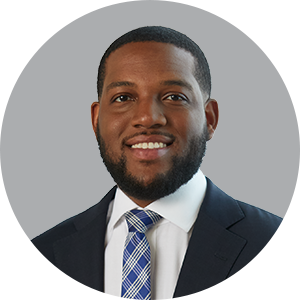 Listen to On the Minds of Investors
For the first time since December 2018, the Federal Open Market Committee (FOMC) voted to raise the Federal funds target rate range by a ¼ percent to 0.25%-0.50% at its March meeting and made clear further increases would be appropriate to tame inflation. In addition, the committee plans to reduce the size of its now $9.0 trillion USD balance sheet "at a coming meeting"[1]. We believe the committee will announce a path towards balance sheet runoff at its May meeting and commence rolling off its assets beginning mid-May or June.
With regards to the FOMC's updated economic projections:
Real GDP was downgraded materially from 4.0% to 2.8% y/y in the fourth quarter of 2022, partially reflecting the risks of Russia's invasion of Ukraine curtailing economic activity.


Core and headline PCE inflation were revised markedly higher by 1.4% and 1.7% to 4.1% and 4.3% y/y, respectively in 2022, largely reflecting the jump in energy and food prices due to geopolitical tensions, but also broader price pressures persisting in the "stickier" core inflation basket.


The committee made no changes to its unemployment rate forecasts, outside a 0.1% increase in 2024.
Effectively, committee members view the labor market as incredibly tight and for growth to still be robust, and therefore the primary focus will be too cool inflation to promote a long expansion. To achieve this, the median voting member now expects seven hikes this year and four hikes next year. Consequently, short rates could end this hiking cycle higher than the committee's long-run projection or perceived neutral rate of 2.4%, a clear indication the committee's base case is for persistent inflation that may not be quelled until rates are restrictive.
For investors, as the Federal Reserve (Fed) tightens policy, it may be useful to consider how markets behaved in past rate hiking cycles. As highlighted, since 1983, there have been six hiking cycles, lasting 18 months on average.
There are a few key takeaways:
In every hiking cycle, the yield curve has bear flattened, an environment where short rates are rising faster than long rates. This creates a challenging environment for traditional fixed income as rates increase across the curve.


Equites tend to perform well as the Fed is typically hiking in a positive economic backdrop.


Performance of the US dollar has been mixed. Given this, investors should not base their short-term view of the dollar solely on a tightening Fed.


We continue to believe the risk of a recession this year is minimal; however, a hawkish Fed does increase recession risks sometime in 2H23 or 2024. That said, positive corporate earnings, above-trend growth and still accommodative financial conditions suggests risk assets can still perform well as the Fed raises interest rates.
Historical impact of Fed tightening
Target rate*, shaded areas denote periods of rate hikes
Market reaction during previous rate hiking cycles
Source: FactSet, Federal Reserve, Standard & Poor's, J.P. Morgan Asset Management. S&P 500 returns are price returns and do not include reinvestment of dividends. Averages do not include the current cycle. *Between 1979 and 1982, the FOMC changed its approach to monetary policy, focusing on the money supply, rather than the federal funds rate. In the fall of 1982, however, the Federal Reserve shifted back to its approach of targeting the "price" rather than the "quantity" of money. Thus, because the federal funds rate was not the FOMC's key policy tool, we exclude increases in the federal funds rate between 1979 to 1982 in our analysis of rate hike cycles. Guide to the Markets – U.S. Data are as of March 16, 2022.

[1] Board of Governors of the Federal Reserve System, "Federal Reserve issues FOMC statement." (March 16, 2022).
09pf221602182411