International equity markets: Will investors regain confidence in the international earnings outlook?
International equity markets
While earnings have delivered, the two other pieces of the international equity outlook have not: multiples have contracted instead of expanded and the U.S. dollar has strengthened instead of depreciated.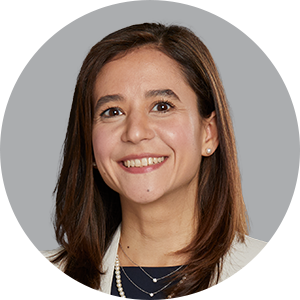 2022 was expected to be a strong year for international equity performance, driven by solid (albeit more modest) earnings growth and reasonable valuations that left room for multiple expansion. A depreciation of the U.S. dollar, driven by cheaper currencies elsewhere and building risk appetite, was expected to be the cherry on top for U.S. dollar-based investors. A third of the outlook has played out as expected: international earnings growth thus far has been solid, with more companies than usual beating both top and bottom lines. During the first quarter, year-over-year earnings per share grew 35% in Europe (9% excluding energy and materials), 11% in Japan, and 17% in emerging markets. For the full year, consensus analyst estimates point to 9% international earnings growth, an upgrade of 4% points versus estimates at the start of the year. The exception is in emerging markets, where earnings estimates have moved lower by 3% points due to lower expectations in China and Russia.
While earnings have delivered, the two other pieces of the international equity outlook have not: multiples have contracted instead of expanded and the U.S. dollar has strengthened instead of depreciated. These two components have subtracted nearly 20%pts from returns (Exhibit 10), more than offsetting the positive contribution from earnings and dividends to sum up to a negative return thus far of -13% (an outperformance versus the U.S. of 330 basis points). Initially, multiple contraction was led by higher global bond yields pressuring multiples of long duration parts of the international equity market, like technology and North Asia. Since April, however, global economic growth fears have intensified due to lockdowns in China and the energy price shock in Europe, leading investors to doubt analysts' earnings outlook and to price a more uncertain path ahead through a lower multiples.
Exhibit 10: International earnings have been resilient, but more uncertainty has led to multiple contraction and currency weakness
Year-to-date total returns, U.S. dollars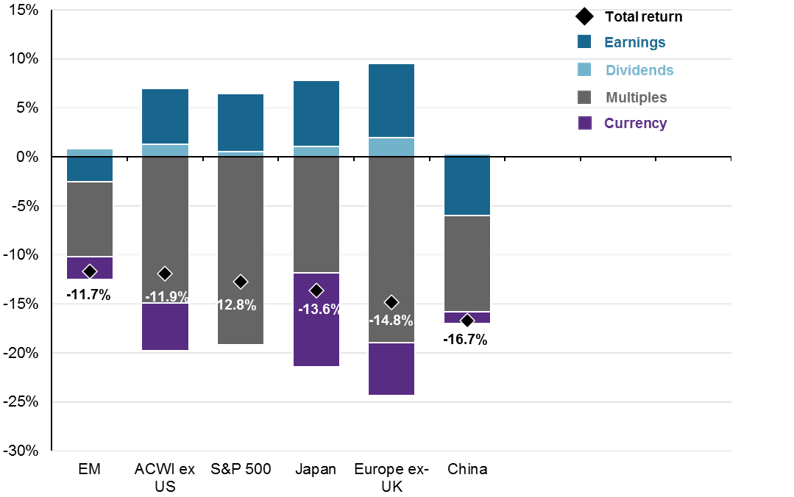 Source: FactSet, MSCI, Standard & Poor's, J.P. Morgan Asset Management. All return values are MSCI Gross Index (official) data. Multiple expansion is based on the forward P/E ratio, and EPS growth outlook is based on NTMA earnings estimates. Chart is for illustrative purposes only. Past performance is not indicative of future results. Data are as of May 31, 2022.
As a result, the discount of international equities versus its average and versus U.S. markets has gotten even larger than at the start of the year, at -8% and -27%, respectively. Looking forward, this better starting point sets investors up for even stronger international equity returns from here. While risks around the growth outlook are higher, they are also much better reflected in valuations. With that said, a catalyst is needed for investors to feel confident in the "E" of the P/E. Sustainable normalization in activity in China and convincing signs that Europe can avoid a recession will be key catalysts for multiples to find a bottom and eventually expand, especially within cyclical sectors and regions like financials, industrials, and Europe.
A more uncertain earnings outlook does highlight the need to focus on quality over quantity when investing overseas in order to avoid tourist traps. With that said, many of the desirable destinations are unchanged – and unlike flights at the moment, are on discount. These include themes like technological innovation, the growth of the emerging market middle class, and the global push for decarbonization. These are themes that can be found across regions, such as hard technology companies listed in China, Korea and Taiwan, luxury goods companies listed in Europe that derive the majority of their revenue from emerging consumers, and renewable energy and electric vehicle companies in Europe and China. While the need to invest internationally is unchanged, the way to do so has become even more important than is normally the case. While some excesses within global equity markets have been corrected since the start of the year, significant valuation dispersion exists beneath the surface (Exhibit 11). While normally a valuation dispersion of 12.5x exists between the 20% and 80% percentile of international stocks, this gap is still unusually wide at 16.7x. This suggests that alpha can provide even more of a boost to international beta than usual.
Exhibit 11: Valuation dispersion between the 20th and 80th percentile of MSCI ACWI Ex-U.S. stocks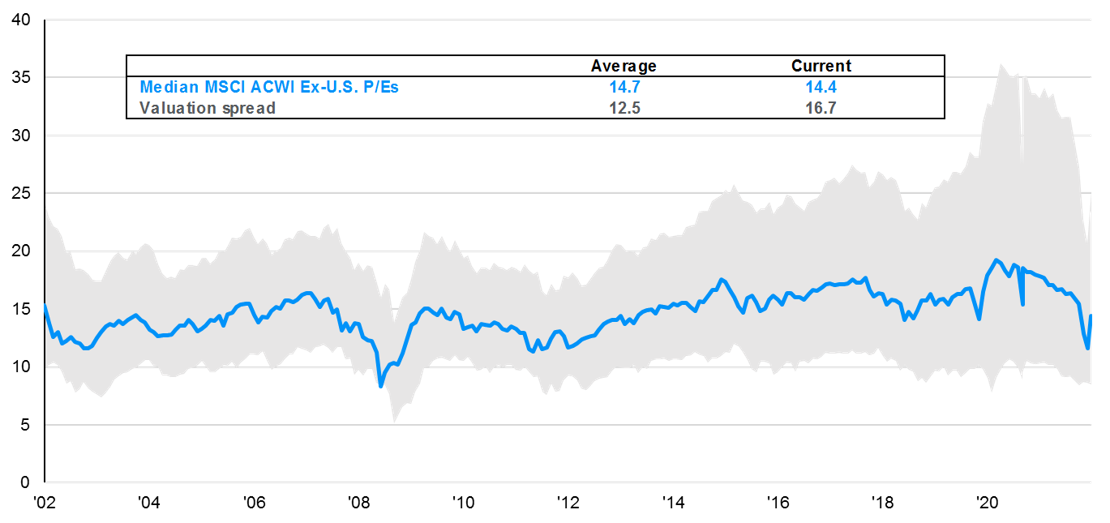 Source: FactSet, J.P. Morgan Asset Management. Average is from May 2002 to May 2022. Data are as of May 31, 2022.