International economy: Can China normalize, and can Europe avoid a recession?
International economy
For the U.S. dollar to sustainably peak (and eventually embark on its expected structural downtrend), investors will need to regain confidence that the U.S. can see a soft landing, China can normalize and Europe can indeed avoid a recession.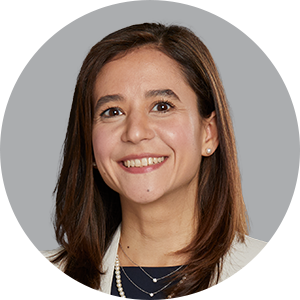 As the year began, the global economy had solid momentum, with even brighter prospects due to expectations of both a surge in services activity as pandemic restrictions were lifted and a rebuilding of inventories as supply chain stresses slowly improved. An easing of supply chain issues, combined with an easier base of comparison for energy prices, was expected to reduce elevated global inflation levels after the first quarter.
A few things have worked out as expected: global services momentum did pick up meaningfully outside of China as mobility improved, lifting the Markit global services PMI to 54.0 in February. Since then, however, two ominous waves have darkened the horizon, prompting downgrades to economic growth and upgrades to inflation expectations: 1) surging lockdowns in China in response to rising COVID-19 cases, prompting concerns about an economic contraction in China and stress on supply chains, and 2) surging commodity prices largely due to the war in Ukraine, prompting concerns about economic growth and inflation dynamics in Europe. The outlook for the global economy crucially depends on whether China can normalize and Europe can avoid a recession.
For China, the question is not whether activity is currently contracting (the April Caixin/Markit Composite PMI of 37.2 and high frequency indicators suggest that it is, Exhibit 4), but whether April marked a bottom. The following conditions are needed in order for confidence to build that the nascent improvement in activity in May is sustainable:
Implementation of a pandemic strategy that permits a sustainable peak in lockdowns. Shanghai's reopening experience in the weeks ahead will serve as a nationwide test for how China can slowly back away from its "zero-COVID-19" approach. The roadmap involves: 1) ramping up vaccinations, especially of the more vulnerable, 2) setting up large-scale testing and surveillance, 3) implementing "closed loop" work systems in factories and transportation hubs and 4) focusing on community transmission as the metric to ease individual mobility restrictions – very slowly. Should it be successful, China's activity may slowly improve in May and June and normalize in the second half of the year.
Laying the groundwork with large-scale policy stimulus. Concerns around leverage and capital outflows constrained policymakers' willingness to ease policy at first. However, April's pop in the unemployment rate to 6.1% (a near-record high) shifted policymakers' actions, including toward real estate lending and broad fiscal spending. Weak credit demand by businesses and households has dampened the full effects of policy easing, so reopening activity sustainably is key.
Confirmation the regulatory cycle has moved from introduction to "status quo." China's economy had already decelerated before the rise in COVID-19 cases in March, due to the uncertainty generated by the introduction of new regulations. More predictability around the rules of the road would give companies confidence to invest and hire once again. Regulators' words have shifted to emphasizing "normalized supervision" – but the passage of time with no new announcements is needed.


Exhibit 4: China's pandemic strategy will determine how sustainable is May's improvement in activity
Index 2019 = 100, 7-day moving average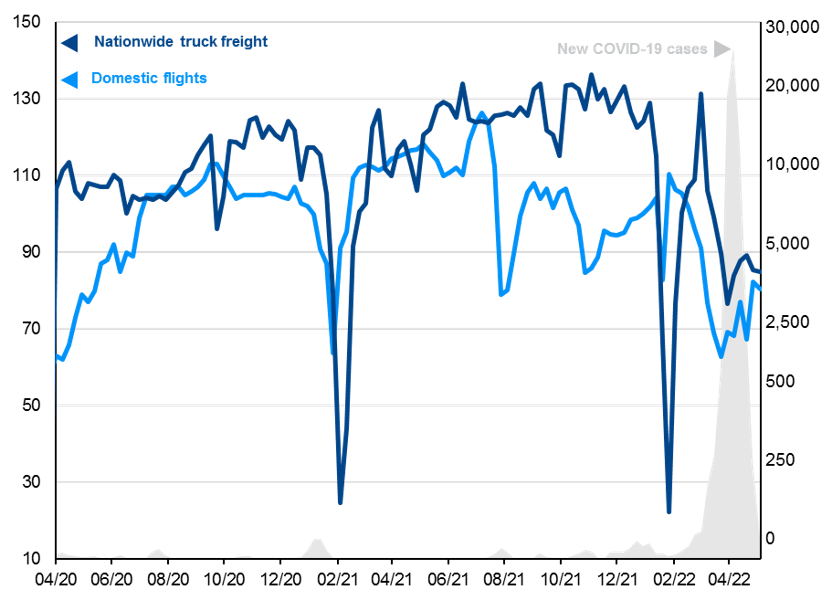 Source: Our World in Data, Oxford University, OAG Schedules Analyzer, Wind, J.P. Morgan Asset Management.
Data are as of May 31, 2022.
For Europe, the question is not whether the region is currently eking out positive growth (the May Eurozone Markit Composite PMI of 54.9 is consistent with 2% GDP growth), but whether consumer and business confidence may deteriorate enough to land the region in a recession. Confidence indicators have stumbled since Russia's invasion of Ukraine triggered a surge in energy costs and kinks in supply chains. The Composite PMI future output index saw a steep fall of 9.3 points from February to May (Exhibit 5), with particular weakness in manufacturing. Thus far, current activity has been supported by solid corporate and household balance sheets, a record low unemployment rate and fiscal transfers from national governments. Should the worst of the energy price pressures soon pass, the region may be able to weather this latest challenge. This depends on whether the European Union is able to transition away from Russian fossil fuels over time (as currently seems to be the case) – or whether it ends up doing so suddenly as a result of sanctions and/or counter sanctions. Should energy prices continue to stabilize, price pressures may be able to peak mid-year, permitting confidence to find a bottom and activity to stay resilient.
Lingering commodity and supply chain issues, combined with strong services spending, implies peak global inflation may not occur until the third quarter. While global central banks have already hiked rates 81 times this year, more tightening is expected in some emerging markets and normalization is expected in EM Asia and Europe (excluding China and Japan). Given the quick repricing of the Fed's rate hike path at the beginning of the year, the U.S. dollar surged over 5% from February to April. However, global yields have also moved higher, with the share of negative yielding debt falling from 12% of global bonds in March to 4.5% in May. The U.S. dollar's more recent leg of 2% appreciation seems to be more driven by global growth fears in the U.S., China and Europe. For the U.S. dollar to sustainably peak (and eventually embark on its expected structural downtrend), investors will need to regain confidence that the U.S. can see a soft landing, China can normalize and Europe can indeed avoid a recession.
Exhibit 5: Eurozone's current activity remains resilient, but sentiment has taken a tumble

Source: Markit, J.P. Morgan Asset Management.
Data are as of May 31, 2022.