25 years of helping clients build stronger portfolios
03/15/2022
Josh Rogers
Twenty-five years ago, the Dow Jones Industrial Average closed above 6,000 for the first time, General Electric was America's largest company and cash was yielding nearly 6%. Perhaps less notable at the time, but important nonetheless, was the launch of a series of four diversified mutual funds that sought to offer growth with an eye toward downside protection: the JPMorgan Investor Funds. While many of those market-related milestones seem like a distant memory, one thing definitely is not: the value of an investment portfolio that can potentially smooth out the investing ride and help investors stay the course, no matter what the market environment offers.
Putting things into perspective
With a bit more perspective, it becomes abundantly clear why helping to smooth out the ride is critical in helping investors achieve their financial goals. It seems that all of us are presented with a new crisis every year, month or even day at this point. Leverage, policy tightening, inflation, valuations, volatility, a new political regime; the list goes on and on. For the average investor without professional guidance, those concerns can easily lead to poor decisions and concentrated risks. These behavioral challenges are well documented, and reveal the considerable performance gap that can unnecessarily impact an investor influenced by these short-term forces (Exhibit 1).
Exhibit 1: The average investor may not even keep up with traditional asset classes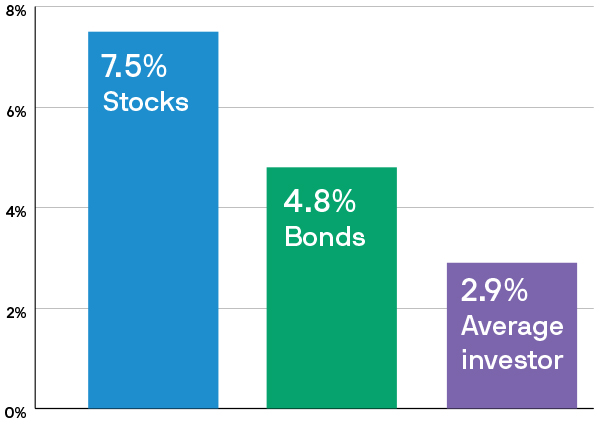 Source: Bloomberg, Dalbar Inc., Standard & Poor's. Indices used are: Stocks: S&P 500 Index; Bonds: Blomberg US Aggregate Index. Average asset allocation investor return is based on an analysis by Dalbar Inc., which utilizes the net of aggregate mutual fund sales, redemptions and exchanges each month as a measure of investor behavior. Based on 20-year annualized returns (2001-2020).
For first-time investors looking to avoid these risks, the first step into investing can feel overwhelming. Proclamations of the next bear market seem to be upon us daily. But, importantly, most of us are able to look through those headwinds and get invested. However, shortly thereafter, many investors experience the potentially more challenging part: staying invested. As part of human nature, many of us experience something called loss aversion. For example, the pain felt from a 10% loss is more significant than the joy felt from a 10% gain. Left to our own devices, many of us are easily spooked when we see markets turn negative and sell out and, as a result, miss the ensuing recovery.
Helping investors navigate the market's ups and downs
As you can see below, there has been no shortage of crisis events in the last 25 years to test investors (Exhibit 2). These events have also done their best to test the four Investor Funds. But in these instances, the Investor Funds have been able to provide downside protection via their consistent process, thereby saving investors from the full wrath that the market can bear.
Exhibit 2: Major market pullbacks (S&P 500 Index)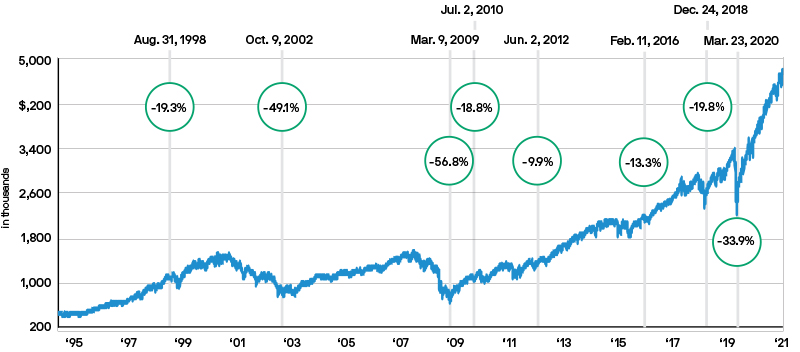 Source: FactSet, Standard & Poor's, J.P. Morgan Asset Management. Guide to the Markets – U.S. Data as of 12/31/21. Drawdowns are calculated as the prior peak to the lowest point.
The strategies follow a consistent three-step process that seeks to balance a long-term orientation and active allocation opportunities:
Leverage ideas and insights from across J.P. Morgan and create an intermediate-term allocation framework for each fund.
Select the most appropriate J.P. Morgan managers for each allocation across all asset classes.
Monitor and adjust the portfolios as market conditions change, to take advantage when significant opportunities arise.


Over 25 years, these three steps have delivered consistent growth and risk-adjusted returns across varying market cycles.
Investing for income, growth or both
Entrusted with over $20bn in assets by investors1, one of the reasons the Investor Funds have persevered for 25 years is the breadth of goals that these strategies can solve for. To illustrate this, consider these two clients, at different points in their lives, looking to solve for their specific financial goals using the same Investor Fund.
John is approaching retirement and seeking an investment that allows for some growth, while also providing distributions over time.
Kathy inherits a sum of money that she would like to use as a base to build wealth.
Exhibit 3: Two clients, two goals, one fund
John: Distributions plus growth Kathy: Build a nest egg
Source: Morningstar, J.P. Morgan Asset Management; based on A shares at NAV as of 12/31/21. Assumes $250,000 initial investment in JPMorgan Investor Growth & Income Fund from inception (12/10/96) held to 12/31/21 with $10,000 annual withdrawals from John's portfolio and $10,000 annual contributions to Kathy's portfolio. There is no direct correlation between a hypothetical investment and the anticipated performance of the funds.
The performance quoted is past performance and is not a guarantee of future results. Mutual funds are subject to certain market risks. Investment returns and principal value of an investment will fluctuate so that an investor's shares, when redeemed, may be worth more or less than original cost. Current performance may be higher or lower than the performance data shown. For performance current to the most recent month-end, please call 1-800-480-4111.
For most recent standardized performance, see: JPMorgan Investor Growth & Income Fund
Both John and Kathy invested in the JPMorgan Investor Growth & Income Fund. John, illustrated on the left side of Exhibit 3, invested $250,000 in the fund when it launched in 1996, and took $10,000 in distributions each year. Over the course of 25 years, John received $250,000 in distributions, and still has over $800,000 invested. It is important to note that the downside protection of the Investor Growth & Income Fund helped John, especially since taking distributions in a down market has a compounding effect, making it harder to rebound from a drawdown.
Kathy, illustrated on the right side of Exhibit 3, also invested $250,000 in the Investor Growth & Income Fund in 1996. However, instead of taking distributions, she contributed an additional investment of $10,000 each year. Over 25 years, Kathy's account value would have been over $2,300,000 today.
Two investors with two different investment goals, at very different points in their lives, investing in the same fund. Both strong use cases for the Investor Funds.
For many, investing is a game of expectations. Having the right expectations, matched with the right level of risk, is the key to getting and staying invested. The Investor Funds may seem very straightforward at first glance, but have delivered where many other investments may not have: on expectations. And, while many things have changed for investors since 1996, the sophistication and simplicity that the Investor Funds offer has and will continue to endure.
For the last 25 years, JPMorgan Investor Funds have helped clients meet their investment goals while also offering built-in diversification.

1AUM for Investor Funds as of 12/31/21.