For the last 10 years, the JPMorgan Global Allocation Fund has navigated numerous different and unique market environments with remarkable consistency. According to Morningstar, this Fund "has never posted a three-year rolling return less than that of the typical peer."
Compelling performance since inception

For standardized performance click here: Global Allocation Fund >
Source: Morningstar, J.P. Morgan Asset Management; as of 5/31/21. Returns and Sharpe ratio for I Share class vs. Morningstar World Allocation Category. Minimum eligibility requirements for the I share class apply; please see prospectus for further details. Sharpe Ratio uses monthly calculations. The Fund was ranked as follows within its Morningstar category: 1 year (112/445 funds), 3 years (54/399 funds), 5 years (39/350 funds), 10 years (49/320) and since inception (49/320 funds).
Performance quoted is past performance and is no guarantee of future results. Investment returns and principal value will fluctuate, so shares, when sold, may be worth more or less than original cost. Current performance may be higher or lower than returns shown.
Broad asset allocation ranges set this Fund apart from the traditional 60/40 balanced fund which may be more limited in taking meaningful tactical positions. At any given time, this Fund can be 10-90% in either stocks or bonds and 0-60% in alternatives. With this much flexibility, the Fund is governed by a 60/40 risk budget approach which strives to create an investment experience similar to that of a balanced fund.
Flexible funds do not always mean more risk
We believe, over the next decade, that the 60/40 portfolio will return only half of what it delivered in the previous decade, primarily driven by low rates and index return challenges. Not only are investors confronted with this reality, but they are also trying to make sense of an economic cycle that is moving at breakneck speed, which produces opportunities and challenges that were once unheard of, including rising rates, growth versus value, inflation and opportunities abroad.
We have identified tactical asset allocation and security selection as the two most important levers to utilize when confronting the 60/40 return challenge as well as manage risk in changing macro environments.
Tactical asset allocation and security selection levers delivered positive alpha

Source: J.P. Morgan Asset Management. Based on 3-year rolling excess returns for I share class from inception (5/31/11) to 5/31/21. Alpha for manager selection refers to the positive excess returns created by the underlying strategies relative to the benchmark, 60% MSCI ACWI / 40% Bloomberg Barclays Global Aggregate Index. Alpha for tactical investing refers to the positive excess return impact made by the Fund's decision to over/underweight given asset classes. For illustrative purposes only. Past performance is no guarantee of future results.
Late 2011 to early 2012: Benefiting from a credit crisis in Europe and a debt downgrade in the U.S.
Global markets: As European debt markets saw unprecedented headwinds and fears of a "hard landing" in China spread, global stocks were also roiled as the S&P 500 saw a 20% peak-to-trough decline late in 2011.
Fund positioning: Fear continued to drive markets. Our fundamental research identified opportunities in parts of the high yield market and, as a result, we increased our allocation to 35% - our highest to date. We added Treasuries to diversify equity risk while keeping faith in the long-term prospects of U.S. stocks, maintaining our allocation at 31%.
Fund positioning from late 2011 to early 2012

The outcome: Both U.S. equity and high yield markets were positive in 2012, with high yield outperforming equities, and with less volatility.
Mid to late 2013: Navigating the taper tantrum and a government shutdown
Global markets: After Federal Reserve (Fed) Chairman Ben Bernanke hinted at tapering the government's asset purchases, 10-year Treasury yields spiked from 1.62% to 3.02% between May and September. The federal government shut down for two weeks in October 2013, causing volatility and further increasing investors' concerns.
Fund positioning: In anticipation of interest rate volatility, we cut our fixed income exposure to a low of 18% and reduced duration to below one year. We remained very positive on the U.S. equity market.
Fund positioning from mid to late 2013

The outcome: Weathering the storms, the S&P 500 Index recorded one of its best years in 2013, finishing up 32%. The tapering of the Fed's asset purchases, starting in December, pushed 10-year Treasury yields to their highest levels since 2011. The Barclays Aggregate Index suffered only its third losing year since 1976.
Mid to late 2014: Fears of global deflation dominate
Global markets: Recession fears in Europe and hard landing concerns in China weighed heavily on international equity markets and oil prices. In the U.S., an ongoing recovery sparked concern that the Fed might start tightening as early as 2015, leading to a historical move higher in the dollar.
Fund positioning: With our inflation concerns muted by a strong dollar and declining oil prices, we maintained a 0% allocation to commodities and added 30-year Treasuries in anticipation of falling long-term interest rates. Believing in the continued strength of the U.S. recovery, we increased our exposure to U.S. stocks to 70% of our total equity portfolio allocation, about 41% of the fund overall.
Fund positioning from mid to late 2014

The outcome: U.S. large cap equities outperformed developed non-U.S. equities by more than 18%. 30-year Treasuries outperformed shorter maturities between September and December as fears of deflation persisted, the dollar strengthened and oil prices fell rapidly.
Mid to late 2015: Quantitative easing by the European Central Bank (ECB), tightening by the Fed and falling emerging markets
Global markets: A precipitous drop in oil prices, a rallying dollar and tumult in emerging markets' stocks and currencies shook markets, creating opportunities for nimble global investors.
Fund positioning: Our ongoing concerns about currency volatility led us to hedge all non-U.S. dollar currencies and remove emerging markets stock and bond allocations. We retained our 0% allocation to commodities but added to our European equity exposure as fundamentals improved, and the ECB finally embarked on quantitative easing.­­
Fund positioning from mid to late 2015

The outcome: European equities (fully hedged) outperformed U.S. equities for the first time since 2009. Emerging markets currencies continued to fall as local currency debt lost roughly 15% in 2015. Prudent security selection across fixed income and equities added 1% of outperformance versus the benchmark.

Late 2016 through 2017: U.S. election, coordinated global growth
Global markets: After Donald Trump won the U.S. election in an upset driving uncertainty globally with his "America First" agenda, U.S. interest rates rose dramatically as investors recalibrated U.S. spending and growth dynamics.
Fund positioning: Despite the noise from campaign trail rhetoric, we stayed committed to our allocation to emerging markets (EM) equity given our confidence in a global growth recovery. We bought EM equity index call options to manage risk as volatility was rising. We also reduced our allocation to the U.S. dollar to the lowest point since inception as the prospects for better growth abroad supported foreign currencies.
Fund positioning from late 2016 through 2017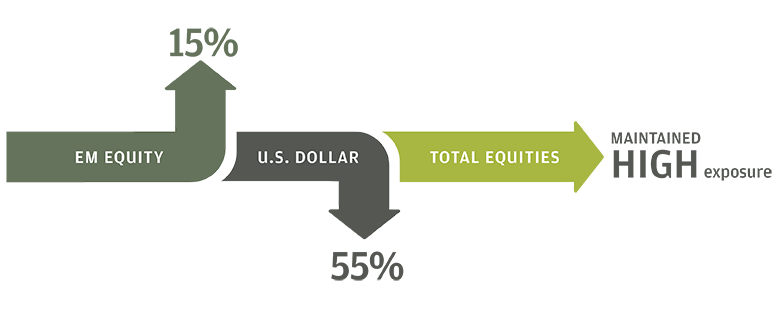 The outcome: Much to everyone's surprise global growth came back with a vengeance in 2017 with EM equity being the best performing asset class globally. The Fund maintained its highest allocation ever to EM equity at roughly 15% throughout 2017, making it the largest contributor to the Fund's 17.1% total return in 2017. The Trump Administration's corporate tax cut also drove up U.S. equity market returns sharply. Finally, our reduced allocation to the U.S. dollar benefited from dollar weakness as the gap between U.S. growth and international growth widened.
2018: Trade war and Fed policy tightening
Global markets: After a very strong rally in all global equity markets in 2017, positioning coming into 2018 was very crowded around "coordinated global growth" expressed through EM and European overweights. The positive mood quickly soured as the U.S. and China began to implement tariffs on each other, bringing into question the certainty of global growth. The Federal Reserve continued to tighten policy despite trade friction, which weighed on equity markets in Q4, particularly in December.
Fund positioning: We came into 2018 with an overweight to EM equity expressed through long call options, but as it became apparent that trade uncertainty would be weighing on the asset class, the long calls expired out of the money, which took our allocation in EM from 12% to 5% in the spring. We added U.S. dollar exposure and kept our preference for the U.S. equity market into Q4, but after Fed Chair Powell continued to imply further tightening despite trade uncertainty, our long calls on the S&P 500 took our total equity allocation from 62% to 45% early in Q4.
Fund positioning in 2018

The outcome: 2018 was a direct contrast to 2017, catching many investors off guard. EM equity was the best performer in 2017 and the worst performer in 2018. Our ability to reduce our allocation materially in the spring – through our call options – managed downside risk as the asset class continued to deteriorate into the summer months. Similarly, our risk management with S&P 500 call options later in 2018 allowed the Fund to manage downside risk in the U.S. equity market, as we lowered most of our equity risk in October – before the S&P 500 sold off by roughly 15% – through Christmas Eve in December 2018.

2020 to early 2021: Global pandemic risks and opportunities
Global markets: Many investors came into 2020 optimistic as Fed and trade uncertainty faded into the background. Soon after, we heard about a virus called COVID-19 that most believed would be contained in China, but that was not the case. The world became strangled by a global pandemic that wreaked havoc on global markets in February and March. Global policymakers responded vigorously with both monetary and fiscal policies, providing a runway for risk assets to recover in Q2 and Q3. November provided new information on both U.S. election uncertainty and the virus, as Joe Biden won the presidential election and Pfizer and Moderna released highly effective vaccine results.
Fund positioning: We came into 2020 long in EM equity call options but, as news of COVID-19 began to impact EM assets, our allocation was reduced from 12% to 6% with the calls expiring out of the money. As news hit of COVID-19 spreading to the developed world, we accelerated our reduction in risk bringing equity down by 20%, increasing government bonds by 20% and reducing high yield from 10% to 4%. In Q2, we began to add to risk on the back of policy responses. We added to investment-grade credit and high yield while bringing our equity exposure back to an overweight. We stayed overweight equity into November, despite risks brewing around a contested U.S. election and a second wave of the virus heading into the winter. With rates so low, we couldn't use duration to help manage risk; instead we bought S&P 500 put options for the first time to hedge a downside scenario. After the vaccine news, we had even more confidence in the recovery, adding to small cap U.S. equity, large cap value and equal weighted S&P 500 exposure. In fixed income, we added to below investment-grade credit as another way to capture "cyclicality" without buying more equity.
Fund positioning during pandemic to reduce risk in Q1 2020

Fund positioning during policy response and vaccine announcement from Q2 to Q4 2020

The outcome: While we were not immune to a drawdown in Q1, our risk reduction in equity and credit helped to limit the move. Being nimble in adding back to U.S. equity and U.S. credit allowed the Fund to capture upside as equity markets and credit spreads recovered very quickly. The Fund posted its best month ever in November 2020, driven by allocations to small cap U.S. equity and EM equity. The Fund posted a 14% gain in Q4 alone. By the end of the year, the Fund posted top decile performance in the Morningstar World category.

Where does the Global Allocation Fund fit in 60/40 portfolios?
The Fund's nimble, flexible approach can help to further diversify a traditional 60/40 portfolio – either as a core or a satellite – and it has delivered higher returns with slightly more risk, leading to a better risk-adjusted return (as measured by Sharpe ratio).
Core portfolio outperformance versus traditional or satellite portfolios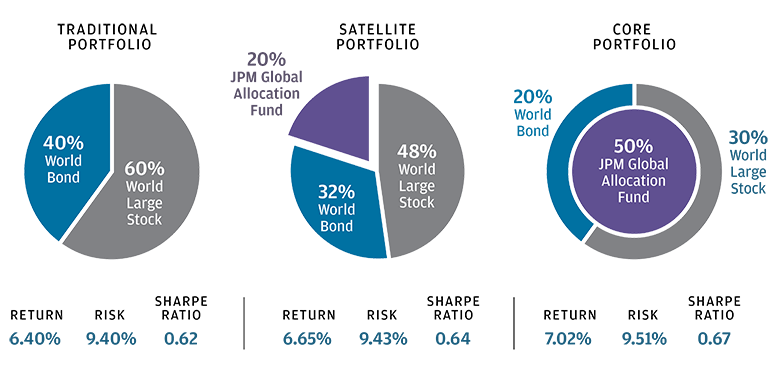 For standardized performance click here: Global Allocation Fund >Source: Morningstar, J.P. Morgan Asset Management. Data are from 5/31/11 to 5/31/21. Morningstar World Large Stock Category and Morningstar World Bond Category shown. All performance shown net of fees. Risk is measured by standard deviation.
Performance quoted is past performance and is no guarantee of future results. Investment returns and principal value will fluctuate, so shares, when sold, may be worth more or less than original cost. Current performance may be higher or lower than returns shown.
JPMorgan Global Allocation Fund has the flexibility to access the entirety of J.P. Morgan's global investment platform to deliver our best ideas across regions and asset classes. To learn more, click here.
All charts and graphics are for illustrative purposes only.
Risk Summary
The Fund's fixed income securities are subject to interest rate risk. If rates increase, the value of the Fund's investments generally declines. The Fund may invest in securities that are below investment grade (i.e., "high yield" or "junk bonds") that are generally rated in the fifth or lower rating categories of Standard & Poor's and Moody's Investors Service. Although these securities tend to provide higher yields than higher-rated securities, there is a greater risk that the Fund's share price will decline. International investing involves a greater degree of risk and increased volatility. Changes in currency exchange rates and differences in accounting and taxation policies outside the U.S. can raise or lower returns. Also, some overseas markets may not be as politically and economically stable as the United States and other nations. The risks associated with foreign securities are magnified in countries in "emerging markets." These countries may have relatively unstable governments and less-established market economies than developed countries. Emerging markets may face greater social, economic, regulatory and political uncertainties. These risks make emerging market securities more volatile and less liquid than securities issued in more developed countries.
The Fund may invest in mortgage-related and asset-backed securities, including so-called "sub-prime mortgages" that are subject to certain other risks, such as prepayment and call risks. During periods of declining asset value, difficult or frozen credit markets, swings in interest rates or deteriorating economic conditions, mortgage-related and asset-backed securities may decline in value, face valuation difficulties, become more volatile and/or become illiquid. The Fund may invest in derivatives that may be riskier than other types of investments because they may be more sensitive to changes in economic or market conditions and could result in losses that significantly exceed the Fund's original investment. Many derivatives create leverage that can cause the Fund to be more volatile than it would be if it had not used derivatives. There can be no assurance that the professionals currently employed by JPMAM will continue to be employed by JPMAM or that the past performance or success of any such professional serves as an indicator of such professional's future performance or success.
The Morningstar RatingTM for funds, or "star rating," is calculated for managed products (including mutual funds, variable annuity and variable life subaccounts, exchange-traded funds, closed-end funds and separate accounts) with at least a three-year history. Exchange-traded funds and open-ended mutual funds are considered a single population for comparative purposes. It is calculated based on a Morningstar Risk-Adjusted Return measure that accounts for variation in a managed product's monthly excess performance, placing more emphasis on downward variations and rewarding consistent performance. The top 10% of products in each product category receive 5 stars, the next 22.5% receive 4 stars, the next 35% receive 3 stars, the next 22.5% receive 2 stars and the bottom 10% receive 1 star. The Overall Morningstar Rating for a managed product is derived from a weighted average of the performance figures associated with its three-, five- and 10-year (if applicable) Morningstar Rating metrics. The weights are: 100% three-year rating for 36-59 months of total returns, 60% five-year rating/40% three-year rating for 60-119 months of total returns and 50% 10-year rating/30% five-year rating/20% three-year rating for 120 or more months of total returns. While the 10-year overall star rating formula seems to give the most weight to the 10-year period, the most recent three-year period actually has the greatest impact because it is included in all three rating periods. Rankings do not take sales loads into account.
0903c02a82b20347