Key takeaways:
China is progressing with its return to economic normality and a focus on idiosyncratic, secular growth opportunities is key when investing in Chinese equities.


Our Emerging Markets and Asia Pacific Equities team is constructive on sector leaders in technology, consumption and health care1.
1. How are we tapping into China's potential as the economy recovers?


A vast, liquid equity market: China's onshore A-Share market (Shanghai and Shenzhen) is the second largest in the world2, with more than 4,200 companies listed3. Additionally, investors could gain exposure to Chinese equities offshore via H-shares, red- and P-chips listed in Hong Kong as well as China-originated companies listed in Singapore. There are also N-chips, which are Chinese companies incorporated outside of China and listed in the US. Overall, a focus on quality and long-term growth potential is crucial.


Opportunities onshore and offshore: China's share in global equity market indices lags its size and economic scale4. Still, the inclusion of A-Shares in global indices such as MSCI and FTSE Russell has built momentum for passive inflows. Currently, foreign investors' holdings of onshore China equities remain low5. An exposure to Chinese equities presents diversification benefits to a global portfolio.


China's weight in selected indicators4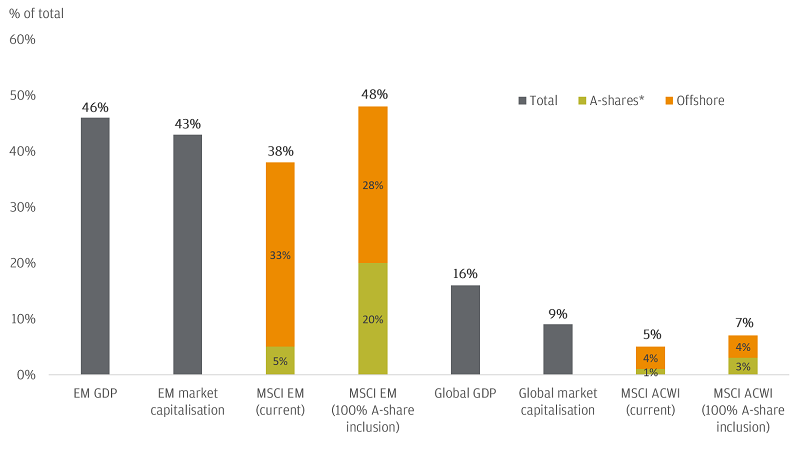 2. Where lies the long-term structural growth opportunities in China?


Consumption upgrading: The evolution of Chinese middle-class consumption is driving demand in discretionary, staples and technology sectors as consumers are seeking more choices, comfort and convenience.
Digitalisation of lifestyle: a one-stop digital portal for the daily necessities, entertainment, mobile gaming and online health consultations and medical services.
Rural e-commerce: rural consumers in China are emerging as another market opportunity as e-commerce takes off in the provincial areas. Rural customers now have direct access to the online marketplace, lowering sales costs and product prices.


Digital transformation: The adoption and usage of digital services surged during the public health crisis, especially as employees increasingly worked-from-home. Accelerated demand for IT products and cloud collaboration office solutions is benefitting some of the market leaders.
Import substitution: China's technology industry is embracing an inward pivot, and looking to make breakthroughs in core technologies to reduce its reliance on imported software. Core technologies include development of low-power processors and innovative technology for smart phones, the Internet of Things and electric vehicles.


Health care demand: Demand for health care services and products in China continues to grow, with increased spending in sectors such as health care infrastructure and preventive treatment.
Medical equipment manufacturing: some Chinese enterprises are developing innovative therapeutics, and are harnessing smart technology in the treatment of serious diseases. Domestic medical equipment suppliers are also innovating to develop targeted devices, such as solutions for heart valve diseases.
Pharmaceutical research and medical diagnostics: Innovative pharmaceuticals and diagnostics-related corporates could benefit from China's long-term investment in research and development. China is also advancing the development of medical diagnostic technology including rapid testing and accurate pathological diagnosis.
Accessing long-term growth opportunities across Asia
Provided for information only based on market conditions as of date of publication, not to be construed as investment recommendation or advice.
Diversification does not guarantee investment return and does not eliminate the risk of loss.
1. For illustrative purposes only based on current market conditions, subject to change from time to time. Not all investments are suitable for all investors. Exact allocation of portfolio depends on each individual's circumstance and market conditions.
2. Source: "Market Capitalisation of the World's Top Stock Exchanges", Hong Kong's Securities and Futures Commission, citing All World Federation of Exchanges and Bloomberg. Data as of 31.03.2021.
3. Source: "Hong Kong and Mainland Market Highlights", HKEX-Connect Scheme. Data as of 14.05.2021.
4. Source: J.P. Morgan Asset Management, Bloomberg, MSCI, World Bank. Share of emerging market (EM) gross domestic product (GDP) is for 2019 and is calculated as Chinese nominal GDP in US dollars as a percentage of all emerging markets within the MSCI EM index and as a percentage of the global GDP. Share of EM market cap is for 2019 and is calculated as China's market capitalisation of listed domestic companies as a percentage of all emerging markets' capitalisation of listed domestic companies within the MSCI EM index and as a percentage of global market capitalisation. *Currently, an index inclusion factor (IIF) of 20% is applied to China A Large Cap, ChiNext Large Cap and China A Mid Cap (including eligible ChiNext shares) within MSCI All Country World Index (ACWI) and MSCI EM Index. 100% A-share inclusion is shown for illustrative purposes only. Indices do not include fees or operating expenses and are not available for actual investment. Data as of 30.04.2021.
5. Source: J.P. Morgan Asset Management, CEIC, People's Bank of China, Shanghai Stock Exchange, Shenzhen Stock Exchange. Data as of 30.04.2021.
6. Source: J.P. Morgan Asset Management, data as of end-March 2021.
7. Source: J.P. Morgan Asset Management, data as of 30.04.2021.
Investments involve risk. Not all investments are suitable for all investors. Investors should consult professional advice before investing. Investments are not similar to or comparable with fixed deposits. It does not constitute investment advice and it should not be treated as an offer to sell or a solicitation of an offer to buy any fund, security, investment product or service. The information contained herein does not constitute J.P. Morgan research and should not be treated as such. The material was prepared without regard to specific objectives, financial situation or needs of any particular receiver. The opinions and views expressed here are as of the date of this publication, which are subject to change. This advertisement or publication has not been reviewed by the Monetary Authority of Singapore. Issued by JPMorgan Asset Management (Singapore) Limited (Co. Reg. No. 197601586K). All rights reserved.