In the near-term, higher bond yields should penalize sectors with high valuations and growth stocks, supporting the rotation into value and cyclical sectors.
Kerry Craig
Global Market Strategist
Key takeaways
Policy normalization in the U.S. creates challenges for both equity and bond markets, but low and no yield assets face the greater test.
Asian equities may find longer term support from the robust global growth outlook as well as its stronger economic starting position relative to prior rate hike cycles.
Value may outperform growth in the near term, but secular drivers remain to benefit long term investors.
Sticky inflation pressures in the U.S. and further tightening of the labor market has led to increasing expectations for an earlier and quicker rate hike cycle in the U.S. than initially anticipated. We believe that the U.S. Federal Reserve (the Fed) will raise rates in March and hike interest rates in each subsequent quarter. Tighter monetary policy represents a headwind to asset returns and particularly for those that offer no or very low yields. This note considers the impact of higher U.S. rates for investors.
Asian equities are underperforming leading into the hiking cycle
At the outset, a tightening of monetary policy in the U.S. has historically been a negative for Asian equity markets. In the two prior rate hiking cycles, Asian equity markets fell in the months leading up to the first hike and remained weak for a short period after. Once the cycle was underway, Asian equities eventually recovered (Exhibit 1). The weakness and eventual recovery in Asian equities are a function of the growth outlook at the time. If tighter policy is a response to a stronger economy and robust expectations for earnings growth, then equities can still do well.
However, there are differences in the 2004 and 2015 hiking cycles that may serve as a guidepost for today. 2004 was a gradual tightening cycle with a modest rise in real yields, meanwhile, 2015 was characterized as an even slower hiking cycle, but one in which we saw a much sharper and higher rise in real yields. Quantitative easing and balance sheet expansion were new tools at the Fed's disposal and there were additional uncertainties around the consequences of unwinding the balance sheet and the substitution effect for policy normalization.
Similar, but not the same as 2015
Investors may underline the similarities of 2015 and today given the gradual rise of interest rates, the fast movement in real yields from a low level and balance sheet uncertainty. But the current macro backdrop looks very different. In 2015, with the U.S. and China facing growth concerns, the Chinese equity market fell precipitously, and political headlines weighed heavily on investor sentiment.
EXHIBIT 1: MSCI AC ASIA EX-JP PERFORMANCE AROUND START OF RATE HIKING CYCLE
Trading day before and after first rate hike
Source: FactSet, MSCI,.P. Morgan Asset Management.
Indexed to first rate hike of 2004 and 2015 rate hike cycles. Total returns in local currency
Data are as of January 17, 2022.
Policies – Expect easing measures for economic stabilization
Today, the outlook for Asian corporate earnings are supported by external demand from developed markets in the form of business-driven capex and consumer spending. China is embarking on a path of economic stabilization with incremental easing of monetary and fiscal policy and a further deterioration in political relationship with the U.S. looks less unlikely.
Many Asian markets are entering this rate hike cycle from a better economic standpoint with lower inflation rates and stronger current account positions. Real yield differentials between Emerging Market (EM) Asian economies and the U.S. are much higher, especially when compared to 2013 (Exhibit 2). In this environment, EM Asian economies may not be as exposed to currency depreciation risks, meaning regional central banks can tailor its policy to domestic economic conditions rather than solely in response to the Fed.
The value rotation for now, but secular growth trend eventually takes over
Rising yields have historically played out well for value investors. Over the 2004 and 2015 rate hiking cycle, the S&P 500 Value Index returned 28% and 20% respectively. The value rotation should experience further tailwinds in the short- to medium-term as high valuations on growth stocks are pressured by rising discount rates and value stocks find support from the earnings outlook. The degree of rotation from growth to value will be determined not just by the level of yields but also by the steepness of the yield curve. Large value sectors such as Financials will benefit from higher yields and a steeper yield curve through richer net interest margins, despite recent caution about rising costs. As the Fed normalizes policy to regain control over the inflation outlook, how it approaches its balance sheet run-off may have greater bearing on the steepness of the yield curve in addition to its desire to push up long- and short-term interest rates.
Investors will benefit from a more active approach when investing in the U.S equity market given the valuation dispersion driven by the consistent outperformance of growth stocks over several years. The median forward price-to-earnings at the end of December 2021 for the S&P 500 was 20.3x, however, the valuation spread between the 20th and 80th percentile was 21.7 pts, almost twice the average spread over the last 25 years.
The U.S. economy is now in the mid-cycle economic phase of its expansion and this, along with anchors that limit how far bond yields can rise, may restrict a longer-term wholesale rotation from growth to value in the equity market. While the return in value stocks trumped growth in the 2004 cycle, in 2015, the S&P 500 growth index outperformed its value counterpart, rising 32%. The secular themes that have driven the longer-term outperformance in some growth sectors remain, suggesting investors may be enticed back at better prices.
Fixed income returns even more challenged
Low and no yield assets face the biggest risks. Government bonds role as a diversifier in a portfolio has not changed but comes at a higher cost as yields rise. The challenge for investors is the increased sensitivity of bond prices at low yields which results in the uptick in government bond market volatility. The experience since the GFC and the low-rate environment has brought about even more frequent and larger drawdowns. While we anticipate that government bonds will start to gain traction as yields reach a level that could once again constitute income, negative or very low real yields are likely to erode its value.
EXHIBIT 2: EM ASIA AND U.S. REAL RATE DIFFERENTIAL
Percentage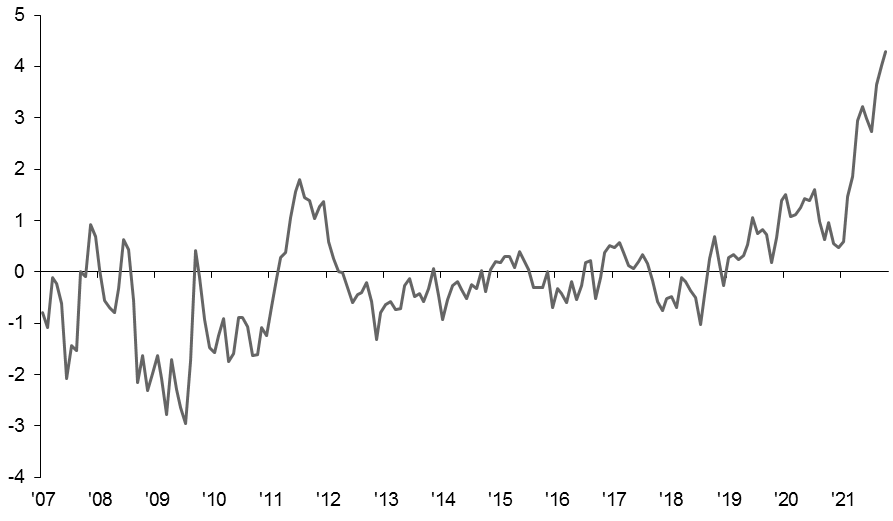 Source: FactSet, National Statistics Agencies, J.P. Morgan Asset Management
EM Asia less U.S. real 10-year bond yield. EM Asia is India, Indonesia, Malaysia, Philippines, South Korea Taiwan and Thailand. Real yields are nominal yield less CPI Inflation weighted by GDP.
Data as of January 17, 2022.
The outlook for investment grade credit is also dampened by rising rates given the narrowness in credit spreads and longer duration of IG credit indices. During 2004 and 2015, IG credit returned 8% and 5% respectively in the 12 months following the first-rate hike, but that may be harder to achieve given the tightness in spreads.
High yield had a different experience. While it also had positive returns in the year following the first-rate hike, U.S. high yield suffered a sharper short-term loss in 2015 as spreads and defaults rose in response to growing concerns over economic growth at the time. The more robust economic outlook in the U.S. today suggests that defaults in the HY sector will remain low. This should hold spreads steady while the relatively higher coupon can overcome the capital loss on a total return basis.
Investment implications
The accelerated timetable for the policy normalization process by the U.S. Federal Reserve and the rise in real yields creates headwinds for certain types of risk assets as well as some perceived safe asset classes. Fixed income markets face the greatest challenge from higher rates, and we expect equities will continue to outperform.
Rising real yields have corresponded to weakness in Asian equity markets. Nonetheless, better economic stability, an economic boost from a delayed reopening, and continued export demand from a still robust global growth are supportive factors. Moreover, higher dividends in Asian equities continues to be attractive given comparatively lower yields in bond markets.
In the near-term, higher bond yields should penalize sectors with high valuations and growth stocks, supporting the rotation into value and cyclical sectors. Based on historical analysis, the persistence in the value rotation may be short-lived and the secular drivers of growth stocks could see investors return at more attractive valuations.
Fixed income markets will be challenged by higher rates given the prospects for low if not negative real yields in core government bond markets, and the thin cushions from coupon in investment grade credit. The return expectation from high yield bond was already modest, driven mainly from carry rather than capital appreciation. However, given low default risk expectations, this segment of the bond market is still preferred.
09ig222001022704