Despite softer consumption, however, profit margins have remained resilient.
Ian Hui
Global Market Strategist
The combination of supply chain disruptions, softer consumption, and a slowdown in China all weighed on economic growth during the third quarter. However, corporate profits have proven to be more resilient. Operating leverage has offset many of these headwinds, as corporate cost structures remain lean against a backdrop of elevated nominal growth. This has supported earnings, and with 83% of S&P 500 market capitalization reporting as of 04/11/21, we are tracking 3Q21 S&P 500 operating earnings of USD 51.64 per share.
In general, results have been better than expected. 81% of companies have beaten earnings estimates and 67% of companies have beaten revenue estimates, leading to year-over-year earnings growth of around 36%. Early estimates pointed to contraction on a quarter-over-quarter basis, but estimates have since turned positive. Furthermore, earnings surprises remain elevated and companies are being rewarded for beating estimates.
During the darkest days of the pandemic, consumers were able to consume goods but not services. This is very different from what is typically observed during periods of economic stress—nearly all of the reduction in consumer spending during the financial crisis came from a reduction in spending on goods, whereas during COVID-19, 67% of the reduction in spending came from services. Reopening the economy made it easier to consume services, but consumers continued gobbling up goods at a rapid clip.
As inventories were drawn down it became increasingly difficult to rebuild them. Southeast Asia has seen many governments maintain a zero-COVID-19 policy, leading factories to temporarily shut down whenever a worker tests positive. Furthermore, entire crews are forced to quarantine outside of port if somebody on a shipping vessel tests positive for COVID-19, and even once cargoes are unloaded, it can be difficult to find workers to transport these goods to their final destination.
Specifically, semiconductors have come into focus as one of the best examples of the supply constraints faced by the global economy. It is unclear how long it will take for the semiconductor shortage to resolve itself, but it looks set to remain an issue well into next year.
EXHIBIT 1: EARNINGS SURPRISE REMAINS WELL ABOVE THE LONG-RUN AVERAGE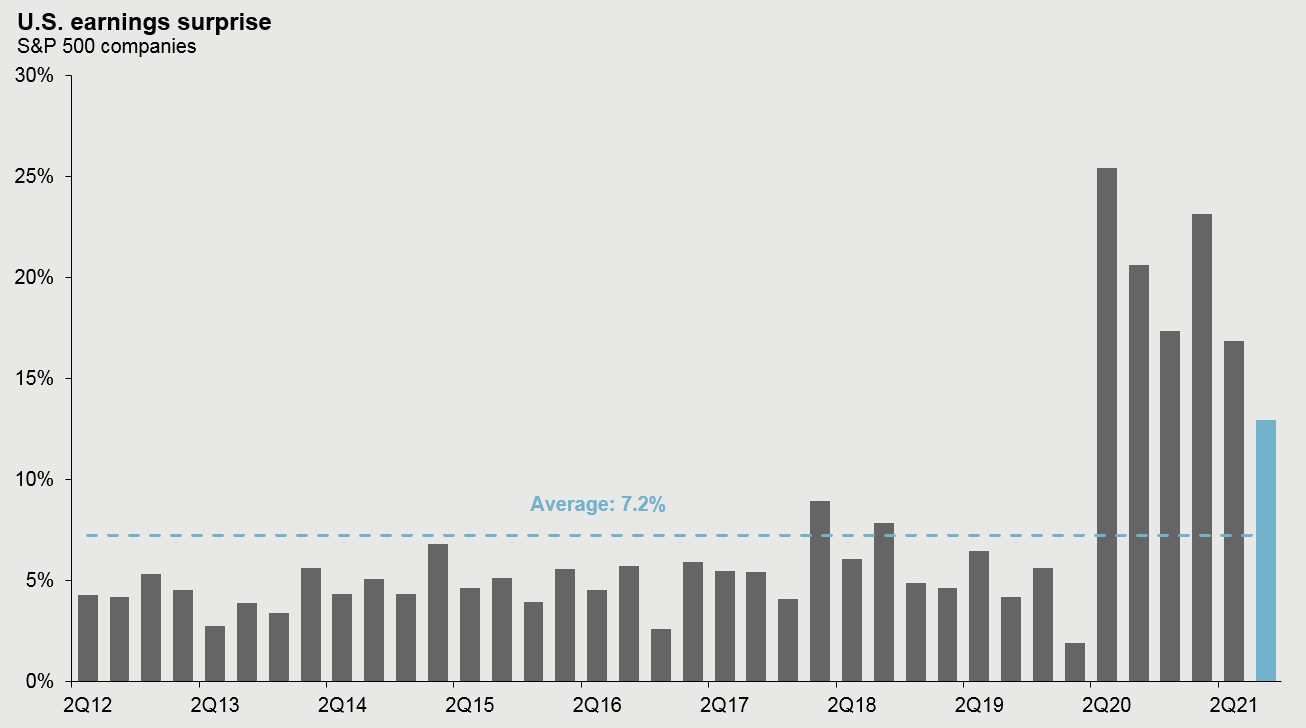 Source: Standard & Poor's, FactSet, J.P. Morgan Asset Management.
Data reflect most recently available as of 30/10/21.
Investment implications
A supply-constrained economy has direct implications for profit margins and earnings, as rising costs pose a risk to profitability next year. Firms have been able to preserve margins thus far by controlling certain costs and increasing prices, but this strategy predicates itself on demand remaining robust. While demand was healthy at the start of 3Q21, it appears to have weakened towards the end of the quarter.
Despite softer consumption, however, profit margins have remained resilient. After hitting an all-time high of 13.6% in the second quarter, we are tracking 3Q21 margins of 13.4%. While supply chain disruptions continue to drag on activity and support above-trend inflation, managements seem to be addressing these challenges through a combination of higher price and a focus on productivity. This should help support margins as we look ahead to 2022.
Consumption should reaccelerate into the end of the year on the back of a further decline in COVID-19 cases, low consumer debt service costs, and a surge in stock market wealth. Meanwhile, we expect an uptick in capital spending due to strong profits and labor shortages. This, coupled with a restocking of inventories, will push economic growth back above its long-term trend. As a result, we believe there is an opportunity in value, particularly among those companies with earnings that are more levered to the overall pace of economic activity. We also see value in technology and certain growth sectors over the long run, but in the current environment, style allocations feel less relevant. Instead, investors should use profits as a guide, as rising interest rates could put multiples under pressure and leave earnings as the main driver of returns.
09xq210911030424