The outlook for inflation is the most important call for asset allocators this year. This paper is the first of a three-part series on the causes of inflation, and its consequences for investors. In this paper we look at the supply side problems that have caused a spike in goods prices and question how quickly they will fade. Next week we will discuss why the labour market is pivotal in the inflation debate. Finally, we will consider the options available for investors to protect their capital.

Too much money chasing too few goods
Surging goods prices have been a key contributor to inflation, and currently stand at record levels across many developed markets (Exhibit 1). The explanation for why this has occurred can be divided into three categories:
1) booming demand, 2) supply that has failed to keep up, and 3) major transportation issues that have made deliveries slower and more expensive.
Exhibit 1: Selected components of US headline inflation
% change year on year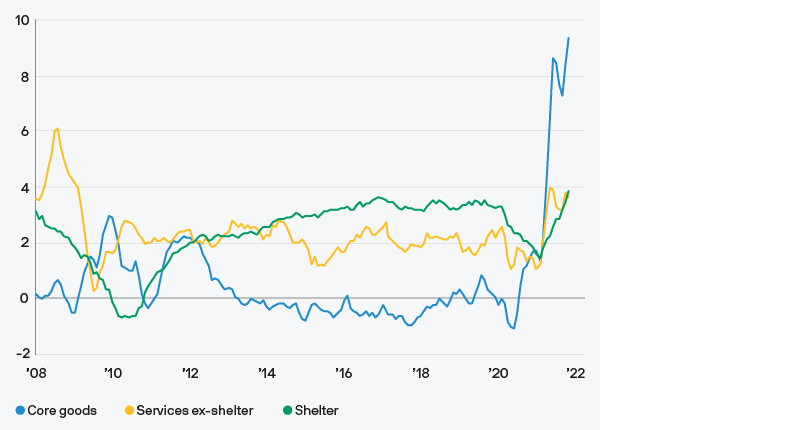 Source: BLS, Refinitiv Datastream, J.P. Morgan Asset Management. Core goods inflation excludes food and energy. Data as of 31 December 2021.

Soaring demand is a major factor behind the sharp rise in core goods inflation. Pandemic related mobility restrictions have limited the ability of consumers to spend on experiences, but with incomes protected via cash payouts and enhanced unemployment benefits, households have instead chosen to stock up on "stuff". Despite this spending splurge, demand should remain strong in 2022. Households are still sitting on excess savings from the pandemic, worth close to 10% of domestic GDP in both the US and the UK, while rising stock markets and property prices have also boosted consumer net wealth.
The key metrics to monitor?
The split of US consumer spending between goods and services. With US services spending still 3% below the pre-pandemic trend (compared to goods spending which is now 20% above its pre-pandemic trend), the scope for a rotation away from goods and towards services is clear (Exhibit 2). Further progress in the shift from a pandemic to endemic Covid-19 situation will be required, particularly if international travel is to restart in earnest.
Exhibit 2: US goods and services consumer spending
Index level, rebased to 100 in January 2018
Source: BEA, Refinitiv Datastream, J.P. Morgan Asset Management. Data as of 31 December 2021.
Emerging Market production pressures
Just as demand for goods has soared, the ability of Asian manufacturers to respond to the demand shock has been hampered by more stringent pandemic restrictions and slower vaccination rollouts. As the Delta variant spread, national lockdowns were required for much of last summer in Malaysia and Indonesia, while Thailand and Vietnam were forced to lockdown high-risk regions. Each of these nations have now moved away from their "zero-Covid" approaches which bodes well for some improvement in 2022, but this episode has clearly highlighted the fragility of global supply chains. Even if global exports are running at 95% of capacity, if the missing 5% contains components that are essential to be able to finish final products, the manufacturing world has a major problem on its hands. This issue has been especially acute in the auto industry. With Asia responsible for 75% of global semiconductor production, US and European auto production has been hit very hard, driving used car prices higher. Semiconductor companies are now working to increase production and capacity, but many auto manufacturers are indicating that chip shortages are likely to persist for at least the first half of this year.
China remains one of the last major nations to actively pursue a "zero-Covid" strategy. The nation's ability to quickly control outbreaks has been highly effective so far, although this has been at the cost of substantial supply chain disruption. A month-long shutdown last summer of Yantian Port created delays akin to the Suez Canal blockage, as did a two week shutdown of Ningbo- Zhoushan – China's second busiest port – after a worker tested positive for Covid-19. Given Omicron's much greater transmissibility, uncertainty around the efficacy of the Sinovac vaccine and little sign of Beijing wanting to change their approach until at least after the Winter Olympics, there is a clear risk of intermittent disruption in China for several months to come.
The key metrics to monitor?
Asian manufacturing PMIs (Purchasing Managers' Index), specifically the components focused on levels of output and supplier delivery times (Exhibit 3). Delivery times remain long but are generally improving, while output has picked up recently. The resilience of these metrics against the Omicron variant bears watching.
Exhibit 3: Asian manufacturing PMI heatmap
Index level


Source: Bloomberg, Markit, J.P. Morgan Asset Management. A score of 50 indicates that economic activity is neither expanding nor contracting, above 50 indicates expansion. A lower score for supplier delivery times indicates longer delays. Data as of 31 December 2021.
Global transportation troubles
For the goods that have managed to reach the end of the production line complete, major issues in transportation networks have made their journey to consumers both slower and more costly. The uneven timing of national lockdowns and reopenings have created supply and demand imbalances for shipping across the world, resulting in costs surging by as much as seven times pre-pandemic rates on routes from east to west (Exhibit 4). Capacity in global shipping was already quite constrained prior to the pandemic, and while new orders for container vessels have picked up sharply, this new capacity is unlikely to come online until 2023 at the earliest.
Land-based problems have also been evident. In the US, the twin ports of Los Angeles and Long Beach account for almost 40% of the country's imported goods, but major congestion has led to ships waiting an average of two to three weeks before being able to pull into a berth. With empty containers piling up in port and a lack of truck drivers for the final delivery leg, reducing congestion has become a political priority for the US administration.
The key metrics to monitor?
We will be monitoring two metrics particularly closely: 1) shipping costs in key east to west routes, and 2) the number of container ships anchored in LA and Long Beach. Both have recently showed signs of stabilisation having peaked in the autumn, but are still at levels indicative of significant stress.
Exhibit 4: Global shipping costs by route
US dollars per 40 foot container, indexed to 100 in January 2015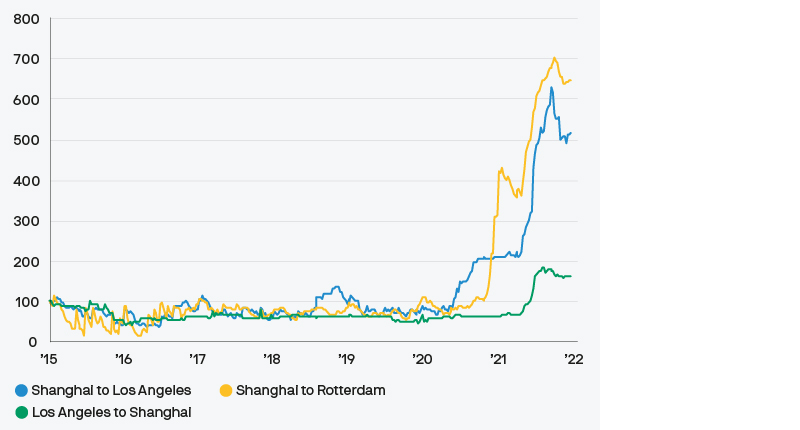 Source: Bloomberg, Drewry World Container Index, J.P. Morgan Asset Management. Data as of 31 December 2021.
The impact of Omicron
With the Omicron variant spreading rapidly across Europe and the US but yet to really hit Asia at the time of writing, clearly the macro impact of the latest mutation remains uncertain. Our base case is that Omicron will serve to prolong the supply chain pressure from both the demand and the supply side. In terms of demand, the impact should not be as great as that witnessed in 2020 and 2021, given more targeted fiscal support and households having already bought lots of the big-ticket items they wanted. That said, greater restrictions on mobility would delay the rotation from goods to services spending. In terms of supply, Covid-related disruption would create further restrictions on Asia's production capacity, particularly in countries where vaccination rates are lower, or vaccines are less effective.
Conclusion
We expect supply chain issues to persist in 2022, with significant improvements only likely to be seen from the second half of the year onwards. Problems have been created by both excess demand and a shortage of supply, while the fragile nature of the just-in-time approach to global manufacturing has been laid bare. Demand is set to remain robust this year, but a rotation from goods to services spending is crucial to relieving some of the stress seen in goods prices. Whether inflation then falls back to the stubbornly low levels observed in the last cycle depends on the labour market – a topic we will turn to next week.
09mw220401164513