MAS policy decision - a hawkish normalization
19/10/2021
Aidan Shevlin
At its semi-annual monetary policy meeting, the Monetary Authority of Singapore (MAS) surprised the market by "raising slightly the slope of the Singapore dollar nomination effective exchange rate (S$NEER) policy band, from zero percent previously". The mid-point and width of the band remain unchanged. This was the first slope increase since October 2018 and represents a hawkish normalization by the central bank based on the belief that the domestic and global economic "prospects remain broadly intact" and "core inflation is expected to rise steadily" in 2022.
Near term uncertainties
A successful Covid-19 containment strategy, rebound in global growth and improved consumer sentiment allowed the MAS to pivot to a moderately upbeat outlook at their April monetary policy meeting. Since then, the economy had decelerated, with tighter domestic restrictions due to the Delta variant outbreak and slower external momentum weighing on economic sentiment.
Second quarter GDP unexpectedly plunged to -1.8%q/q, as the post-Covid recovery stalled, as solid exports and services failing to offset weak consumer spending and the continued drag of closed borders on the travel and tourism sectors. While rapid vaccine roll-out, increasing hopes of a domestic rebound; the recent spike in cases and deaths triggered additional uncertainly and renewed social distancing restrictions which negatively impacted consumer sentiment. All these factors had increased market expectations that the MAS would keep policy unchanged at its October meeting.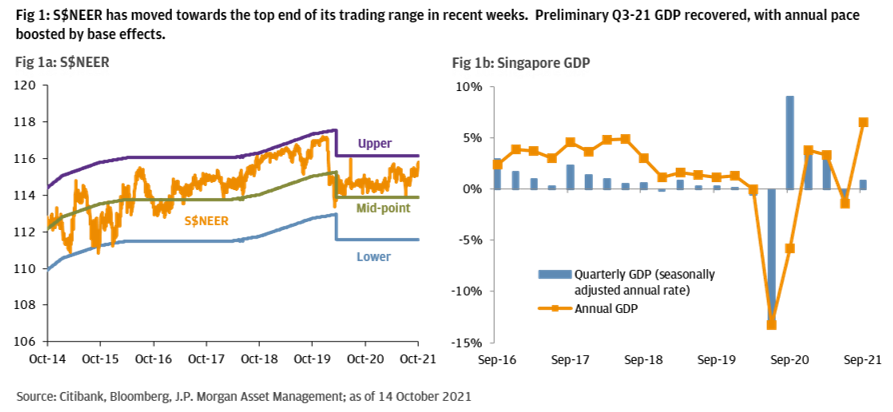 Longer term expectations
However, a recovery in third quarter GDP and recent, higher inflation prints both strengthened the MAS' hawkish resolve. The preliminary Q3-21 GDP recovered by 0.8%q/q; pushing the annual pace to a decade high of 6.5% as a recovery in the IT services and solid exports helped offset weakness in domestic orientated sectors. The MAS believes that "strengthening external demand and recovering domestic expenditure are expected to sustain a firm pace of growth in the Singapore economy in the quarters ahead". They expected 2021 GDP to be 6-7% (suggesting Q4-21 growth of at least 3%q/q) and forecasted growth to remain above trend in 2022.
Concurrently, headline inflation increased to an eight-year high of 2.4%y/y while core Consumer Price Index (CPI) edged up to 1.1%y/y. Imported inflation pressures, including higher fuel and food prices, reflect the recent rise in global commodities prices; while domestic labor market slack has declined, suggesting wage pressures could increase. Both factors reinforce the MAS prediction that there will be "a broad-based pick-up in inflation" over the next several quarters; with core inflation in 2021 increasing to the top end of their 0-1% forecast range and rising further to 1-2% in 2022.

Market Impact
The majority of economists believe the new policy slope equates to approximately 0.5% annual appreciation of the S$NEER policy band from 0% previously. Following the announcement, the S$NEER strengthened by around 0.2% to approximately 1.3% above the mid-point of the range while the SGD strengthened versus the USD. Meanwhile, the government bond yield curve steepened with short tenor government bond yields edging lower while longer maturity yields increased. This extended the year-to-date theme of higher yields and steeper curves as inflation concerns and hawkish central bank guidance weigh on investor sentiment.
An appreciating S$NEER suggests further currency gains are likely, which could put downward pressure on short tenor Singapore interest rates relative to their USD equivalents – although with both Singapore Overnight Rate (SOR) and LIBOR close to zero, there is limited room for the spread to widen significantly. The competing forces affecting SOR will become more apparent as US LIBOR rates react to future Federal Reserve monetary policy decisions.
Outlook
The government's recent pivot from strict Covid containment to vaccination and endemic status has reduced the probability of further distributive lockdowns while triggering expectations of a re-opening led rebound into early 2022. This allowed the MAS to revise its 2022 growth and inflation forecast ranges higher as it expects a rebound to above trend growth and escalation in pricing pressure.
The S$NEER hike reinforces the MAS hawkish credentials and confirms its focus on inflation. With core inflation likely to rise further over the coming year due to higher import costs, narrowing slack and an improving labor market, it is likely the MAS could hike rates further at its April 2022 meeting – continuing its hawkish normalization.
For cash investors, a reversion to higher yields will be welcome; but it also requires a disciplined and diversified investment strategy that strives to optimize returns while minimizing the probability of suffering opportunity costs. Combining actively managed liquidity and ultra-short duration strategies while laddering direct investments should balance investors risk and return characteristics while creating an efficient cash investment strategy.

(data source: Bloomberg and J.P. Morgan Asset Management; as of 14 October 2021)