We believe policy makers are cognizant of the contagion risk to the property market and banks' balance sheets. They also have tools and several policy options to calm the market, such as liquidity injection into the broader financial system.
Tai Hui
Global Market Strategist
The Chinese equity and fixed income markets have posed several challenges to investors in 2021. These are the ongoing regulatory changes, especially relating to the internet sector, fading economic momentum, and growing concerns over the default risk of property developers and potential contagion to the financial system.
On regulation, investors now have a better understanding of the government's intention on mitigating anti-trust behavior, improving workers' rights, data protection and boosting birth rates. Even though further policy announcements and regulatory scrutiny could continue for some time, leading to reassessment of medium-term earnings outlook, investors are in a better position to scope out those sectors that are less at-risk and those industries that could continue to receive policy support.
Recent economic data continues to reflect softening domestic momentum in China. Exports is still a bright spot with robust global demand for consumer products, notwithstanding the persistent disruptions in global shipping logistics. Retail sales were only up 2.5% year-on-year in August, reflecting the various local outbreaks of the Delta variant and restriction on mobility during this period. More cautious business sentiment and tightening housing market policies are also cooling investment in China. Adding to this trend, slower local government bond issuance is cooling fixed asset investment by the public sector.
The tightening of property market measures has already put pressure on developers with reduced activity and flat price momentum. There are growing concerns that developers with high gearing could face liquidity stress and default on their coupon or interest payments. This could in turn lead to stress in the Chinese high yield corporate bond market, with which property developers are a dominant component. There are also worries that the banking sector could face contagion.
Government support would be a key factor in limiting the contagion effect. So far, the authorities have yet to signal financial support to the developers. They could prioritize support on the customers of these developers, in ensuring the property is delivered to the homebuyers, instead of mitigating losses to investors. This could be done by distressed developers selling off their development projects to healthier developers. This may require the authorities maintain an adequate level of liquidity for the sector so developers with more robust balance sheets do not get penalized alongside the weaker players.
EXHIBIT 1: CREDIT CYCLES
CREDIT GROWTH — NOMINAL GDP GROWTH, 3-MONTH MOVING AVERAGE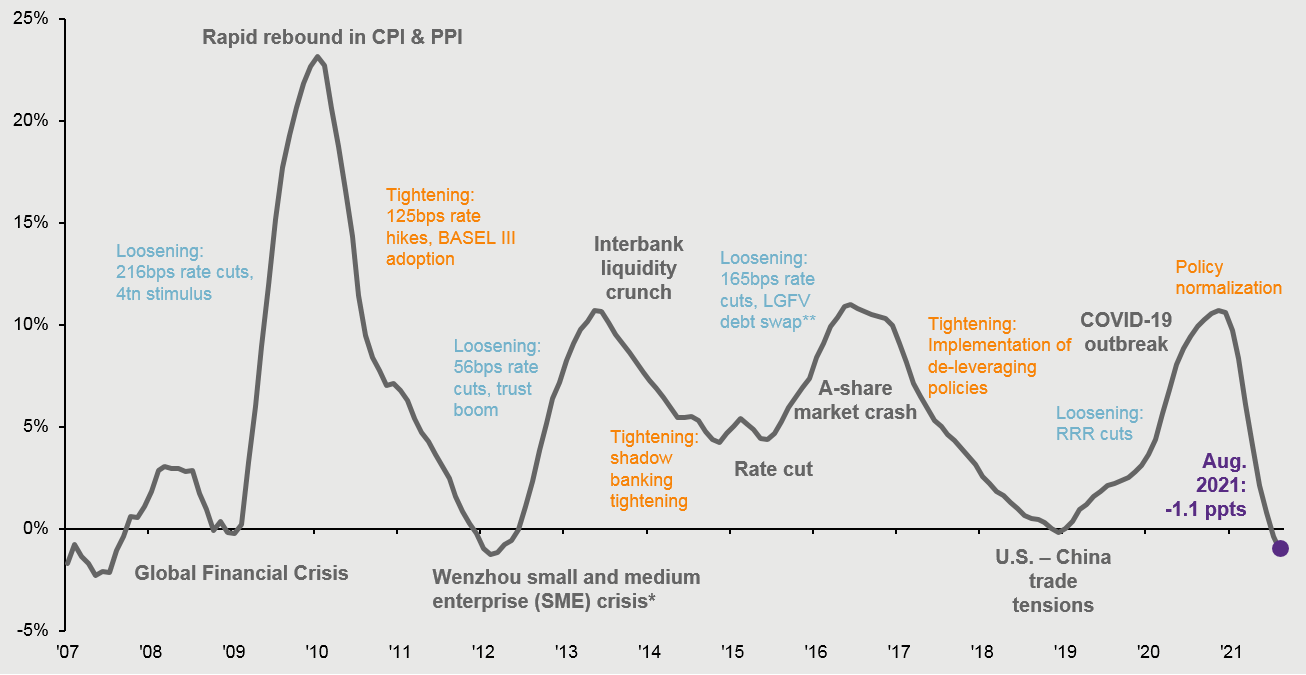 Source: CEIC, People's Bank of China, J.P. Morgan Asset Management. Credit growth measures the year-over-year growth of outstanding total social financing. *Wenzhou SME crisis refers to the wave of bankruptcies and funding problems faced by a large number of SMEs in Wenzhou in 2011. **LGFV refers to local government financing vehicle. Guide to China. Data reflect most recently available as of 21/09/21.
Overall, property developers' financial stress could add to the downward pressure on the economy in the near term. Alongside with the softening of economic momentum, we expect both fiscal and monetary policy to turn more supportive in coming months. Less than 50% of overall (central plus local) government bond issuance quota for 2021 has been filled by August 2021, which means there is significant room for acceleration in government spending to give the economy more lift. The developer default concerns would also call for closer monitoring of market liquidity and injection by the central bank when necessary. The People's Bank of China injected RMB 90bn on a net basis through 7-day and 14-day reverse repo agreements on Sep 17, the most since February. More monetary easing could come if needed.
Investment implications
The near-term reduction in liquidity in the credit market could cause some hiccups for some developers with high leverage and induce concerns of contagion risk to the financial system in China. However, we believe policy makers are cognizant of the contagion risk to the property market and banks' balance sheets. They also have tools and several policy options to calm the market, such as liquidity injection into the broader financial system. The banking sector should have adequate reserve in case non-performing assets rise, even if individual banks may need to increase provision. This implies systemic risk remains low.
In Chinese fixed income, investors are expected to remain cautious on the real estate sector until there is more clarity on how developers adapt to the new policy environment. However, there are opportunities in other parts of the bond market if the People's Bank of China were to relax monetary policy and add more liquidity to the financial system. Moreover, the current bout of volatility could create potential long term valuation opportunity in Chinese high yield bonds in the long run.
For equities, changes in the regulatory environment could continue for some time and investors will continue to adjust their expectation of earnings growth for the impacted sectors and companies. A more relaxed monetary policy stance could help investor sentiment. Moreover, as mentioned above, there are sectors that are less impacted by the regulatory changes or enjoy more policy tailwinds. This would include semiconductor, software, renewable energy and electric vehicles.
09dd212109021838