The Year Ahead 2022
Adrian Tong
The "starting 11" questions on investing for 2022

Overview
Come 2022, the global economy will be moving into the third year since the onset of the COVID-19 pandemic. As governments and businesses gradually migrate their tactics from coping with a pandemic to an endemic, emergency stimulus is being reined back, which will shift the investment landscape in 2022.
Overall, we believe that staying invested remains crucial. The global recovery should continue to benefit risk assets such as global equities and corporate credit. However, rich valuation would mean there is a slimmer margin of error, and active selection in region and sector is even more critical. In the spirit of the 2022 World Cup football tournament in Qatar, we field our starting lineup, or "starting 11" on investing in 2022 and address them using charts from our Market Insights program and Guide to the Markets - Asia.

Where are we in the economic cycle?
What are the key political events to watch out for?
What changes are likely for China's economic model?
When will inflation come down?
Would central banks turn more hawkish?
Would there be more supply-side disruptions in 2022?
Will the Fed start raising interest rates in 2022?
How should Asian investors allocate to equities, fixed income and other assets?
What are the likely drivers of corporate earnings in the wake of higher costs?
How can investors generate income in a low-yield environment?
What policy shifts can we expect as governments tackle climate change?
1. Where are we in the economic cycle?
The answer varies depending on where we are in the world. Overall, we believe the global economy is still in the early to mid part of the economic cycle. The fastest recovery growth phase is likely to be behind us in developed economies such as the U.S. and Europe, but it is still accelerating in Asia and emerging markets.
China was the first economy to make a full recovery in 2020, but a combination of policy normalization, regulatory changes, a slowdown in the real estate market and power disruptions slowed momentum in 2H 2021. We believe China's growth rate could start to stabilize in 1H 2022 with modest fiscal and monetary stimulus. Domestic demand and services could replace exports in delivering growth for China in 2022.
In the U.S., the reopening of the economy and aggressive fiscal stimulus have boosted growth in 2021. With economic activities returning to pre-pandemic levels, the U.S. is expected to expand along its long-term trend growth. Both consumption and corporate investment have picked up in 2021. For additional growth momentum, the U.S. would need to resolve several supply-side constraints including labor shortages. A gradual normalization of monetary policy is unlikely to constrain growth. We continue to believe the Federal Reserve's (Fed's) policy decisions would be driven by the progress of its economic recovery.
Despite a lackluster economic performance in 2021, Asia and emerging markets are expected to be in a stronger position to rebound. So far, technology exporters such as Taiwan and South Korea have benefited from strong global demand and have led Asia's recovery. In contrast, India and Association of Southeast Asian Nations (ASEAN) have lagged behind with economic activities still below pre-pandemic levels. Immunity from both vaccination and infection is rising in these markets, and this should allow governments to treat COVID-19 as an endemic and further open up their domestic economies and borders. Moving from pandemic to endemic could allow for a more comprehensive recovery, especially for Asian economies that are dependent on tourism and people flow.
Overall, we expect to see the impulse of global growth shift from developed economies to Asia and select emerging markets. This also implies that earnings upgrades should be concentrated in these regions, especially for cyclical sectors serving their domestic markets. There is also the difference in goods versus services, where the former has made a robust recovery as more consumers shift to online shopping. Services, especially travel and tourism, should have more room to catch up as economies transition into the endemic phase.
The global economy should continue to grow, but the bright spot could shift away from the U.S. and Europe to Asia
EXHIBIT 1: QUARTER-OVER-QUARTER REAL GDP GROWTH

Source: J.P. Morgan Economic Research, J.P. Morgan Asset Management.
Y-axis has been cut to maintain a reasonable scale.
Guide to the Markets – Asia. Data reflect most recently available as of 29/11/21.
2. What are the key political events to watch out for?
Just like any other year, there are scheduled elections around the world. In Asia Pacific (APAC), there will be:
South Korea's presidential election on March 9
Philippines' presidential and congressional elections on May 9
Australia's federal election before May 21
These votes will impact domestic policies in the years to come as well as influence the geopolitical landscape in the South China Sea and APAC.
Globally, the most important elections in 2022 are arguably the U.S. midterm elections on November 8. All seats in the House of Representatives and 34 out of 100 seats in the Senate will be up for election. Currently, the Democratic Party has 220 out of 435 seats in the House, and 50 out of 100 in the Senate, where the vice president serves as the tiebreaker. This slim majority still allows U.S. President Joe Biden to push through spending plans via budget reconciliation, which only needs a simple majority in the Senate. Yet, as the recent infrastructure bill shows, even getting full support from Senate Democrats is by no means automatic.
Historically, the results of the midterm elections do not favor the president's party. Since 1982, the president's party has lost Senate and House seats in 7 and 8, respectively, out of 10 midterm elections, as the midterms are often viewed as a referendum on the performance of the White House. Recent local elections have also shown an increase in voters' support for Republican candidates. This implies there is a high chance President Biden could lose the majority in either the House or Senate, or even both, for the second half of his term. This could make policy implementation even more challenging. Generous fiscal stimulus is less likely, which would help cap inflation risk. This could also imply a lower probability of tax hikes for the corporate sector.
Another important political event is China's 20th Party Congress, likely in 4Q 2022. Chinese President Xi Jinping is expected to retain his leadership role for another five years. One question to keep in mind is whether there will be substantial changes in his leadership team. Long-term development themes, such as common prosperity, boosting birth rates and population growth, curbing import reliance and achieving carbon neutrality, are expected to be maintained. The reform agenda is likely to continue but can still pose as a potential source of market volatility.
Key political events in 2022 include the U.S. midterm elections and China's 20th Party Congress
EXHIBIT 2: POLITICAL CALENDAR
Source: Bloomberg Finance L.P., J.P. Morgan Asset Management.
Guide to the Markets - Asia – On the Bench. Data reflect most recently available as of 26/11/21.
3. What changes are likely for China's economic model?
China was the first economy to suffer from the fallout of the COVID-19 pandemic, but also the first to rebound and make a full recovery in 2020. The strong momentum continued into 1H 2021 and Chinese policy makers took the opportunity to implement a variety of reform measures.
On the minds of Chinese policy makers are long-term challenges such as environmental sustainability, low population growth, greater self-sufficiency in technology output and financial stability. To tackle these issues, corresponding initiatives have been introduced, including decarbonization, education reforms, property market curbs, anti-trust in the technology sector and credit control. Alongside these policies, China's leaders have set a goal for common prosperity, i.e. more equal distribution of income and wealth among its population, which forms a solid basis for sustainable growth.
Admittedly, these policy initiatives may help China reset its economic model and improve growth potentials in the long run. However, given the long-term characteristics of these policies, it is also critical to balance between long-term sustainability and short-term stability. Since July 2021, the intensive regulatory actions and property market curbs have weighed on domestic investment and consumption. Hence, policy easing is expected in 4Q 2021 and 1H 2022 to stabilize the economy, although the scale could be moderate.
Moving into 2022, credit conditions in the domestic property market may continue to improve to support first-time home buyers and housing construction projects. Meanwhile, investment by local governments could rebound as government financing has picked up since September 2021. Compared with 2021, Chinese export growth is likely to slow as Southeast Asian exporters recover from the pandemic and take some of China's share in global trade. Domestic demand may become the major growth driver in China's economy.
That said, the scale of any stimulus might be far smaller than those in 2008 and 2020. The government will adhere to those long-term goals, while only relying on policy easing to prevent a hard landing. The emphasis could also be on the quality, rather than the pace, of economic growth. Therefore, the overall gross domestic product (GDP) growth may slow down to less than 5%. This could lead to slower growth in aggregate corporate earnings, which would require more active management in company selection.
In 2022, investors should consider the sectors with ample policy tailwinds. This implies decarbonization and new energy, self-sufficiency in technology hardware and resilient domestic technology supply chains should be the major themes to follow. Meanwhile, opportunities may appear in the consumer staples and services sectors when growth stabilizes and valuations still remain attractive.
China relies on a broad range of regulatory reforms to boost its long-term growth potentials, which lead to pressures on short-term growth
EXHIBIT 3: CHINA'S RECENT REGULATIONS WITHIN DIFFERENT SECTORS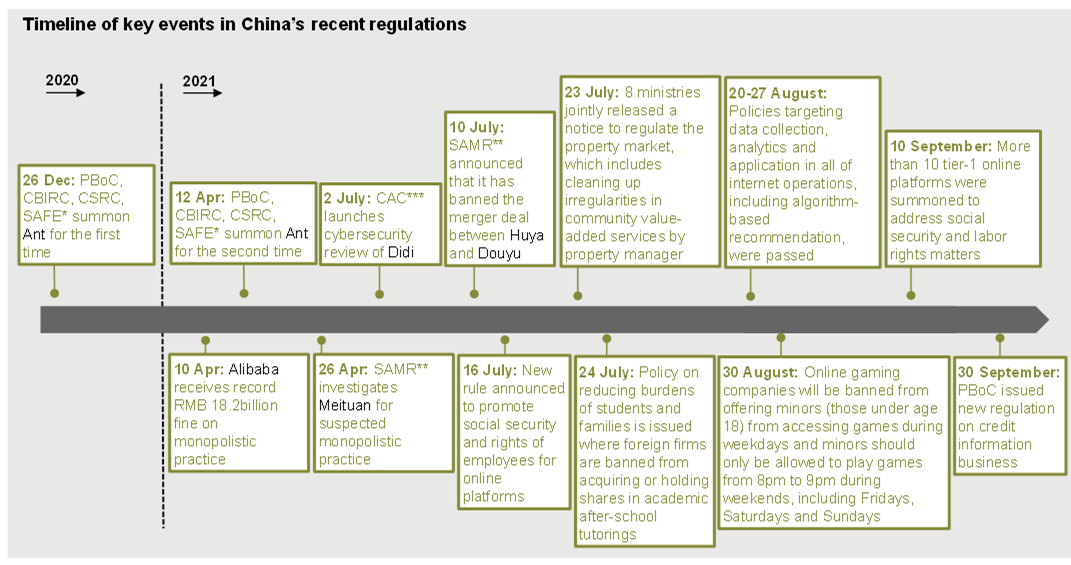 Source: Various news sources, J.P. Morgan Asset Management.
*PBoC: People's Bank of China; CBIRC: China Banking and Insurance Regulatory Commission; CSRC: China Securities Regulatory Commission; SAFE: State Administration of Foreign Exchange. **SAMR: State Administration for Market Regulation oversees all manner of market controls, including regulating anti-competition behavior, intellectual property rights, drug safety supervision and issuance of business licenses etc. ***CAC: Cyberspace Administration of China is the central internet regulator, censor, oversight and control agency for China.
The companies/securities above are shown for illustrative purposes only. Their inclusion should not be interpreted as a recommendation to buy or sell.
Guide to the Markets – Asia. Data reflect most recently available as of 29/11/21.
4. When will inflation come down?
The inflation challenge varies across economies. For example, the consumer price inflation has been stubbornly low in China even though producer price inflation has been rising. Central banks in Europe and Japan still see the recent pick up in inflation as transitory.
Given the influence of the Fed on the global investment market, and that inflation seems to be more of a challenge in the U.S., it is worth considering whether inflation would ease in 2022. Some elements of the inflation spike are indeed transitory. For example, higher energy prices are feeding directly into gasoline and transportation costs. In the near term, oil price risk remains on the upside given the reluctance among Organization of Petroleum Exporting Countries to increase output. Yet, the long-term demand and supply balance should limit how far energy prices can rise. This means the inflation impetus from energy costs should fade in 2022. The same would also apply to consumption items that are made more expensive because of supply-side bottlenecks, some of which should ease over time.
However, rent and housing as well as wage growth could create more persistent inflationary pressure in the long run. Property prices in the U.S. have been rising aggressively and this is leading to rising shelter costs, including Owners' Equivalent Rent (OER). OER makes up one-third of the consumer price index (CPI) basket and is typically stickier. On wage growth, rising inflation expectations and worker shortages could also lead to companies raising product prices.
Overall, we would expect headline inflation around the world to come off the highs of 2021, but the undercurrent of firmer inflation could continue. Likewise, inflation in the U.S. is expected to come down from the 5-6% range. However, given the strong recovery momentum and some supply-side and labor market distortions, core inflation could remain above the Fed's target of 2% for much of 2022. This could pressure the Fed to more seriously consider raising interest rates before the end of 2022.
Some inflation drivers, such as energy prices, should fade in influence in 2022. However, other factors, such as shelter costs, could be more persistent
EXHIBIT 4: UNITED STATES: INFLATION
Source: Bureau of Economic Analysis, Bureau of Labor Statistics, FactSet, Federal Reserve, J.P. Morgan Asset Management.
*The Federal Reserve (Fed) uses the Personal Consumption Expenditure (PCE) deflator to measure inflation. Core PCE is defined as PCE excluding food and energy prices. The PCE deflator employs an evolving chain-weighted basket of consumer expenditures. In August 2020, the Fed unveiled its Average Inflation Targeting policy, which seeks to achieve inflation that averages 2% over time.
Guide to the Markets – Asia. Data reflect most recently available as of 29/11/21.
5. Would central banks turn more hawkish?
Some developed market central banks are slowly moving away from their ultra-loose monetary policy as economic recovery gains ground. They are also worried that inflation could be more persistent than initially thought. For example, the Reserve Bank of New Zealand twice raised its policy rate by 25 basis points (bps). The Bank of Canada ended its quantitative easing program and indicated it could be looking to raise rates as early as 2Q 2022. The Reserve Bank of Australia has stepped away from defending its bond yield target. The Bank of England (BoE) also has indicated the need to act and cap inflation pressure. These shifts in policy stance have pushed short-term interest rates higher as investors factor in the possibility of central banks acting sooner and more aggressively.
Yet, not all developed market central banks are hawkish. The Bank of Japan is still forecasting below-target inflation for the next two years. The European Central Bank is also adopting a patient approach in normalizing policy. With inflation in Europe and Japan still subdued, we should expect interest rates in these economies to stay low for an extended period of time, which means European and Japanese investors would be looking for income in other parts of the world, including Asia and emerging markets.
Some emerging economies in Latin America and Central and Eastern Europe have already embarked on a tightening path. Brazil, Russia and Mexico have already raised their policy rates in 2021 in response to higher inflation. Central banks in Asia have been more muted in response. Only Sri Lanka and South Korea have raised policy rates so far. Since most Asian economies are still at an early phase of the economic recovery, their central banks may see higher inflation as temporary. They could allow policy rates to stay supportive for much of 2022. If the Fed starts to raise policy rates in late 2022, or early 2023, this could prompt Asian central banks to think harder about hiking rates. Still, we believe the pace is likely to be gradual.
An exception here is China where the economic momentum has slowed in 2H 2021. The People's Bank of China (PBoC) is unlikely to cut lending rates or reserve requirements to boost growth, and instead, could rely on open market operations and industry-specific measures to provide the financial system with adequate liquidity, especially if property developers' financial and liquidity stresses deteriorate.
As the bright spot of growth moves around the world, we expect developed market central banks to turn more hawkish first. Asian central banks could be more willing to wait for an economic rebound to take shape before they consider raising policy rates. Despite the prospects of higher policy rates and government bond yields in the next 1-2 years, real interest rates are likely to remain low or even negative in some cases.
Some central banks, such as the Fed and the BoE, could see policy rates lifting off in 2022
EXHIBIT 5: G4 CENTRAL BANK POLICY RATES AND MARKET EXPECTATIONS
Source: J.P. Morgan Asset Management; (Left) FactSet; (Right) Bloomberg L.P.
G4 are the Bank of England, the Bank of Japan (BoJ), the European Central Bank and the U.S. Federal Reserve. *The BoJ has adopted a three-tier system in which a negative interest rate of -0.1% will be applied to the policy rate balance of the aggregate amount of all financial institutions that hold current accounts at the BoJ. **Expectations are derived from the 3-month moving average of the overnight index swap (OIS) forward rates.
Past performance is not a reliable indicator of current and future results.
Guide to the Markets – Asia. Data reflect most recently available as of 29/11/21.
6. Would there be more supply-side disruptions in 2022?
Supply bottlenecks present major challenges for companies and consumers in 2021. Soaring consumer demand for certain goods coincided with logistical bottlenecks impinging supply. The resulting mismatch between strong demand and limited supply poses the downside risk to growth and upside risk to inflation in 2022. Supply-side constraints should ease through the year, but could also take longer to resolve.
It is difficult to predict precisely when the constraints in global supply chains will ease. Companies have continued to warn about supply tensions in their earnings guidance. The semiconductor industry, for example, is facing mounting challenges given its increased use across a range of products and the time required for investment to turn into production, as well as the pace at which the technology advances.
However, there are signs that the supply chain hiccups are at least stabilizing. Select supply-side indicators for goods, such as delivery times, have stopped rising and shipping container costs have eased, while some commodity prices, such as lumber, are well off their highs. Meanwhile, policy makers have taken steps to resolve logistic backlogs at ports and other points of entry.
The demand side of the equation should also improve as the currently receding pandemic means more pent-up demand is spent on services, travel and leisure activities rather than goods because of the shift in consumption patterns.
Still, the current global supply chain disruptions will take time to correct. Ports cannot clear backlogs, and neither can new truck drivers be trained nor new shipping containers created overnight. The supply chain woes are likely to linger, potentially more so for products such as semiconductors.
The labor market will likely face a longer-lasting impact from these supply-chain disruptions into 2022. The labor market participation rate has remained below pre-pandemic levels in many developed markets for a variety of reasons. High savings rates from extended government benefits have created a cushion potentially delaying the return to work for many, and lingering health concerns is likely another hurdle. Many workers may have chosen to permanently exit the labor market at this time, while others have not been able to get in with borders closed.
The question of whether workers will return will be key when setting monetary policy, wage growth and the inflation outlook.
Supply chain issues should persist into 2022
EXHIBIT 6: HEATMAP OF VARIOUS MEASURES OF SUPPLY CHAIN PRESSURES
Source: Bureau of Labor Statistics, CME Group, Drewry, Susquehanna Financial Group, Port of Los Angeles, FactSet, Shanghai Shipping Index, J.P. Morgan Asset Management. Global shipping costs: Drewry World Container Index; Freight & cargo costs: PPI selected commodities - Arrangement of freight and cargo. Number of long-distance and specialized truckers are as reported by the BLS and represent all employees within each category; September 2021 is a forecasted value. The Shanghai Containerized Index for January and February 2020 is estimated by extrapolating between December 2019 and March 2020. Semiconductor lead time is the time between ordering a chip and delivery. The Port of LA loaded container ratio is calculated by dividing the total number of loaded containers by the total number of empty containers. Lumber prices based on forward continuous future price.
Data reflect most recently available as of 31/10/21.
7. Will the Fed start raising interest rates in 2022?
It is increasingly likely that the Federal Reserve could start raising policy rate in 2022. Recent market expectations show this could come as soon as the summer. The precise timing of this shift will depend on how inflation and the job market evolve in the next 12 months. The Fed's summary of economic projections in September 2021 shows 9 of 18 participants expect the central bank to raise policy rates by at least 25bps before the end of 2022, compared with just seven in June, and the rhetoric from committee members on raising rates is rising.
It is important to consider the Fed's policy objectives of price stability and full employment. While inflation is likely to ease in 1H 2022 as low base effects fade and high energy prices revert to a more sustainable level, sticky housing costs and wage inflation could keep headline inflation slightly above the Fed's long-term 2% target. Taking into account the average inflation-targeting framework that was introduced in September 2020, price pressure should prompt the Fed to act to ensure price stability.
In terms of full employment, the latest U.S. unemployment rate is at 4.3%, and this should gradually decline over time. Demand for workers continues to be strong, with over 10 million job openings as of September 2021 versus 7.7 million unemployed persons. The low participation rate and disconnect between demand and supply could be due to the COVID-19 pandemic impacting workers' decisions to seek work and demand for higher wages, as well as an increasing number of retirees. Overall, the Fed's own projection of the unemployment rate falling below 4% by the end of 2022 seems realistic and this would imply the U.S. job market is back to full employment, especially if wage inflation remains stubbornly high.
The pace of policy rate increases in the next 2-3 years is arguably more important than the pace of the first hike. The Fed's median projection suggests around three 25bps hikes each in 2023 and 2024, hitting 1.8% by the end of 2024, with the long-run rate at 2.5%. The futures market is projecting the policy rate to hit 1.4% by the end of 2023. Overall, the risk is for the Fed to be more aggressive than these forecasts. Nonetheless, policy rates could remain below headline inflation for an extended period, intensifying the search for income.
The Fed's forecast suggests the first hike could come as soon as 2022
EXHIBIT 7: UNITED STATES: MONETARY POLICY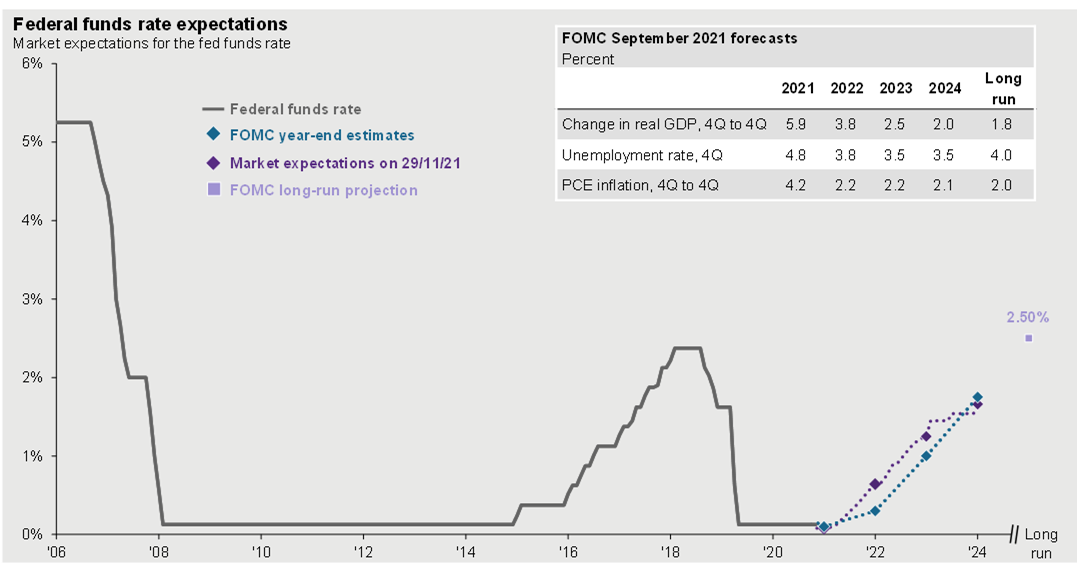 Source: Bloomberg Finance L.P., FactSet, U.S. Federal Reserve, J.P. Morgan Asset Management.
Market expectations are the federal funds rates priced into the Fed Fund futures market as of 29/11/21. Federal Reserve projections shown are the median estimates of Federal Open Market Committee (FOMC) participants.
Guide to the Markets – Asia. Data reflect most recently available as of 29/11/21.
8. How should Asian investors allocate to equities, fixed income and other assets?
Since the global economy is still in the early (for Asia and selected emerging markets) and mid (for the U.S. and Europe) parts of the economic cycle, risk assets such as equities and corporate credit are likely to, on a risk-adjusted basis, outperform conservative assets such as fixed income and cash.
There are upside and downside risks to this constructive scenario. On the downside, new COVID-19 variants could continue to reduce the effectiveness of vaccines and treatments, which would force a sharp earnings downgrade for the cyclical sector. Government bond yields would also decline in anticipation of central banks reverting to monetary stimulus.
On the upside, prolonged supply chain or energy supply disruptions could raise the risk of inflation becoming even more persistent than expected. This would force central banks to push forward their tightening. The subsequent rise in bond yields could lead to heightened volatility across markets, including equities.
Back to our core scenario, developed market central bank policy normalization should continue to nudge government bond yields higher. The short duration and high yield allocations should help investors to manage duration risk while generating income in a recovering economy. Global high yield corporate debt and select emerging market fixed income would fit into these criteria. Eventually, government bond yields would have risen enough to make holding core government bonds appealing again, but this could be later in 2022, or even 2023.
For equities, international diversification remains key. The emphasis can shift gradually from developed markets, such as the U.S. and Europe, back toward China and Asia. China is still going through an economic slowdown brought on by policy changes and regulatory reforms. These underlying conditions are unlikely to change drastically in 2022, but the underperformance of Chinese equities in 2021 has already factored in some of these challenges. Moreover, there are sectors, such as decarbonization and import substitutions, that can enjoy policy tailwinds. Rising vaccination rates across Asia should allow for a more sustained domestic recovery and potential for earnings upgrade as the region's governments adopt their strategies to live with COVID-19.
The ongoing global economic recovery means the strong performance of cyclical and value sectors can continue, especially in an environment of rising interest rates. We believe investors will need to clearly identify their investment objectives and time horizon when assessing their allocations in growth sectors versus cyclical sectors. Growth sectors, such as technology and health care, can deliver long-term strong returns over several years. Cyclical sectors could outperform in the near term, benefiting from the reopening of economies around the world.
Global recovery and policy direction still favor equities
EXHIBIT 8: KEY INVESTMENT THEMES AND SCENARIOS
9. What are the likely drivers of corporate earnings in the wake of higher costs?
Equity markets can exhibit volatility as sentiment swings and investors contemplate the economic outlook. But broadly, equity markets tend to follow earnings and, more importantly, earnings expectations.
For the first three quarters of 2021, U.S. earnings have beaten analyst expectations. Margins have expanded as demand recovered and companies were also able to control costs. Protecting profit margins is critical since for S&P 500 earnings it is difficult to achieve positive earnings growth without positive contribution from profit margins. Companies have had more pricing power given the strength in demand and the shortage in supply of many products, enabling them to increase prices as input costs rose.
However, high input costs, rising wages, the prospects for higher taxes in the U.S. and the ability for companies to continue to pass on these costs will challenge margins and corporate profitability. Another trend during this recovery is that companies have sought to increase productivity through capital investment, perhaps in response to the difficulties in attracting workers. A combination of lowering, or limiting, rising costs and increasing productivity could help support corporate margins in 2022.
When considering the aggregate outlook for earnings, the distinction needs to be made between sector weight based on market capitalization and based on earnings. The biggest sector by size may not be the biggest by earnings. For developed market equites, technology was the largest sector by market capitalization in 2020 at 22%, but a smaller 18% based on earnings. For that same year, financials was the largest by earnings at 20%, but represented only 13% of the index based on market capitalization. This is perhaps best considered through the lens of size and style biases in equity performance.
Style rotation will be less influential in equity allocation in 2022 as both value (e.g. financials) and growth (e.g. technology) can perform as bond yields rise and more developed markets shift in the mid-cycle economic environment. However, those sectors more tuned in to the economic recovery are likely to show strength in earnings.
Earnings growth has likely reached its peak for this cycle.
Analyst expectations have started to normalize as earnings revision ratios roll over for many developed market equities. However, while global earnings growth will likely slow in 2022 from an elevated pace, the level of absolute earnings should continue to trend higher in response to the ongoing economic expansion and revenue growth, which contributes a large share of overall earnings growth.
While it is harder to grow earnings from a high level and margins will face increasing pressures, equity markets should still deliver positive earnings growth.
Earnings growth in 2022 is expected to be near, or even above, historical averages
EXHIBIT 9: CONSENSUS ESTIMATES FOR GLOBAL EARNINGS PER SHARE GROWTH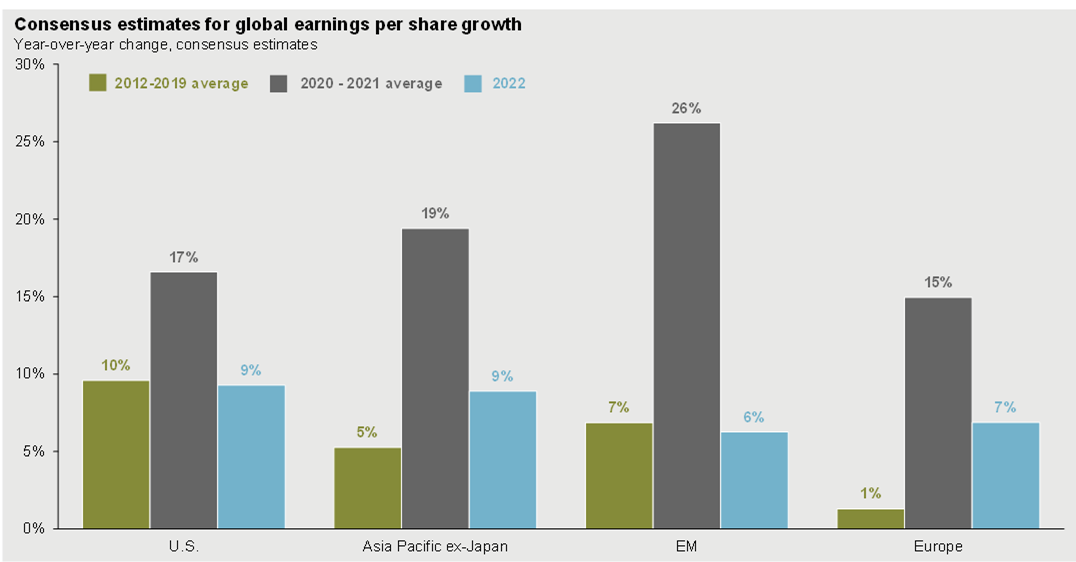 Source: IBES, MSCI, Standard & Poor's, Refinitiv Datastream, J.P. Morgan Asset Management. Consensus estimates are calendar year estimates from IBES. Past performance is not a reliable indicator of current and future results. Data reflect most recently available as of 15/11/21.
10. How can investors generate income in a low-yield environment?
Searching for income is still a key theme for investors, but generating yield is no longer as easy as it once was. Economic troubles, and the resulting combination of high inflation and low cash returns, have driven real interest rates lower. While central banks are expected to move away from their ultra-loose monetary policies, prompting a rise in risk-free rates, investors are still facing very low cash return and have been driven to seek better alternatives outside of traditional sources, such as government bonds, for more yield.
There are several asset classes that can deliver income in the current environment. For investors in need of a steady income stream, high-dividend generating equities, along with higher-yielding fixed income, can be a good compromise. The latest flattening of government yield curves around the world suggests the market is concerned that central banks could be too hawkish and could jeopardize recovery, despite the recent surge in headline inflation.
Over the long run, higher-yielding stocks have generally outperformed the broader market, and with less volatility. The recent earnings recovery is accompanied by a pick up in dividend growth. Even though earnings growth may have peaked for this cycle, rising earnings should allow for companies to continue to reward investors with dividends, especially in APAC and Europe. Investors should look for opportunities with a combination of strong dividend yield and dividend growth, and not just traditionally high-dividend sectors, such as real estate investment trusts and the telecommunications sector, which are facing structural headwinds from increasing regulations and low profitability.
Yield from fixed income has historically been a big attraction for this asset class. Fixed income is usually less volatile than equities, but it isn't risk-free. Our expectation is that select major central banks are likely to begin tightening in 2022, and this could possibly push price returns for bonds into the negatives. For now, the yield from developed market government bonds is still low and insufficient to compensate the potential price decline from rising rates.
The worries over defaults in China have played havoc on the emerging market high yield space. But there is more to emerging market high yield, and that one troubled sector could be avoided with careful selection. The rising yield environment would require a combination of short duration and high yield, ideally with additional hedges against duration risk.
Investors could also turn to alternatives for yield sources. Alternatives have low correlation with equity markets and lower sensitivity to interest rates compared with fixed income, thus offering attractive yields. Including alternatives as a source of income and diversification for portfolio holdings could be beneficial when market concerns over interest rate movements and economic recovery are high.
Look for yield opportunities in equities and alternatives, and if fixed income still appeals, look for short duration and high yield
EXHIBIT 10: THE ALTERNATIVE SOURCES OF INCOME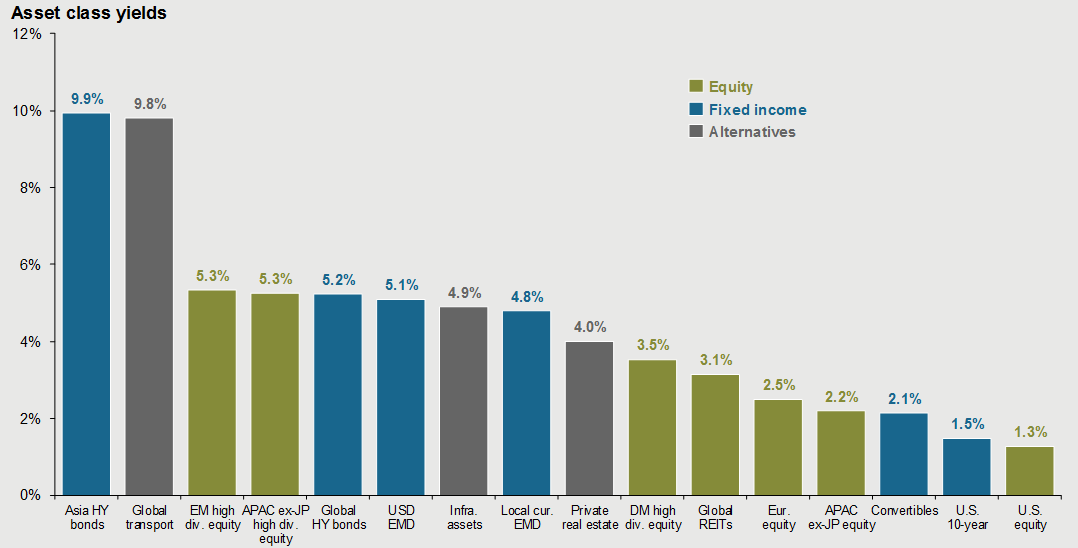 Source: Alerian, Bank of America, Bloomberg Finance L.P., Clarkson, Drewry Maritime Consultants, FactSet, Federal Reserve, FTSE, MSCI, Standard & Poor's, J.P. Morgan Asset Management. Global transport: Levered yields for transport assets are calculated as the difference between charter rates (rental income), operating expenses, debt amortization and interest expenses, as a percentage of equity value. Yields for each of the sub-vessel types above are calculated and respective weightings are applied to each of the sub-sectors to arrive at the current levered yields for Global Transportation; asset classes are based on MSCI Global Property Fund Index (Private real estate), FTSE NAREIT Global REITs (Global REITs), MSCI Global Infrastructure Asset Index (Infra. assets), Bloomberg Barclays U.S Convertibles Composite (Convertibles), Bloomberg Barclays Global High Yield Index (Global HY bonds), J.P. Morgan Government Bond Index EM Global (GBI-EM) (Local currency EMD), J.P. Morgan Emerging Market Bond Index Global (EMBIG) (USD EMD), J.P. Morgan Asia Credit Index Non-investment Grade (Asia HY bonds), MSCI Asia Pacific ex-Japan equities (APAC ex-JP equity), MSCI Asia Pacific ex-Japan High Dividend Yield Index (APAC ex-JP high div. equity), Emerging Markets High Dividend Yield Index (EM high div. equity), MSCI World High Dividend Yield Index (DM high div. equity), MSCI Europe (Eur. equity), MSCI USA (U.S. equity). Transport yield is as of 30/06/21, Infrastructure 31/03/21 and Private Real Estate 31/03/21. Past performance is not a reliable indicator of current and future results.
Guide to the Markets – Asia. Data reflect most recently available as of 29/11/21.
11. What policy shifts can we expect as governments tackle climate change?
The recent 26th UN Climate Change Conference of the Parties (COP26) highlighted countries' commitments to tackle climate change. Pledges and declarations on deforestation and methane emissions reduction were announced, while various Asian economies used this opportunity to publicize their own initiatives to raise targets for reducing greenhouse gas (GHG) emissions.
Ahead of the COP26 meeting, China's State Council released its "Action Plan for Carbon Emissions Peaking before 2030" and reiterated its three main climate targets for 2025:
increasing China's non-fossil energy consumption share;
reducing energy intensity; and
reducing carbon emissions intensity.

India also announced plans to target net-zero emissions in 2070. In addition, India raised its goal of reducing GHG emissions per unit of GDP by 2030, from a cut of 33-35% previously to a reduction of 45%. Pledges from China and India are key as they are respectively ranked as the world's largest and fourth-largest emitter of GHG, considering the size of their populations and the scale of industrial activities.
Looking ahead, we could see a further acceleration in government spending, likely in the form of green infrastructure spending or an increase in green bond issuance. There could also be further measures aimed at incentivizing private capital to drive the change. Using regulatory levers to pressure large investors to tilt portfolios toward climate-friendly strategies may be one way to achieve this outcome. Another solution is for governments to co-invest alongside the private sector so that initiatives that could be too risky for the private sector to invest alone can still access the financing they require.
One example is the PBoC's recent introduction of a new, targeted instrument to support decarbonization. Under this scheme, nationwide financial institutions will first provide loans to targeted sectors at interest rates around loan prime rate (LPR), e.g. current 1-year LPR is 3.85%. The PBoC will then provide funding support at an interest rate of 1.75% in the amount of 60% of qualified loans. This is in line with China's targeted monetary policy support to promote economic restructuring related to green development.
Clean energy, environmental protection, energy efficiency and conservation, as well as carbon emissions reduction technologies and related infrastructures, are all expected to receive policy support. In China's context, this could create new opportunities for investors as the internet and real estate sectors navigate through regulatory changes. Meanwhile, fossil fuels, heavy industries and transportation could face rising costs due to the introduction of carbon taxes and other regulatory scrutiny.
Understandably, investors have high interest for those targeted beneficiary sectors, and some institutional investors have announced they are divesting from traditional energy companies that produce fossil fuels. However, in our view, when considering the investment implications from climate change, investors should not apply the "one size fits all" judgement to distinguish between "new" energy versus "traditional" energy sectors.
We believe that active management continues to be critical in selecting the companies that can thrive in this area. For example, within the "new" energy sector, according to the International Renewable Energy Agency, between 2010 and 2020, the average unit cost of electricity generated by solar photovoltaic power has declined by 85%. This is clearly good news for users, but the drop in the price of equipment and power could be a challenge for some solar power panel manufacturers that are less competitive and face higher production cost.
In contrast, within the "traditional" energy sector, some international oil companies have been investing in renewable energy to diversify their business, and their transition could be an investment opportunity. Hence, company research is essential to make a rational investment decision when considering the investment implications from climate change.
The heightened interest in renewables, energy conservation and clean energy will likely drive further development in environmental, social and corporate governance considerations
EXHIBIT 11: EMISSIONS TARGETS AND GLOBAL ENERGY MIX
Source: J.P. Morgan Asset Management; (Left) Climate Action Tracker; (Right) BP Energy Outlook 2020. Forecast is based on BP's scenario for global net-zero emissions by 2050.
Guide to the Markets – Asia. Data reflect most recently available as of 29/11/21.
Conclusion
2022 is likely to be another year where the development of the COVID-19 pandemic and policy shifts would lead to more market volatility and style rotation. Like a football team, we need good players from different asset classes, and we need a good coach to craft the right strategy to face different opponents. This means active management is important in anticipating these changes and adjusting portfolio allocations accordingly. Income generation continues to play a critical role in a world of low cash return, and there are still various options for Asian investors.
GLOBAL MARKET INSIGHTS STRATEGY TEAM