According to our Women and Investing survey, women investors feel more financially secure than cash savers, and may ultimately reap benefits well beyond their bank balances.
Positive reasons to invest
Women are overwhelmingly reliant on traditional cash savings accounts. Our Women & Investing survey, a study of nearly 4,000 women aged 30-60 across 10 European countries, revealed that only 18% of women are regular investors, compared to 79% of women who save.
In the current economic climate, women are unlikely to grow their savings by letting them sit in the bank. Women who don't invest are also likely to be less self-confident and be less financially secure. As our research reveals, women who invest have higher self-esteem and a more positive outlook, both financially and otherwise.
Women investors have higher self-esteem than non-investors
It's widely believed that feeling financially secure is at the heart of overall well-being and that having a financial plan has an important part to play. Our findings echoed this sentiment: 78% of women investors have a financial plan, while 65% of women with a plan rated their self-esteem as "above average", compared with a decidedly lower 35% of women without a plan.
Correlation between financial plans and self-confidence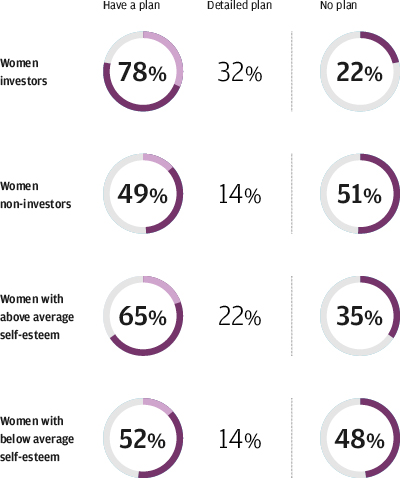 Source: J.P. Morgan Asset Management Women and Investing Survey, 2021
Conversely, women without a financial plan are also much less likely to invest and almost half of women (48%) without a plan believe themselves to have low self-esteem.
Investors have a better outlook on the future
Besides a sense of self-confidence, women who invest are much more likely to have a positive impression of their futures. Seventeen percent of women investors surveyed said they were more confident about their financial situation than they were a year before. This is a telling statistic, given the impact of the Covid pandemic on personal finances.
Looking at a specific timeframe, 41% of women investors believe they'll be better off in three years' time, revealing a sense of confidence and financial security. Only 33% of non-investors shared that feeling. Additionally, women who included investments as a part of their financial plans felt more confident taking risks: 44% versus 31% of non-investors. Almost half (45%) took a positive view of risk, associating it with opportunity. 62% of women investors feel confident in their ability to manage their long-term finances; only 44% of non-investors felt equally able.
So why don't more women invest?
Women in aggregate are making efforts to safeguard their financial futures; but a dependence on cash savings is going to be detrimental as we progress through the 2020s. There are a few common misconceptions that may be hindering traditional savers: 58% of women believe they don't have enough money to make investing worthwhile, and some even associate it with gambling.
Interestingly, though perhaps naturally, it was revealed in the course of our research that women looking to get started with investing would be attracted to an investment vehicle that behaves more like a savings account, allowing them to invest small amounts on a monthly basis and not actively participate in "playing the market". After all, investing does not necessitate keeping a constant eye on your holdings. Success comes from playing the long game and maintaining a diversified portfolio that can weather the market's ups and downs.
While it's wise to be careful, low interest rates mean an abundance of caution will almost certainly fail to pay off. Find out how you can reap greater rewards for your savings-and boost your future wellbeing: take the steps from being a saver to an investor today.
Women and investing survey
Read the results of our survey to find out women's attitudes to saving and investing across 10 European countries.