The ETF ecosystem: What are ETFs and how do they work?
Exchange-traded funds (ETFs) stand out from other types of funds, thanks to their transparency, liquidity and low costs. These advantages flow from the unique way in which the supply of ETF shares to the market can be increased or decreased depending on investor demand.
A unique share creation and redemption mechanism
The ETF ecosystem makes ETFs special, providing a unique share creation and redemption mechanism that allows ETFs to better reflect movements in the underlying securities while giving investors transparent intra-day pricing
The supply of an ETF's shares is maintained by two types of specialist investor: market makers, who can buy and sell ETF shares at specified prices at all times in the secondary market; and authorised participants (APs), who are allowed to create or redeem ETF shares in the primary market on behalf of market makers or institutional investors.
How ETF shares are created and redeemed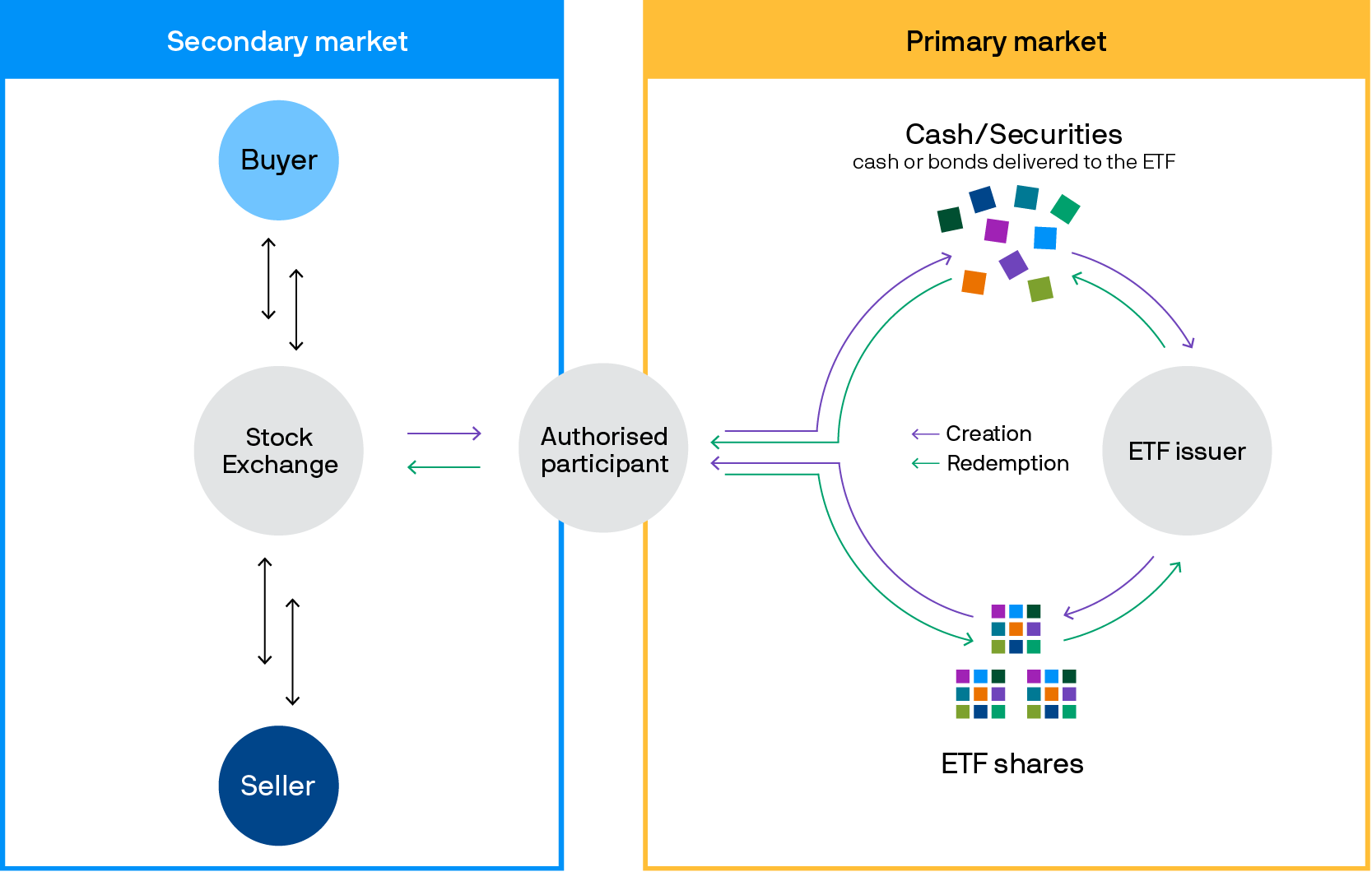 Source: J.P. Morgan Asset Management.
Ensuring ETF prices stay close to fair value
If lots of investors are selling an ETF's shares and its share price drops below its fair value, market makers are incentivised to redeem the ETF's shares by transferring them through an authorised participant to the ETF issuer, in return for the basket of underlying securities. The market maker can then sell the securities for more than they paid for the ETF's shares—reducing the number of shares available in the market and driving the ETF's share price back up towards fair value.
This process happens in reverse when more shares are needed to meet demand from buyers. Market makers buy securities and transfer them through an authorised participant to the ETF issuer in exchange for newly created shares, which are then sold to investors—again helping to keep share prices in line with the value of the ETF's underlying securities.