Assessing the value of the Swiss franc
14-02-2022
Roger Hallam
Nigel Rayment
Neil Weller
In Brief
The Swiss franc has a long history as a store of value. Higher inflation abroad has somewhat mitigated the high valuation of the Swiss franc, leaving the currency closer to fair value than many appreciate.


Developed market central banks are reacting to inflation pressures by raising rates and reversing balance sheet expansion. The Swiss National Bank (SNB) faces less acute inflation pressures. However, the set of policy choices that it has at its disposal to address any further pressure from global inflationary factors is more constrained.


Rising global rates and the prospect of the withdrawal of unconventional policy in the eurozone could spur the return of Swiss franc carry trades. We expect any such flows to be balanced by a reduction in intervention from the SNB, leaving the Swiss franc structurally well supported.
Record-high nominal rates
The Swiss franc has a long history as a store of value, being one of the few currencies to broadly maintain purchasing power through the heightened inflation of the 1970s and 1980s. With inflation in the major economies reaching levels not seen in decades, the franc has continued to rise in nominal terms, even if media attention has focused more on alternative stores of value, such as gold and crypto.
Nevertheless, our two favoured valuation approaches suggest that the valuation of the franc has actually improved over the last year, despite the rise in the nominal exchange rate (Exhibit 1).
Exhibit 1. Nominal value of the franc rises to all-time highs, while inflation-adjusted measures moderate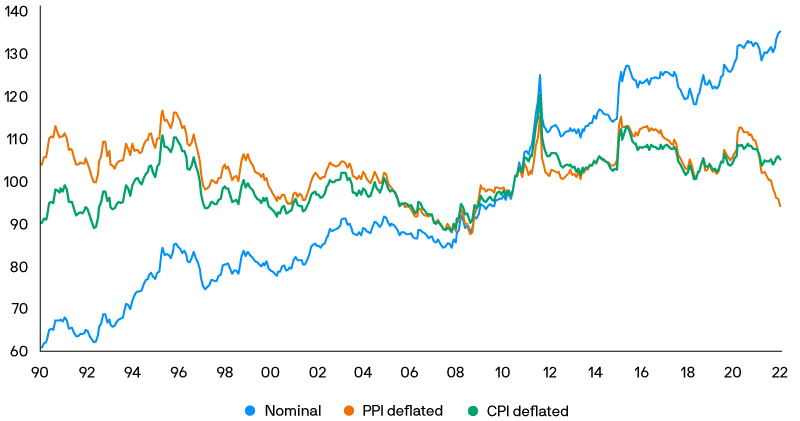 Source: Bloomberg; data as of February 2022.
First, higher international inflation relative to Switzerland means that the real effective exchange rate used in purchasing power parity models has fallen. The complexity of measuring the price level throughout the pandemic has resulted in somewhat different messages about how much the real effective exchange rate has fallen depending on the inflation metric used. The more widely followed consumer price based measures have fallen only slightly, remaining around five- and 10-year average levels. Measures using producer prices, which are affected more by large swings in energy pricing, now suggest the franc is as cheap as it has been since the financial crisis and below long-run average levels. Our proprietary measure falls closer to the consumer price measure, showing a modest improvement in franc valuation compared to pre-pandemic levels.
Second, we validate our assessment of currency valuation by studying balance of payment dynamics. There has been a modest improvement recently in Switzerland, though the volatility of recent data suggests two-sided risks to this assessment. The decline in the current account surplus has moderated, and appears to stem more from a declining investment income balance on holdings of foreign assets than any loss of competitiveness in the Swiss goods producing sector (Exhibit 2). On the capital side of the balance of payments we note that the accumulation of reserves from the SNB is ongoing and remains the primary offset to the persistent current account surplus. Carry-seeking fixed income outflows remain close to zero, in contrast to the pre-financial crisis era.
Exhibit 2. Swiss goods trade appears competitive, though declining income is weighing on the current account (%, GDP)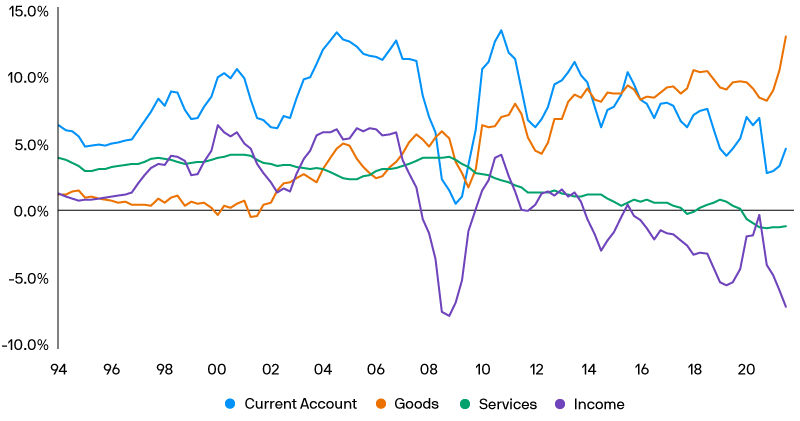 Source: Bloomberg; data as of February 2022.
Policy options are constrained
Turning to the policy outlook, recent messages from the Federal Reserve and the European Central Bank have validated the profile of rising rates priced into fixed income markets and built expectations of a reversal of balance sheet expansion measures. While inflationary pressures originated in rising energy prices and pandemic-impacted sectors, they have proven more persistent than expected, with signs that the fiscal and monetary support provided over the last two years may be translating into wage pressures.
The Swiss National Bank (SNB) faces a more benign domestic inflation outlook, but also has a more constrained set of policy choices. We do not expect the SNB to begin raising interest rates while also intervening in the currency market to prevent franc appreciation. These two polices would conflict in objective and invite currency speculators to test the SNB's resolve in preventing franc appreciation.
If there is a rise in carry-seeking fixed income outflows from Switzerland then the SNB will be able to step back from currency intervention with limited impact on currency markets. This approach would permit domestic interest rates to rise back towards zero over time and address any further inflationary pressures. Such a scenario requires a fine balance where rates abroad rise quickly enough to balance Swiss currency flows while domestic inflation pressures do not intensify.
While this scenario is very plausible, either more intense inflation pressures, which mean that the SNB needs to raise rates sooner, or slower global rate rises, which leads to less demand for Swiss franc funding, would both cause the franc to continue to gradually appreciate.
On balance, we see strong fundamental support for the franc and continue to view high strategic hedge ratios as optimal for Swiss-based investors
Opinions, estimates, forecasts, projections and statements of financial market trends are based on market conditions at the date of the publication, constitute our judgment and are subject to change without notice. There can be no guarantee they will be met.
09kf221002145210