While the scale of the recent spike in energy prices was surprising, elevated energy and raw material prices are something we may have to get used to as part of the transition to a lower carbon world. Countries accounting for around 70% of global CO2 emissions and GDP have pledged to reach net zero emissions by 2050. Reaching this objective will require a dramatic shift in the production and use of global energy.
Exhibit 9 details how the global energy mix would need to change for the world to reach net zero by 2050: the share of fossil fuels would need to decrease from around 80% today to 20%, while the share of renewables will have to increase from around 12% to more than 60% over the same period. Phasing out coal is a key priority but served to be one of the most contentious areas of discussion at COP26.
Exhibit 9: The energy mix has to change dramatically if net zero is to be achieved
Global energy mix
Source: BP Energy Outlook 2020, J.P. Morgan Asset Management. Forecast is based on BP's scenario for global net zero emissions by 2050. Guide to the Markets - UK & Europe. Data as of 19 November 2021.
For renewable energy to replace fossil fuels in the energy mix, global investment in clean energy and energy efficiency will need to triple by 2030 to USD 2.3 trillion per annum (Exhibit 10). Until renewables can play a greater role, there will still be significant demand for oil, and especially gas, because many of the countries that are shifting away from coal are turning to natural gas to temporarily bridge the gap.
Exhibit 10: Massive investment is required to facilitate the transition
Global investment in clean energy and energy efficiency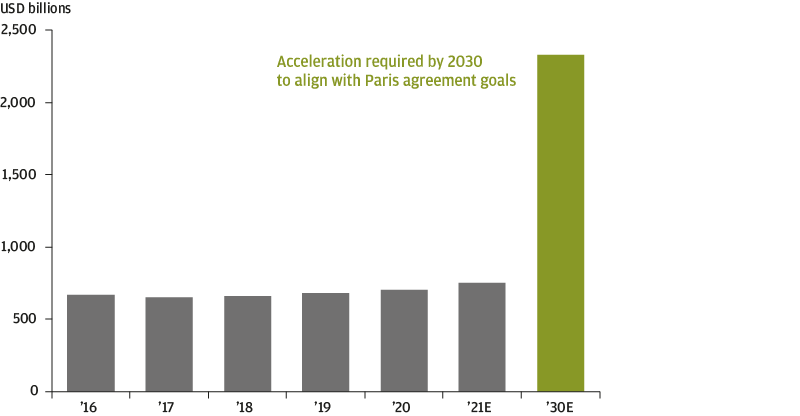 Source: International Energy Agency (2021), World Energy Investment 2021, J.P. Morgan Asset Management. 2030 forecast based on annual average investment needs in the electricity sector for 2026-2030 in the International Energy Agency's "net zero emissions by 2050" scenario. For illustrative purposes only. Guide to the Markets - UK & Europe. Data as of 19 November 2021.
While fossil fuel energy demand is still likely to rise over the next decade, supply is increasingly constrained by the lack of investment in new capacity. Capital spending on new fossil fuel projects is historically low and likely to remain so as funding for these projects is curtailed, in part due to investor preferences and also because of the regulatory levers that are increasingly being pulled to reduce the capital available to fossil fuel producers. As a consequence, fossil fuel energy prices could remain elevated in the coming years. We would argue that high fossil fuel prices are a necessary evil to drive consumers towards alternative energy sources.
The implications for investors are wide-ranging but we'll focus here on what it means for traditional energy companies and renewables.
A forward P/E ratio of 10x for the global energy sector suggests investors are focused on the long-term challenges for the sector. In the short term, there is value if earnings are resilient given high energy prices. Investors should focus, however, on those companies that have credible transition plans in place and have already announced net zero emissions goals. These companies are best placed to take advantage of the short-term windfall of high fossil fuel prices but are protecting themselves from long-term "stranded asset" risk.
In the long run, given the exponential demand for renewables, the renewable energy sector is generally expected to perform well, although there are some concerns that future growth is already priced in, with the global clean energy sector trading on a forward P/E of 40x. Earnings delivery in the coming years will need to be very strong to justify the high multiple, although history suggests that this is possible. An investor that avoided four of the largest US technology giants five years ago given an average 12-month forward P/E ratio of 34x, would have since missed out on average cumulative returns of around 400%.
While the growth prospects of the renewables sector in the coming decades certainly justify attention, it is not the only sector benefiting from the energy transition. Better investment options may be found in sectors that provide low carbon solutions through improved efficiency, such as sustainable construction, sustainable food and water, sustainable transport, and recycling.
From a regional perspective, developing countries are generally considered as the most at risk from the energy transition since they have a higher CO2 emission intensity of GDP than most developed countries and they are also generally more reliant on coal and other fossil fuels, both in terms of production and in their energy mix.
However, as with developed markets, we believe that it is also important in emerging markets to look beneath the surface. For example, China is the biggest coal producer in the world but it is also the largest rare earths producer, and the market for critical minerals and rare earth should exceed that of coal today by 2040. In addition, China is already the world's biggest producer of solar panels and electric cars, and in 2020 it built more windfarm capacity than the whole of the rest of the world combined.
In conclusion, investors need to understand the complexities of the energy transition. It is much more complicated than "sell traditional energy, buy renewables", or "sell emerging markets, buy developed world assets". Stock selection is more critical than ever as ranking assets, particularly on a forward-looking basis, is not easy.
The energy transition will transform the investment landscape beyond equity markets. In 2021 the global green bond market surpassed the USD 1 trillion milestone and is likely to grow steadily in the coming years as a preferred funding source for many green investments. On the opposite side, the energy transition will also create new risks to take into consideration, such as those associated with stranded assets.
Finally, alternatives will also be at the heart of the energy transition as a large part of the investments deployed to ensure the transition will be allocated to infrastructure projects, while emissions offsetting solutions, such as forest management, will also be necessary to reach net zero.