17 March 2022
Risky business
Markets' sharp repricing across corporate credit has created valuation opportunities amid ongoing broader market volatility. We argue why it makes sense to add back risk exposure.
Fundamentals
The fundamental backdrop is characterised by rampant inflation, the subsequent prospect of tighter monetary policy and the escalation of war in eastern Europe. While corporates seem able to absorb and pass along price increases without margins fully collapsing, we are approaching the peak of the rebound in fundamentals. US firms are outpacing their European counterparts in moving to the later stages of the credit cycle, typically characterised by M&A, shareholder-friendly activity and re-leveraging. We expect this divergence to continue as the war in Ukraine will have a more pronounced impact for Europe, given its reliance on Russian energy. Many companies entered this period with strong balance sheets, which may withstand the impact of higher prices but less so any prolonged supply disruption. As such, European firms feeling the escalation of conflict most acutely through raw material inflation and supply-chain constraints, such as autos, will remain in the recovery stage, while US firms (particularly sectors that were only tangentially impacted by the pandemic) should continue to re-lever.
Quantitative valuations
IG and high yield (HY) spreads have widened significantly this year, driven by rates volatility and the conflict in Europe. European IG and HY have underperformed their US peers as markets discounted European risk in light of the proximity to Ukraine as well as the less dynamic Covid recovery. In the US, however, spreads appear to align more with flattening of the rates curve and shifting expectations for Federal Reserve action relative to 2021. The deluge of US dollar issuance has weighed on the market so far this year and should cause concessions to rise (and oversubscriptions to fall). We have witnessed average concessions of ~20bps in recent weeks and new deals are likely to continue to come at a discount, presenting an opportunity to rotate into the primary market. Moreover, the skew of YTD issuance towards high quality has forced single-A credits to reprice, while BBBs, especially in the front end of the curve, have more room to reprice. At a headline level, we believe the significant retracement has been an overreaction from the market. EUR IG spreads imply close to a 40% probability of recession in Europe, while the US sits closer to the 30%. This contrasts with our Global Fixed Income, Currency & Commodity consensus view, which assigns a 25% probability to economic contraction. Thus, we think the markets' sharp repricing has provided an opportunity to add risk given our base case of above trend growth.
Recent spread widening creates an opportunity to add back risk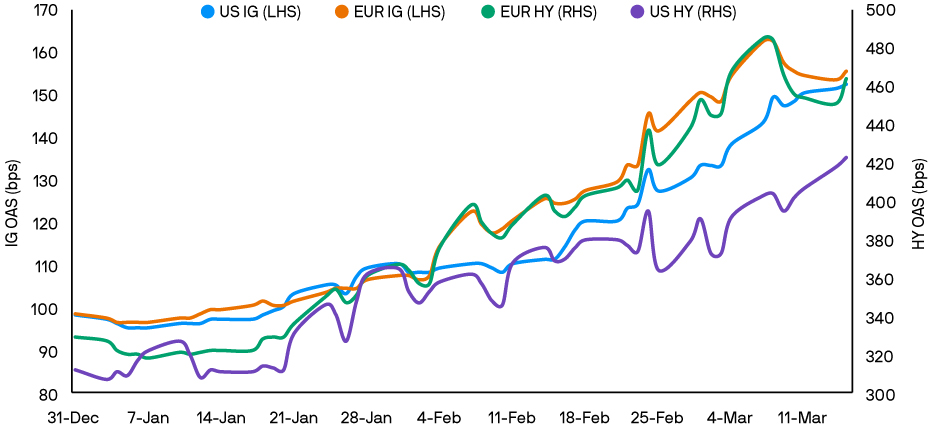 Source: Bloomberg. Data as of 15 March 2022. EUR IG: ICE BofA Euro Corporate Index; US IG: ICE BofA US Corporate Index; EUR HY: ICE BofA Euro Developed Markets Non-Financial High Yield Constrained Index; US HY: ICE BofA US High Yield Constrained Index. OAS: Option Adjusted Spread.
Technicals
The deteriorating technical backdrop is characterised by waning retail demand for both high grade and high yield credit. Indeed, we have witnessed the worst start to the year for credit flows since the global financial crisis. Arguably the record flows witnessed in 2020 and 2021 were spurred by investors' hunt for yield in an otherwise yield-starved asset class. Additionally, one of the most important pillars of demand had been the abundance of central bank accommodation, particularly in Europe. However, the impending withdrawal of the European Central Bank's broad asset purchase mandate, and subsequent hiking cycle, makes the argument for structural flows into credit less clear. On supply, we have witnessed robust primary activity in US IG, notably bank-related issuance. In Europe, net supply still appears manageable in the context of broader volatility due to the war in Ukraine constraining the pipeline.
What does this mean for fixed income investors?
Markets doubting central bankers' ability to clamp down on inflation without significantly denting the economic recovery, as well as the escalation of war in Europe, has caused a sharp repricing across fixed income asset classes. This has created opportunities for investors to add risk while remaining short duration. Currently, valuations across the credit spectrum are appealing. In particular, the new issue market in high quality IG is providing opportunities to take advantage of spread outperformance relative to secondaries.
About the Bond Bulletin
Each week J.P. Morgan Asset Management's Global Fixed Income, Currency and Commodities group reviews key issues for bond investors through the lens of its common Fundamental, Quantitative Valuation and Technical (FQT) research framework.
Our common research language based on Fundamental, Quantitative Valuation and Technical analysis provides a framework for comparing research across fixed income sectors and allows for the global integration of investment ideas.

Fundamental factors
include macroeconomic data (such as growth and inflation) as well as corporate health figures (such as default rates, earnings and leverage metrics)

Quantitative valuations
is a measure of the extent to which a sector or security is rich or cheap (on both an absolute basis as well as versus history and relative to other sectors)

Technical factors
are primarily supply and demand dynamics (issuance and flows), as well as investor positioning and momentum