10 March 2022
The costs of commodities on currencies
The impact of the conflict in Ukraine has led to a surge in commodity prices. We examine the ramifications of the price increases on currency markets.
Fundamentals
The conflict in Ukraine has led to historic gains in a broad range of commodity prices. Having fallen at the start of the Covid pandemic, many commodities were already staging a comeback in late 2020 and 2021 as supply chains struggled to keep up with demand, leading to higher inflation globally. The invasion by Russia has exacerbated the issue, with gas, coal and nickel prices more than doubling and oil, wheat and palladium prices each up over 50% year-to-date. If commodity prices remain at these levels, binary winners and losers will emerge based on whether countries are net exporters or importers of these products. Australia and Canada, as commodity exporting nations, are comfortably positioned to benefit to the detriment of importers such as the eurozone and UK. As an example, based on price changes this year as of 7 March, we found that energy (oil, gas and coal) will provide an 18% and 2.5% boost to Australian and Canadian GDP respectively. Conversely, the eurozone and UK will contract by 5% and 2% from energy price changes. This first order impact, however, will likely be lessened at the overall economic level. This terms of trade shock results in direct changes in demand for currencies by commodity importing and exporting firms, with the changes in supply and demand likely to cause appreciation of the Australian and Canadian dollar and depreciation of the euro and sterling.
Commodity prices surge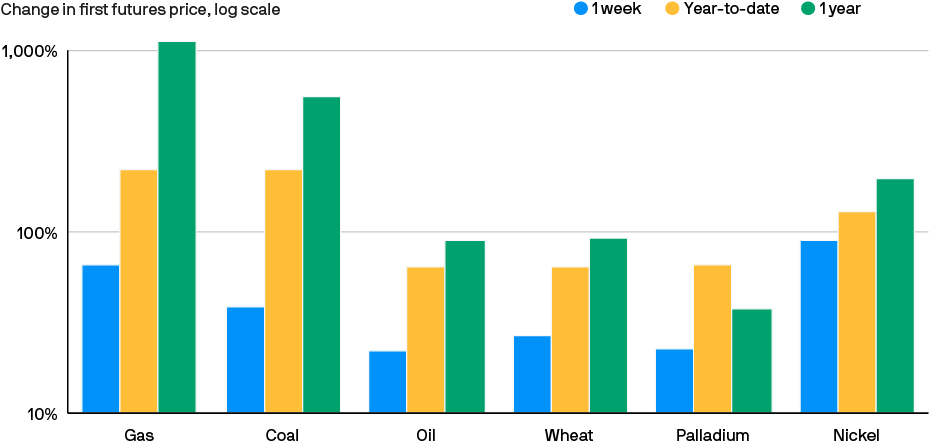 Source: Bloomberg, J.P. Morgan Asset Management as of 8th March 2022
Quantitative valuations
Compared to long run averages, the Australian and Canadian dollar are both near fair value when measured on a longer term Purchasing Power Parity (PPP) basis versus the US dollar. Thus any appreciation of these currencies could be reasonably justified by the conducive market environment and lead to a short-term overvaluation of commodity exporting currencies. Conversely, the euro and sterling are currently undervalued when measured on the same PPP metric. For these currencies, a question may arise around how much of the commodity price shock has already been priced in. However, it is worth noting that these currencies have been undervalued since 2015 and rising commodity prices may provide the market with further reason to support this undervaluation.
Technicals
Market positioning provides mixed signals for the future scope of commodity exporting currencies appreciating against commodity importing currencies. Both our internal market surveys and Commodity Futures Trading Commission (CFTC) data suggest the market holds an overweight position in the Canadian dollar. However positioning in the Australian dollar is mixed, with our internal survey suggesting an overweight position and CFTC data indicating a short position. Both metrics of market positioning are providing neutral positions for the euro and sterling. Additionally, we have noticed the theme of being overweight commodity exporters versus importers is gaining traction with sell side analysts who are increasingly producing commentary on the topic. As such, investors should be attentive to sudden changes in positioning based on headlines of the Ukraine conflict either intensifying or abating and the subsequent reaction from the West.
What does this mean for fixed income investors?
If commodity prices remain at elevated levels, we expect the Australian and Canadian dollar to appreciate. However, we recognise that the path to appreciation may be volatile given the potential impact from geopolitics and central banks weighing up actions to suppress inflation against restraining demand and economic growth. We expect the euro and sterling to remain under pressure from surging inflation and a cost of living squeeze impacting economic activity. Investors should understand the currency exposures from their fixed income investments and put the correct strategic hedge ratios in place now and be prepared for tactical opportunities through this period of heightened volatility.
About the Bond Bulletin
Each week J.P. Morgan Asset Management's Global Fixed Income, Currency and Commodities group reviews key issues for bond investors through the lens of its common Fundamental, Quantitative Valuation and Technical (FQT) research framework.
Our common research language based on Fundamental, Quantitative Valuation and Technical analysis provides a framework for comparing research across fixed income sectors and allows for the global integration of investment ideas.

Fundamental factors
include macroeconomic data (such as growth and inflation) as well as corporate health figures (such as default rates, earnings and leverage metrics)

Quantitative valuations
is a measure of the extent to which a sector or security is rich or cheap (on both an absolute basis as well as versus history and relative to other sectors)

Technical factors
are primarily supply and demand dynamics (issuance and flows), as well as investor positioning and momentum