In Brief
The increase of 50 basis points (bps) in the Federal Funds target range to 4.25%-4.50% will lift yields in money market funds (MMFs), given their short-duration profile.

The Federal Open Market Committee (FOMC) Summary of Economic Projections reflects a higher peak policy rate in 2023 than consensus expectations going into the meeting. The market continues to price cuts later in 2023, which may not be consistent with the FOMC's message of higher for longer.

The Federal Reserve (Fed) continues its balance sheet reduction with minimal impact on short-term markets to date.

Our Global Liquidity portfolios are well positioned to capture the uplift in overnight rates and stand to benefit from continued tightening by the FOMC.



December FOMC highlights
The FOMC unanimously decided to downshift to a smaller but, in the words of Fed Chairman Jerome Powell, "still historically large increase" of 50 bps. The new target range is 4.25%-4.50%. Interest on reserve balances (IORB) and the overnight reverse repo rate (RRP) were also increased by equivalent amounts to 4.4% and 4.3%, respectively. While the slower pace could signal that we are approaching the end of this hiking cycle, the Fed has more work to do.
The Fed remains steadfastly committed to returning inflation to the 2% target, exemplified by the overall tone of the meeting, which leaned hawkish. A good visual example of the hawkish tilt can be seen in the FOMC's Summary of Economic Projections (SEP) "dots". The "dots" are the Fed policymakers' future estimates of the target rate and are released quarterly. This most recent estimate shows some material differences from September's release. The median dot for the federal funds rate is now 5.125% in 2023, 50 bps higher, and 4.125% in 2024, 25 bps higher. However, what stands out is that 17 of the 19 FOMC participants expected a terminal rate of 5.125% or higher, with seven seeing rates at or above 5.375% in 2023. This is a significant shift, as no participants saw terminal rates higher than 5.00% in the last release.
Also notable is that the Fed is not pricing in any cuts in 2023. While this does not differ from the September release, the market has a more dovish expectation of a terminal rate of about 4.87% reached in May of 2023 and is pricing in about 50 bps of cuts next year. If we examine the Fed Fund futures implied overnight rates at the past few meetings, we see that cuts had previously been priced in by the market in 2023, but the magnitude of the cuts has grown more recently (Exhibit 1). This change is likely the result of the softer Consumer Price Index (CPI) print and the belief that the economy could be turning over faster than previously expected. Chairman Powell continues to stress that prematurely reducing rates carries risk. The Fed would prefer to assess the impact of recent policy actions and only cut rates when inflation is firmly under control.
Exhibit 1: Fed Fund Futures implied overnight rate time series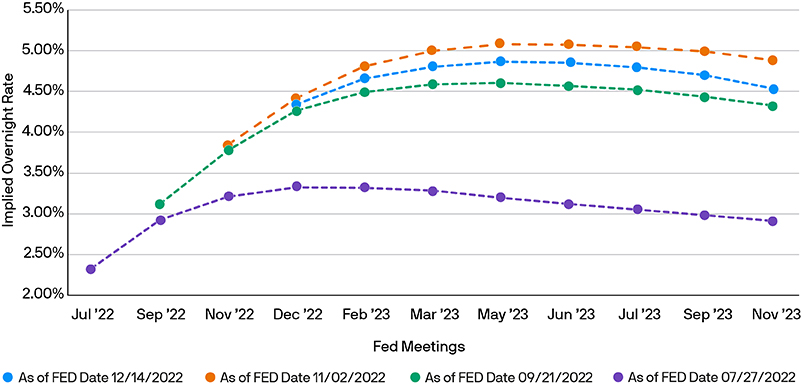 Source: Bloomberg. Data as of December 15, 2022.
The Fed's balance sheet reduction, known as quantitative tightening (QT), continues in the background at a pace of USD 95 billion per month (USD 60 billion in Treasuries and USD 35 billion in mortgages) with minimal impact on short-term markets to date. Overnight rates continue to be anchored by a substantial amount of cash in the front end, illustrated by elevated RRP balances that remain above USD 2.1 trillion.
Implications for investors
We believe money market investors should continue to welcome higher monetary policy rates. The short average maturity of money market funds, due in part to the substantial positions held in overnight to one-week maturities, allows funds to quickly reset yields in line with market rates. As a result, Global Liquidity portfolios are well positioned to capture the uplift in overnight rates and stand to benefit from continued tightening by the FOMC.
09nm222012100515
This communication has been prepared exclusively for institutional, wholesale, professional clients and qualified investors only, as defined by local laws and regulations. The views contained herein are not to be taken as advice or a recommendation to buy or sell any investment in any jurisdiction, nor is it a commitment from J.P. Morgan Asset Management or any of its subsidiaries to participate in any of the transactions mentioned herein. Any forecasts, figures, opinions or investment techniques and strategies set out are for information purposes only, based on certain assumptions and current market conditions and are subject to change without prior notice. All information presented herein is considered to be accurate at the time of production. This material does not contain sufficient information to support an investment decision and it should not be relied upon by you in evaluating the merits of investing in any securities or products. In addition, users should make an independent assessment of the legal, regulatory, tax, credit and accounting implications and determine, together with their own financial professional, if any investment mentioned herein is believed to be appropriate to their personal goals. Investors should ensure that they obtain all available relevant information before making any investment. It should be noted that investment involves risks, the value of investments and the income from them may fluctuate in accordance with market conditions and taxation agreements and investors may not get back the full amount invested. Both past performance and yield are not a reliable indicator of current and future results. J.P. Morgan Asset Management is the brand for the asset management business of JPMorgan Chase & Co. and its affiliates worldwide. To the extent permitted by applicable law, we may record telephone calls and monitor electronic communications to comply with our legal and regulatory obligations and internal policies. Personal data will be collected, stored and processed by J.P. Morgan Asset Management in accordance with our privacy policies at https://am.jpmorgan.com/global/privacy. This communication is issued by the following entities: In the United States, by J.P. Morgan Investment Management Inc. or J.P. Morgan Alternative Asset Management, Inc., both regulated by the Securities and Exchange Commission; in Latin America, for intended recipients' use only, by local J.P. Morgan entities, as the case may be; in Canada, for institutional clients' use only, by JPMorgan Asset Management (Canada) Inc., which is a registered Portfolio Manager and Exempt Market Dealer in all Canadian provinces and territories except the Yukon and is also registered as an Investment Fund Manager in British Columbia, Ontario, Quebec and Newfoundland and Labrador. In the United Kingdom, by JPMorgan Asset Management (UK) Limited, which is authorized and regulated by the Financial Conduct Authority; in other European jurisdictions, by JPMorgan Asset Management (Europe) S.à r.l. In Asia Pacific ("APAC"), by the following issuing entities and in the respective jurisdictions in which they are primarily regulated: JPMorgan Asset Management (Asia Pacific) Limited, or JPMorgan Funds (Asia) Limited, or JPMorgan Asset Management Real Assets (Asia) Limited, each of which is regulated by the Securities and Futures Commission of Hong Kong; JPMorgan Asset Management (Singapore) Limited (Co. Reg. No. 197601586K), this advertisement or publication has not been reviewed by the Monetary Authority of Singapore; JPMorgan Asset Management (Taiwan) Limited; JPMorgan Asset Management (Japan) Limited, which is a member of the Investment Trusts Association, Japan, the Japan Investment Advisers Association, Type II Financial Instruments Firms Association and the Japan Securities Dealers Association and is regulated by the Financial Services Agency (registration number "Kanto Local Finance Bureau (Financial Instruments Firm) No. 330"); in Australia, to wholesale clients only as defined in section 761A and 761G of the Corporations Act 2001 (Commonwealth), by JPMorgan Asset Management (Australia) Limited (ABN 55143832080) (AFSL 376919). For U.S. only: If you are a person with a disability and need additional support in viewing the material, please call us at 1-800-343-1113 for assistance.
Copyright 2022 JPMorgan Chase & Co. All rights reserved.