When assessing the outlook for corporate earnings ahead, it is clear that businesses will be facing stubborn cost pressures. Higher wages, higher energy prices and supply chain bottlenecks that raise input costs all look likely to persist well into 2022 in some shape or form, although the impact of these factors will not be felt evenly. Take the US economy as an example, where wages account for just under 30% of corporate costs in aggregate. In the manufacturing sector, wages account for only around 20% of corporate costs, while the input costs of materials account for just under 50% of total costs. In comparison, wages are roughly half of corporate costs in the education and healthcare sectors, while input costs for materials in these sectors account for less than 10% of total costs. The drivers of cost pressures, not only the overall level, will be very relevant when considering the profitability of different sectors.
To defend earnings from higher input costs, corporates have two main options to protect their margins. They can find efficiency gains, for example by reducing the amount of raw materials that are wasted during a production process, or they can pass higher costs onto their customers. The third-quarter 2021 earnings season was encouraging on this front: despite higher input costs, margins are hovering around record levels across developed markets.
The strength of demand was a key factor behind the resilience of margins in 2021. Covid-19 disruption and worker shortages (among other factors) have clearly created supply-side pressures, but the impact of the skew towards goods spending should not be underestimated. If the global supply chain for goods was a hosepipe, not only would the pipe have shrunk in diameter, but also the amount of water being forced through it would have increased substantially. The result has been a sharp uptick in core goods inflation, which is effectively evidence of corporate pricing power. Exhibit 5 highlights that, while US businesses are increasingly occupied by inflation, it is not coming at the expense of sales.
Exhibit 5: Firms are concerned about inflation but it's not yet hindering sales
US National Federation of Independent Business survey: Most important problem?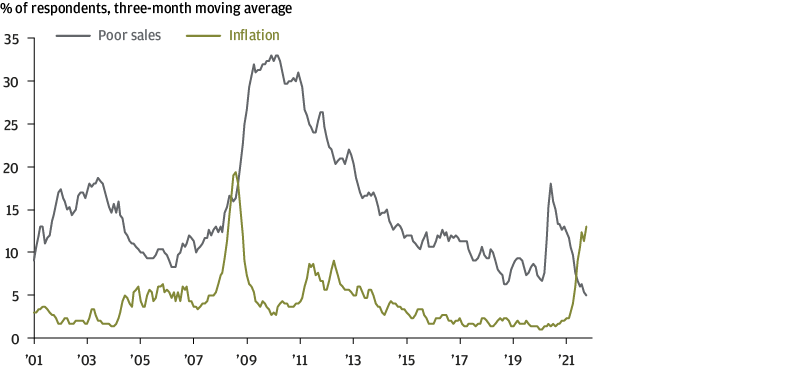 Source: National Federation of Independent Business, Refinitiv Datastream, J.P. Morgan Asset Management. Data as of 19 November 2021.
We are optimistic about the prospects for demand to remain strong in 2022, allowing companies to maintain margins even in the face of elevated costs. As discussed, consumer balance sheets look very healthy. And while government transfers will be much less generous going forward, labour markets appear ready to pick up much of the slack with encouraging signs of wage growth, particularly in the US and the UK. There may also be specific aspects of the current environment that are making it easier for companies to pass costs onto consumers. Exhibit 6 highlights how companies have been confident enough to raise prices. Given the rapid and broad nature of the rise in input costs, they are less fearful of being undercut in the knowledge that their competitors are likely facing exactly the same issues.
Exhibit 6: Businesses are passing higher costs onto their customers
US National Federation of Independent Business survey: Prices and wages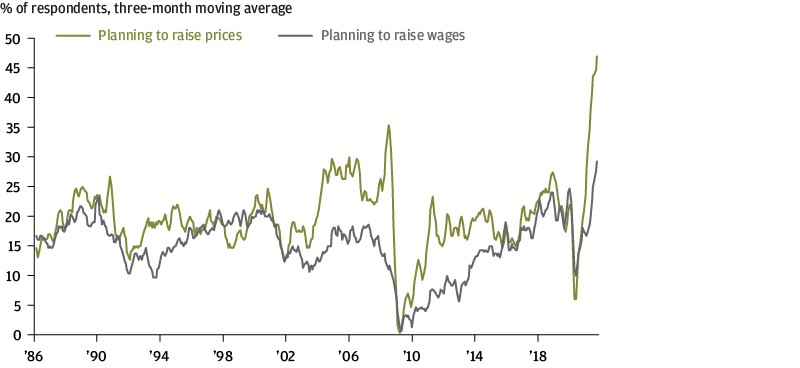 Source: National Federation of Independent Business, Refinitiv Datastream, J.P. Morgan Asset Management. Guide to the Markets UK & Europe. Data as of 19 November 2021.
That said, corporate pricing power will vary, both across and within sectors. Margins tend to be much more volatile in cyclical sectors relative to defensives given the higher sensitivity to the health of the economy. If we are right that growth remains robust over the next 12 months, the outlook for margins in cyclical sectors appears especially healthy. We would also expect that the relative performance of companies within sectors will be increasingly differentiated based on companies' relative pricing power, highlighting the importance of bottom-up stock selection.
We do not believe that our constructive view on earnings for 2022 is fully reflected in analyst estimates today. Consensus estimates currently expect developed market earnings to grow by just over 7% in 2022. This forecast appears relatively undemanding in an environment where we expect above-trend economic growth and supportive policy, despite significant cost pressures. From a sector perspective, we focus on cyclical areas of the market where earnings are more closely linked to economic growth, and where earnings estimates still have further catch up potential to the broad market. Financials and industrials are two areas of opportunity that stand out on these metrics.