Opinions, estimates, forecasts, projections and statements of financial market trends are based on market conditions at the date of the publication, constitute our judgment and are subject to change without notice. There can be no guarantee they will be met.
26 May 2023
Are we there yet?
Investors have been preparing their portfolios for one of the most anticipated recessions of all time, but when that recession begins remains uncertain.
Fundamentals
Anyone who has been on a long trip with small children will know that eventually the patience of their young passengers will wear thin, triggering the dreaded question "Are we there yet?". Investors have also travelled a fair distance over the last few months and are similarly getting impatient as to when a recession might begin. The next recession is one of the most anticipated recessions in history. As this week's chart shows, nearly 50% of economists are predicting a recession in the near term, one of the highest probabilities outside of a recessionary period. While the track record of economists to accurately predict a recession before it begins remains dubious at best, this consensus is understandable given how central banks have embarked on one of the most aggressive rate hiking cycles since the 1970s. However, the onset of a long-predicted recession remains an open question. Traditional recession indicators such as US credit conditions and the shape of the yield curve indicate that a recession is just around the corner. Meanwhile the labour market has been remarkedly robust in the face of tightening monetary policy and is showing few signs of cracking just yet. This lack of consensus within the economic data makes accurately forecasting a recession tricky. While we think a recession is almost inevitable, it might not begin until late 2023 or early 2024.
Probability of a recession in the next 12 months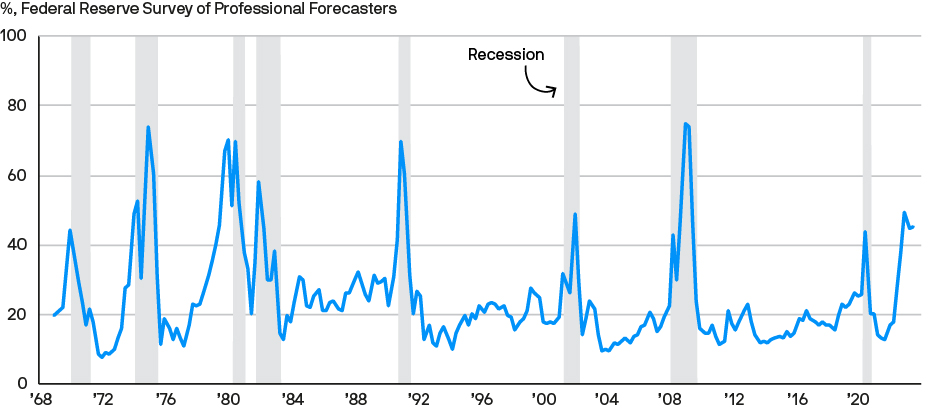 Source: Philadelphia Fed, Refinitiv Datastream, J.P. Morgan Asset Management. Chart shows the Survey of Professional Forecasters' mean probability that the real GNP or GDP will decline in the quarter the survey was conducted or the following four quarters. Periods of "recession" are defined using US National Bureau of Economic Research (NBER) business cycle dates. Data as of 24 May 2023.
Quantitative Valuations
While the timing of a recession – and subsequent rate cuts – has been in question, US 10-year yields have remained range bound. Currently, yields are at 3.70% (as of 23 May 2023), which is close to the three-month median. However, the range is a moving target and tends to readjust when either of the extremes are broken through. We still like the belly of the curve, with 5-year and 10-year yields attractively priced especially if central banks begin to ease monetary policy. There is also less sensitivity to the risks currently at the top of investors' minds i.e. the debt ceiling and inflation. As we continue to wait for the onset of a recession, government rates have made yields on other asset classes look attractive, even if underlying spreads aren't necessarily so. Yields on municipal bonds and even high grade corporates have especially benefitted from the rise in underlying rates, currently offering attractive carry potential vs a historical basis.
Technicals
Long duration fixed income remains a favoured way to insulate portfolios in the event of a recession. While the timing of a recession remains uncertain, the historically attractive yields on offer at the back-end of the curve means investors should continue to hold long-dated bonds. This mindset is supported by the duration positioning data which suggest that investors are moving into long-duration positions.
What does this mean for investors?
Despite the uncertainties of when it might begin, investors are right to prepare their portfolios for a recession. Moving into longer-duration, higher quality fixed income at this stage in the cycle is likely to provide valuable portfolio protection. Meanwhile we continue to be cautious on allocating to the corporate credit market where mediocre valuations do not yet warrant a sizable allocation.
About the Bond Bulletin
Each week J.P. Morgan Asset Management's Global Fixed Income, Currency and Commodities group reviews key issues for bond investors through the lens of its common Fundamental, Quantitative Valuation and Technical (FQT) research framework.
Our common research language based on Fundamental, Quantitative Valuation and Technical analysis provides a framework for comparing research across fixed income sectors and allows for the global integration of investment ideas.

Fundamental factors
include macroeconomic data (such as growth and inflation) as well as corporate health figures (such as default rates, earnings and leverage metrics)

Quantitative valuations
is a measure of the extent to which a sector or security is rich or cheap (on both an absolute basis as well as versus history and relative to other sectors)

Technical factors
are primarily supply and demand dynamics (issuance and flows), as well as investor positioning and momentum
NOT FOR RETAIL DISTRIBUTION: This communication has been prepared exclusively for institutional, wholesale, professional clients and qualified investors only, as defined by local laws and regulations. The views contained herein are not to be taken as advice or a recommendation to buy or sell any investment in any jurisdiction, nor is it a commitment from J.P. Morgan Asset Management or any of its subsidiaries to participate in any of the transactions mentioned herein. Any forecasts, figures, opinions or investment techniques and strategies set out are for information purposes only, based on certain assumptions and current market conditions and are subject to change without prior notice. All information presented herein is considered to be accurate at the time of production. This material does not contain sufficient information to support an investment decision and it should not be relied upon by you in evaluating the merits of investing in any securities or products. In addition, users should make an independent assessment of the legal, regulatory, tax, credit and accounting implications and determine, together with their own professional advisers, if any investment mentioned herein is believed to be suitable to their personal goals. Investors should ensure that they obtain all available relevant information before making any investment. It should be noted that investment involves risks, the value of investments and the income from them may fluctuate in accordance with market conditions and taxation agreements and investors may not get back the full amount invested. Both past performance and yield are not a reliable indicator of current and future results. J.P. Morgan Asset Management is the brand for the asset management business of JPMorgan Chase & Co. and its affiliates worldwide. This communication is issued by the following entities: in the United Kingdom by JPMorgan Asset Management (UK) Limited, which is authorized and regulated by the Financial Conduct Authority; in other European jurisdictions by JPMorgan Asset Management (Europe) S.à r.l.; in Hong Kong by JF Asset Management Limited, or JPMorgan Funds (Asia) Limited, or JPMorgan Asset Management Real Assets (Asia) Limited; in Singapore by JPMorgan Asset Management (Singapore) Limited (Co. Reg. No. 197601586K), or JPMorgan Asset Management Real Assets (Singapore) Pte Ltd (Co. Reg. No. 201120355E); in Taiwan by JPMorgan Asset Management (Taiwan) Limited; in Japan by JPMorgan Asset Management (Japan) Limited which is a member of the Investment Trusts Association, Japan, the Japan Investment Advisers Association, Type II Financial Instruments Firms Association and the Japan Securities Dealers Association and is regulated by the Financial Services Agency (registration number "Kanto Local Finance Bureau (Financial Instruments Firm) No. 330"); in Korea by JPMorgan Asset Management (Korea) Company Limited; in Australia to wholesale clients only as defined in section 761A and 761G of the Corporations Act 2001 (Cth) by JPMorgan Asset Management (Australia) Limited (ABN 55143832080) (AFSL 376919); in Brazil by Banco J.P. Morgan S.A.; in Canada for institutional clients' use only by JPMorgan Asset Management (Canada) Inc., and in the United States by JPMorgan Distribution Services Inc. and J.P. Morgan Institutional Investments, Inc., both members of FINRA/SIPC.; and J.P. Morgan Investment Management Inc.
Copyright 2022 JPMorgan Chase & Co. All rights reserved.
0903c02a82aa386b