Monthly Market Review
Review of markets over July 2021
02-08-2021
Hugh Gimber
The global economic recovery continued in July, with the vaccine rollout making steady progress and restrictions on activity being eased further in several major developed markets. Sentiment was dented, however, by the spread of the more contagious Delta variant of Covid-19, raising concerns that the path to normality may be bumpier than previously expected.
Looking across asset classes, moves in the bond market were most eye-catching as US 10-year Treasury yields continued their recent decline, falling below 1.2% during the month. Global bonds delivered 1.3% over the course of July. Equity markets took their cues from the bond market; growth stocks benefited from the decline in yields and returned 2.9%, while value stocks returned 0.7%. On a regional basis, the US market led the way, returning 2.4% over the month. Emerging market equities lagged, returning -6.7%, dragged down by weak performance from China where announcements of tighter regulation for several sectors triggered a sharp decline in stock prices.
Exhibit 1: Asset class and style returns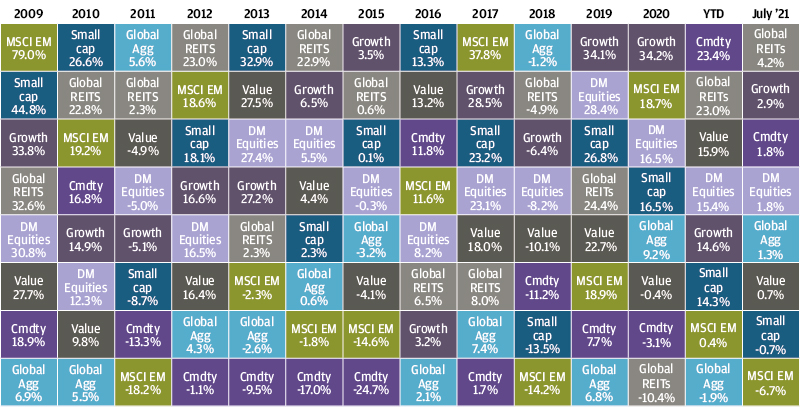 Source: Bloomberg Barclays, FTSE, MSCI, Refinitiv Datastream, J.P. Morgan Asset Management. DM Equities: MSCI World; REITs: FTSE NAREIT Global Real Estate Investment Trusts; Cmdty: Bloomberg Commodity Index; Global Agg: Barclays Global Aggregate; Growth: MSCI World Growth; Value: MSCI World Value; Small cap: MSCI World Small Cap. All indices are total return in US dollars. Past performance is not a reliable indicator of current and future results. Data as of 31 July 2021.
US
US equity and bond markets painted contrasting pictures in July as the S&P 500 hit new all-time highs while US Treasury yields slumped to lows last seen in February. While such a sharp decline in yields would normally imply a significant downgrade to the growth outlook, there appears to be a wide range of factors behind the move.
The rapid spread of the Delta variant has amplified talk of the US economy moving past the peak point of growth, and the Federal Reserve (Fed)'s relatively more hawkish tone since June has indicated that there is a limit to how hot the central bank is willing to run the economy. Yet technical factors seem to have had a much larger influence on bond prices. Demand has been unusually strong due to a combination of Fed purchases, institutional investors looking to rebalance following a strong period of equity gains and elevated cash balances across the private sector. This strong demand has overwhelmed bond supply, as the US Treasury has opted to use up some of the huge cash pile that it built up at the height of the pandemic instead of issuing larger amounts of debt. Overall, we do not believe that the bond market is sending a negative signal about the health of the economy. The current level of Treasury yields appears inconsistent with the strength of the recovery, and in our base case we expect yields to move higher over the remainder of the year with many of the technical factors noted above set to fade.
President Biden's infrastructure spending ambitions are one potential catalyst for a move higher in bond yields, although progress remained elusive over the course of the month. Following news that the skeleton of a bipartisan infrastructure bill had been agreed at the end of June, the details of the deal have since been tough to pin down. Passing a bill that requires only Democrat support via the "budget reconciliation" process remains another option, although this would likely still require compromises versus the original proposals given opposition from more centrist Democrats on the size of spending.
The Fed's plans to normalise monetary policy will be another key factor influencing bond yields going forward. At the July meeting, the Fed acknowledged that the economy has made progress toward its goals, but this progress was not yet viewed as "substantial". The Fed is signalling that a tapering of asset purchases is moving closer, and either late this year or early next looks like the most likely timing for tapering to begin.
In terms of economic data, US inflation surprised to the upside for the fourth consecutive month, with the increase in the headline consumer price index (CPI) reaching 5.4% year over year in June. The contribution from sectors that are clearly impacted by the reopening, such as travel and tourism, remained strong, but there were also signs that inflationary pressures were broadening across the economy. The recovery in the labour market picked up pace with 850,000 jobs added in June – the largest monthly gain since last August. The second quarter earnings season also offered reasons for optimism: with over half of the S&P 500 companies having reported earnings by the end of July, close to 90% of those reporting had beaten analysts' earnings expectations.
Exhibit 2: World stock market returns
Source: FTSE, MSCI, Refinitiv Datastream, Standard & Poor's, TOPIX, J.P. Morgan Asset Management. All indices are total return in local currency, except for MSCI Asia ex-Japan and MSCI EM, which are in US dollars. Past performance is not a reliable indicator of current and future results. Data as of 31 July 2021.
Euro area
The main event in the eurozone during July was the outcome of the European Central Bank (ECB)'s strategic review. The inflation aim was adjusted to a more symmetric 2% target (versus the previous target of "below, but close to 2%") while housing costs will also be incorporated into the calculation of inflation over time. The goal has changed, but so far, the tools to achieve the new target remain the same. July's meeting of the ECB's Governing Council saw stronger forward guidance added to the statement, but the fact that interest rates will remain low for a very long time was already well understood by the market. With little scope to cut interest rates deeper into negative territory and multiple asset purchase programmes already in place, it appears that fiscal policy rather than monetary policy will need to do the bulk of the heavy lifting if the eurozone is to break out of the low-growth, low-inflation environment that has become so entrenched in recent years. Policymakers will hope that the launch of the European Union's Recovery Fund can do exactly that, with over half of member states now having received approval of their recovery plans.
Flash purchasing managers' index (PMI) data offered encouragement that the eurozone recovery was gathering pace last month. Business activity grew at its fastest rate in 21 years, with a robust improvement in service sector activity more than offsetting a modest decline in the manufacturing PMI that was linked to supply chain disruption. The impact of the spread of the Delta variant remains to be seen, but the vaccine rollout continues at pace with over 60% of the population in the four largest euro area countries now having received at least one dose.
The launch of the European Union (EU)'s "Fit for 55" package of proposals also attracted attention in July. The name refers to the EU's 55% emission reduction target that has been set for 2030, and the proposals include a large number of initiatives designed to set the bloc on a course to achieve its climate change goals. Plans to introduce a carbon border adjustment mechanism (CBAM) created tensions with trading partners across the globe. The CBAM would apply a levy linked to carbon prices on a range of imported goods, such as aluminium and cement, in an attempt to prevent higher carbon prices in Europe from hurting the competitiveness of domestic corporations. Opposition from several countries highlighted the delicate nature of climate discussions; the issue will only intensify as November's COP26 summit approaches. However, July's tragic scenes of flash floods across Europe that have caused close to 200 deaths will likely strengthen the resolve of policymakers to act fast.
Exhibit 3: Fixed income government bond returns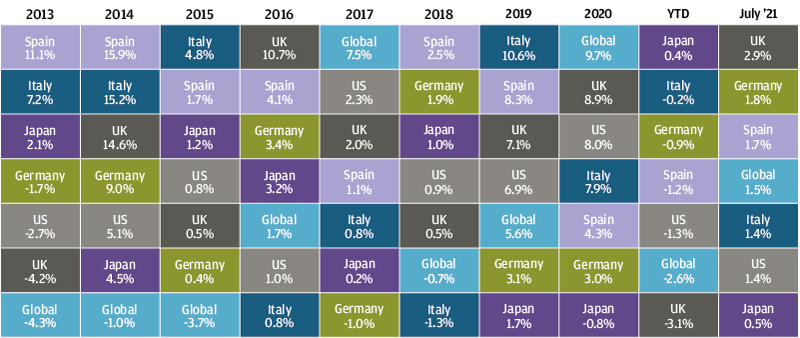 Source: Bloomberg Barclays, Refinitiv Datastream, J.P. Morgan Asset Management. All indices are Bloomberg Barclays benchmark government indices. All indices are total return in local currency, except for global, which is in US dollars. Past performance is not a reliable indicator of current and future results. Data as of 31 July 2021.
UK
The UK economy saw most remaining restrictions related to Covid-19 lifted in July, although this was accompanied by more cautious rhetoric from government officials as cases rose sharply. So far, data suggests that the vaccines remain effective against new variants in preventing serious illness. The UK will be viewed as a test case by the rest of the world over the coming weeks. If cases continue the decline that had started at the end of the month and hospitalisations remain low, this would likely be a major boost to global market sentiment, particularly in regions with levels of vaccination rates comparable to the UK.
Economic data painted a slightly more mixed picture in July, with flash PMIs showing clear signs that supply bottlenecks are putting a ceiling on activity levels. The growth outlook remains strong, but with businesses struggling to fill job vacancies and shortages of raw materials starting to bite, business costs rose at the fastest pace on record in July. There has also been evidence that some members of the Bank of England's monetary policy committee have been growing a little more concerned about the inflation outlook recently, as UK CPI rose to 2.5% in June on a year over year basis.
Exhibit 4: Fixed income sector returns
Source: Bloomberg Barclays, BofA/Merrill Lynch, J.P. Morgan Economic Research, Refinitiv Datastream, J.P. Morgan Asset Management. Global IL: Barclays Global Inflation-Linked; Euro Gov.: Barclays Euro Aggregate Government; US Treas: Barclays US Aggregate Government - Treasury; Global IG: Barclays Global Aggregate - Corporates; US HY: BofA/Merrill Lynch US HY Constrained; Euro HY: BofA/Merrill Lynch Euro Non-Financial HY Constrained; EM Debt: J.P. Morgan EMBIG. All indices are total return in local currency, except for EM and global indices, which are in US dollars. Past performance is not a reliable indicator of current and future results. Data as of 31 July 2021.
Emerging Markets
Emerging market equities continued to lag developed market peers in July, with weakness in Chinese stock markets particularly notable. Reforms to the private tutoring sector triggered volatility towards the end of the month, with the changes coming hot on the heels of increased scrutiny being applied to the technology sector, as well as actions taken to stabilise the housing market. The changes appear to reflect the renewed focus from policymakers on their long-term structural goals, with particular efforts to curb inequality and ensure healthy competition across all sectors. In our view, the long-term outlook for Chinese and Asian equities more broadly remains extremely positive, but sentiment may remain fragile in the near term until the length and breadth of a regulatory clampdown becomes clearer.
Conclusion
With most equity markets already having delivered strong returns in the first half of the year, many investors appeared to prefer to focus on downside risks in July. The Delta variant could lead to a slower rebound in parts of the world where vaccination rates are lower, but there is little evidence at this stage to suggest that the recovery will be derailed. Consumers are powering a strong rebound in growth and still have plenty of firepower in their pockets, while policymakers continue to provide ample support. The easiest part of this recovery may now be behind us, both for the stock market and many parts of the global economy, but ultimately, we still see scope for risk assets to move higher over the course of the year, albeit with higher volatility ahead.
Exhibit 5: Index returns for July 2021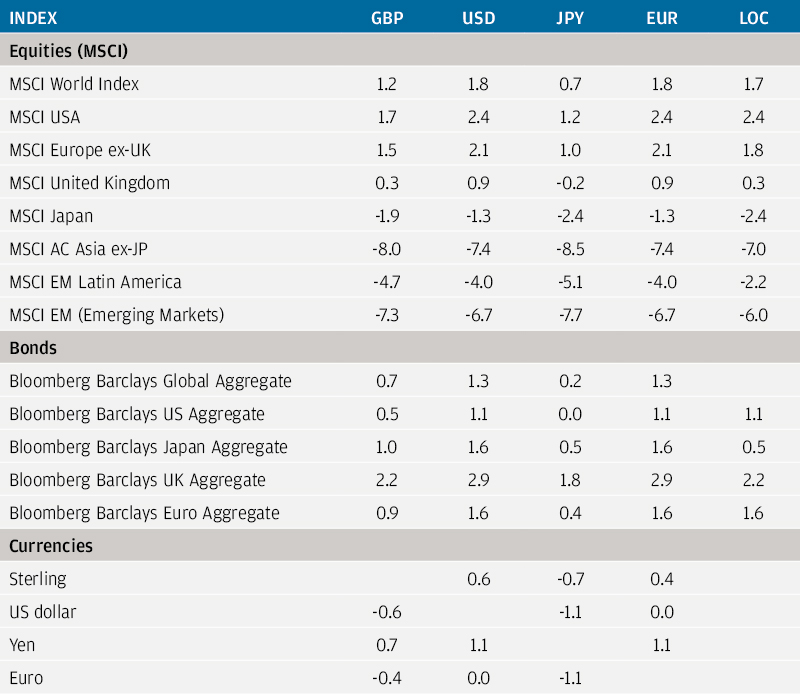 Source: Bloomberg Barclays, MSCI, Refinitiv Datastream, J.P. Morgan Asset Management. Past performance is not a reliable indicator of current and future results. Data as of 31 July 2021.