UK valuations aren't just cheap when compared with other markets. They are also below their long-run average valuation since 1990.
Mike Bell
Global Market Strategist
With UK share prices looking cheap compared to other markets and compared to their long-run history, long-term investors could pick up a bargain in the UK stock market, and benefit from an attractive dividend income too.
Economic recovery
Despite a rapid rebound in activity from the Covid-19 shutdowns, the UK economy still has plenty of room for further recovery in the coming year. Consensus forecasts are for real GDP growth of over 5% in 2022. Consumers, in aggregate, are still sitting on significant accumulated savings that they weren't able to spend during the pandemic. While some are worse off, overall, we estimate that UK consumers have saved around 10% of GDP more than they normally would have since the start of 2020.
In sharp contrast to the last recession, house prices have risen by 15% since the start of 2020, meaning that the 65% of households who own a home feel richer. While rapidly rising house prices have sometimes in the past been a warning sign that the economy was approaching a housing bust, we think that is unlikely in the next few years.
The recent housing boom has been driven by what we believe to be a permanent shift in working arrangements, with many people now working from home for at least some of the week. This shift has boosted demand for larger properties, as people want more space, while the number of homes available for sale is close to the lowest on record, pushing up prices.
Flush consumers
Low interest rates also provide strong support for the UK economy. Low rates mean the percentage of the nation's income being spent on paying mortgages and other debt is far below the levels that caused problems in 2008. In addition, 35% of households now own their home without a mortgage, and of the 30% who own with a mortgage, about half of them have fixed their mortgage for five years or more. All this means that even when interest rates rise, it is likely to be several years before it causes a problem for the economy or the housing market.
The greatest uncertainty facing the UK consumer outlook is around the effect that the ending of the furlough scheme will have on unemployment. At the end of July there were 1.6 million people on furlough, but only about half of those were on full furlough with the rest working at least part of their pre-pandemic hours. Adzuna data suggests there are at least 1.2 million job adverts currently listed in the UK. So, it is quite likely that many of those who end up losing their job once the furlough scheme ends will be able to find work, although skills mismatches may slow this process down.
Along with the healthy consumer backdrop, UK business surveys that have historically been a good indicator of the outlook for business investment have improved sharply over the last year. The two key drivers of the economy, consumer and business spending, are therefore expected to continue to support UK economic growth through 2022.
Cheap valuations
Against this strong economic backdrop, one might expect UK share prices to already be pricing in a lot of good news. However, UK shares actually look cheap on several measures. The FTSE all share currently trades at a near record valuation discount to the MSCI World Index and is the cheapest it has been relative to this broad developed market equity universe since the dot com bubble.
Exhibit 1: UK FTSE All-Share forward P/E relative to DM equities
% premium / discount of FTSE All-Share relative to MSCI World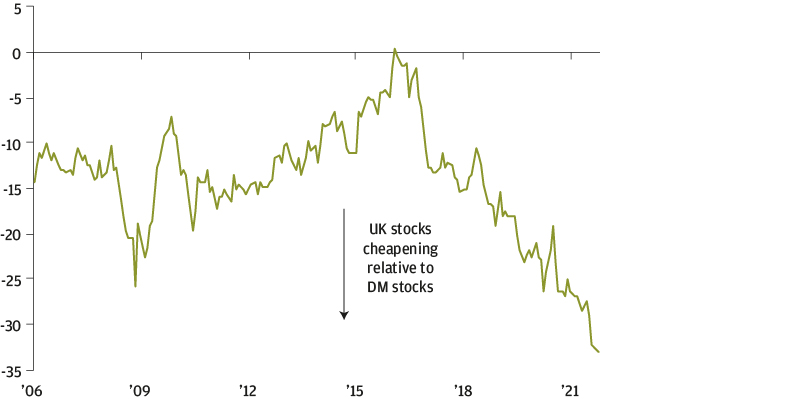 Source: IBES, MSCI, Refinitiv Datastream, J.P. Morgan Asset Management. DM is developed markets and is represented by MSCI World. P/E ratio calculated using IBES earnings estimates for next 12 months. Guide to the Markets - UK. Data as of 30 September 2021.
Part of the reason that UK equities are cheap is that they have a much smaller weighting to tech companies than some other markets, particularly the US. So the UK market may appeal to those investors who are worried about the valuations of global technology companies, which are currently elevated compared with history.
The UK market also has a larger weighting than most other markets to cheaper sectors like energy, materials and financials. However, it's not just the sector composition of the UK market that makes it cheap, even within sectors, UK stocks are generally cheaper than in other markets.
Exhibit 2: Developed markets and UK forward P/E ratio by sector
x, multiple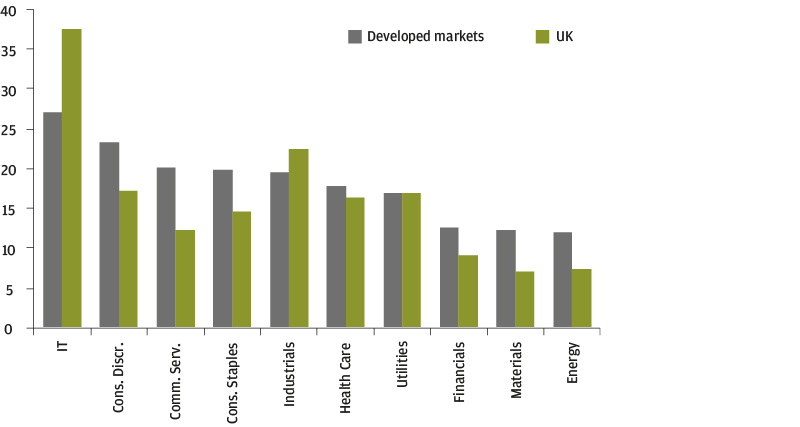 Source: IBES, MSCI, Refinitiv Datastream, J.P. Morgan Asset Management. Developed markets is MSCI World and UK is MSCI UK. P/E ratio calculated using IBES earnings estimates for next 12 months. Data as of 30 September 2021.
UK valuations aren't just cheap when compared with other markets. They are also below their long run average valuation since 1990. And with interest rates on savings accounts and government bonds still extremely low by historical standards, UK equities also offer an attractive source of dividend income. The current dividend yield of 4.1% on the FTSE 100 is the highest of the major developed markets.
The opening up of the recent valuation discount to MSCI World has coincided with a period of outflows from UK equities since early 2016 in the run up to, and following, the Brexit vote. So far, there has been little sign of a reversal of the significant outflows from UK equities seen over the last five years.
Earnings growth
Nevertheless, cheap UK valuations haven't gone unnoticed. Merger & acquisition deal activity in the UK has been higher as a percentage of market cap than in any of the other developed markets this year. Companies and private equity firms, flush with money to deploy, are increasingly looking at the attractive valuations on offer in the UK with interest.
While UK equity valuations could be boosted by further deal activity, or by a reversal of some of the equity outflows seen over the last five years, the UK market could still make gains even if valuations don't rise from here. As the economy continues to recover, corporate profits should rise. Ultimately, it's this earnings growth that should be able to drive UK equities higher over the coming years.
09d3210510101029