Companies and governments have been forced to borrow trillions of dollars to cover revenue shortfalls during the period in which Covid-19 has restrained activity. Borrowing on such a large scale might have been expected to put upward pressure on global interest rates. This was prevented by the extraordinary interventions of the central banks. In the developed world, the central banks absorbed the entire new issuance of governments this year (Exhibit 1).
Exhibit 1: Unprecedented monetary and fiscal coordination has supported activity
Government budget deficits and central bank government bond purchases
% of nominal GDP, 2020 estimate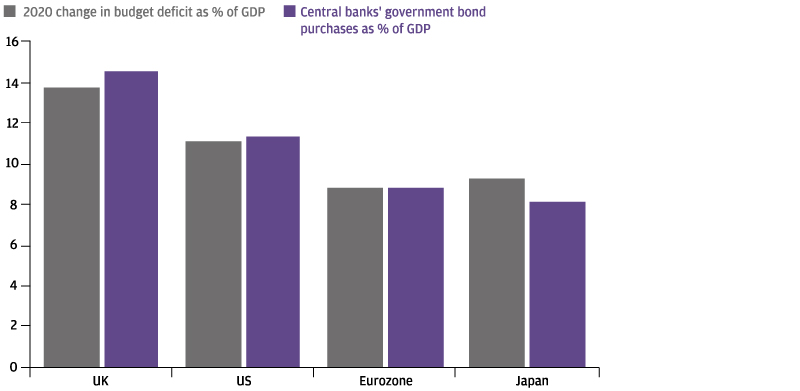 Source: Bank of England, Bank of Japan, Bloomberg, European Central Bank, IMF, US Federal Reserve, J.P. Morgan Asset Management. Budget deficits as % of GDP are forecasts for 2020 from Bloomberg contributor composite. Central bank government bond purchases are J.P. Morgan Asset Management forecasts for 2020. Data as of 17 November 2020.
Interventions were not limited to government bonds. The willingness of the Federal Reserve to buy even high yield credit gave investors the reassurance needed to search for yield in credit markets. This underpinned prices across the fixed income space.
Central banks are unlikely to withdraw this support any time soon. Structural inflation challenges in Europe and Japan suggest negative interest rates and ongoing asset purchases are likely to continue through 2021 at least.
In the US, the Federal Reserve's (Fed's) new average inflation target paves the way for it to maintain easy monetary policy for some time. Aiming for a period of above-target inflation essentially delays the point in the expansion at which the Fed might begin removing support, and this will create a ceiling for 10-year Treasury yields. In time, we expect other central banks to adopt a similar framework.
The long and short of it is that interest rates are likely to stay at these levels for a considerable period of time. Indeed, we suspect we will see a more muted version of the experience of the post-war period, in which the combination of yield curve control and financial repression held interest rates down despite the acceleration in nominal activity. This enabled governments to grow out of their debts relatively easily (Exhibit 2).
Exhibit 2: Low interest rates will help governments grow into their debts
US federal debt outstanding
% of nominal GDP, by fiscal year


US nominal GDP growth and 10-year Treasury yield
% of nominal GDP growth is % change year on year
Source: (Top) Haver Analytics, US Office of Management and Budget, J.P. Morgan Asset Management. JPMAM forecast from 2020 onwards. (Bottom) BEA, Haver Analytics, Robert Shiller, J.P. Morgan Asset Management. Data as of 17 November 2020.

As long as inflation stays benign this should be relatively straightforward for policymakers to deliver. But problems will arise if inflation returns with more gusto than it did in the last expansion. We don't dismiss this risk. In the last expansion, the central banks faced a considerable headwind given both banks and governments came out of the recession focused on a multi-year period of deleveraging. The central banks had their foot on the accelerator, while the commercial banks and governments had their feet on the brake. We suspect governments will be much more relaxed about deficit reduction this time around.
Despite this we remain fairly confident that inflation in the eurozone and Japan will remain stuck at low levels. Their structural disinflationary problems appear to have become more entrenched in 2020.
The US and UK may deserve greater scrutiny particularly when the base effects become less favourable in the spring (Exhibit 3).
Exhibit 3: Inflation may become a greater topic of conversation when the base effects turn
UK and US headline inflation with forecasts
% change year on year
Source: BLS, ONS, J.P. Morgan Securities Research, J.P. Morgan Asset Management. Forecasts are from J.P. Morgan Securities Research and are from Q4 2020 onwards. Data as of 17 November 2020.
This leaves us with an aversion to government bonds. But we are not of the view that they should be abandoned entirely. If interest rates do not normalise over the coming years then at the next economic shock, whatever causes it, central banks such as the Bank of England and Federal Reserve may have little choice but to use negative interest rates. A moderate allocation to long duration government bonds still seems sensible as downside insurance given the returns that could be achieved in such a shift to negative interest rates. Of course these bonds stand to suffer if the economic performance is more robust, but in this scenario we would expect other assets in the portfolio, such as stocks, to compensate.
However, the role that Treasuries, Gilts and other developed market government bonds played in a portfolio may increasingly be played by investment grade and high-quality emerging market sovereigns. We return to this issue in our chapter Rethinking a 60:40 portfolio.
Income-hungry investors will also be more dependent on the stocks in their portfolio to provide them with dividend income. Of course, in 2020, dividends were cut alongside interest rates, although the experience has varied across regions. UK and continental European markets have been in the eye of the storm, while lower payout ratios and higher usage of buybacks (which are generally halted before companies alter dividend policy) have made for a much more resilient income stream from US stocks.
Again, there is light at the end of the tunnel (Exhibit 4). In Europe, analyst revisions for future dividends have seen an especially strong bounceback after having bottomed in the summer. Meanwhile, industry flow data shows investor appetite for dividend-focused strategies globally improving steadily since August. Valuations are also attractive, with high dividend stocks in developed markets trading at around two standard deviations below their long-term average valuation relative to growth stocks. From a sector perspective, financials and energy have historically been two key sources of payouts. Following the ban on bank dividends across the UK and eurozone in 2020, generally robust capital positions should allow bank payouts to restart at some point next year when regulators allow, while a recovery in oil prices would also improve the outlook for energy. Yet we would caution against relying on history to identify the strongest dividend payers. Resilient dividends in areas such as utilities look well placed to maintain steady growth, while some more cyclical areas including housebuilders are seeing a strong recovery – all of which points to a broader mix of dividend contributions going forward.
Exhibit 4: The outlook for dividends is improving
Dividend revision ratios
% net upgrades as proportion of total dividend estimate revisions, three-month rolling average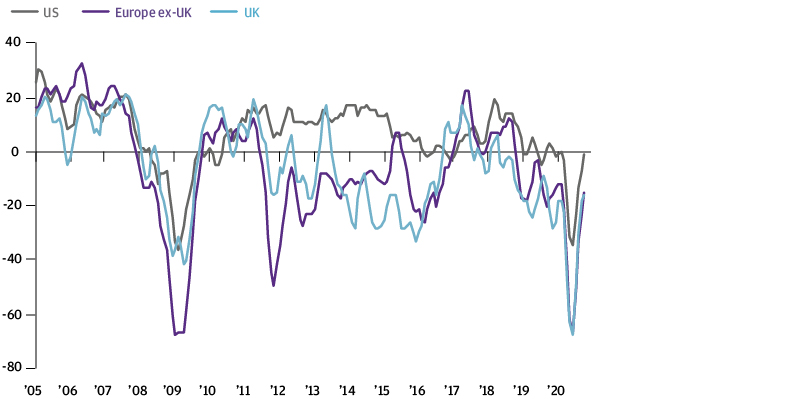 Source: IBES, MSCI, Refinitiv Datastream, J.P. Morgan Asset Management. Data as of 17 November 2020.
Past performance and forecasts are not reliable indicators of current and future results.